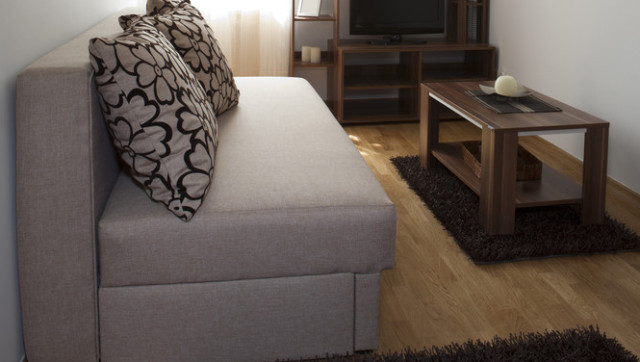 It's not exactly news that apartments in New York City are expensive and in short supply. In an attempt to alter that dynamic, Mayor Michael Bloomberg announced this summer an experiment that might actually increase the availability of housing in the city.
But when City Hall made public its idea for a competition to design a prototype for an unusually small and more affordable apartment, it was generally met with a proverbial Bronx cheer. Ridiculous, various columnists thundered, too small, too impractical.
Guess what? Architects are taking the idea very seriously. The city received 33 proposals for the experimental apartments, known as "micro-units," by the deadline in September. Some came from as far away as Amsterdam and London. The winning proposal will be announced in December and, if all goes well, construction could start late next year.
The demonstration project involves a parking lot owned by the city on East 27th Street in Manhattan. The architects were asked to design a building with as many as 80 extremely small apartments, of no more than 275 to 300 square feet. They would rent at market rates, most likely to young, single people.
The hope is that these apartments could expand the variety of housing in a city where demand has long outstripped supply, and could broaden how we even think about apartment living in New York. But at least initially, the experiment has been loudly dismissed by naysayers, who insist that the units will be much too small and rents too high. Who would want to live in such a cramped space?
These apartments certainly will be small -- no doubt about it. But what the critics are missing is that they also could be practical and useful. They could help fill a critical need.
They could give young people and other single adults a first step in city living, a place to begin their lives in New York, much as Mayor Bloomberg did for his first decade in the city, when he lived in a studio apartment on the Upper East Side.
By making it possible to develop new, modestly sized and priced housing in a place where nearly all new construction involves luxury apartments, the city government could also help relieve some of the pressure on middle-class and working-class New Yorkers who struggle to find affordable housing. They might find themselves competing less often with highly paid young professionals for modest space.
In some ways, these apartments could serve many of the same needs that single-room-occupancy hotels once did. Before tens of thousands of these units vanished in the 1980s, when many SROs were converted into market-rate housing in prime Manhattan neighborhoods, the small rooms in these hotels represented the first rung of housing in the city.
Many SRO residents were vulnerable New Yorkers: the working poor, the infirmed, retired people on fixed incomes. But single-room hotels were also often the first stop for talented, ambitious people from around the country (and around the world) who came to New York City to make their mark.
In those modest hotels, residents shared bathrooms in a hallway and the only cooking apparatus was usually a hotplate in someone's room. Each of the new micro units proposed by the city will have a bathroom and a kitchenette, though no closet.
Will they be cramped? Of course. But let's not be naïve. Right now, tens of thousands of young single people -- energetic college graduates who have ventured to New York to begin careers in finance, the arts, the media, publishing, advertising, foundation work -- are already jammed into incredibly small spaces. They rent three-bedroom apartments and throw up temporary walls to create four and even five bedrooms to keep their costs down. They share studio apartments, or they use a living room as bedroom space.
Moreover, a large number of working-class and poor families are living doubled- and tripled-up in New York's public housing projects. They've been doing it for years.
Critics of the mayor's experiment are ignoring reality: housing of this size already exists in New York -- and on a large scale. Wouldn't it be better to acknowledge this fact and change the zoning laws to permit the construction of such compact apartments?
Two statistics speak to the need. There are 1.8 million households in New York City with either one or two people, city officials say, but there are only one million studio and one-bedroom apartments.
Remember, no one would be forced to rent a micro unit. If we give the mayor's experiment a chance, we could test whether the demand is there. I'm betting that it is.
I say this based on more than 25 years of working with the homeless, particularly single homeless men, and also on my husband George's own experience. He lived in an SRO for six years, from 1982 to 1988. He found it to be efficient and inexpensive, and it served his needs at the time.
He's been arguing publicly since at least 1990 that the private sector should be allowed to build small starter apartments. Indeed, the city ought to be encouraging private developers to create such housing.
While a micro unit might not be everyone's first choice, my guess is that quite a few people would find one an appealing and affordable way to begin life in New York.