Today, 35 years ago (November 19, 1977), Egyptian President Anwar Sadat made his history-changing trip to Israel. He was the first Arab leader to visit Israel, and the next day, he spoke at the Israeli Parliament, in Arabic (one of the Parliament's official languages -- about 20 percent of Israeli citizens are Arabs).
Today is the sixth day of the latest Israeli-Arab war, as Israel's Likud government and Gaza's Hamas shoot rockets and missiles at each other. It's less than four years after the last Israel-Hamas conflict, when about 1,400 Gazans, and 13 Israelis died. By tonight, this war has killed 100 Gazans and three Israelis.
Three days ago, for the first time, Hamas fired new, longer range rockets northward at Jerusalem. We were stunned to suddenly hear the alarm sirens out our windows. We hadn't mentioned any of the recent violence to our six-year-old son. But as the sirens blared, we told him "there's a war going on."
He immediately burst into tears. We ran to the protected inner stairwell of our building and held him, saying the war was far away. Later that night, in instant child psychodrama, we played together -- he ran at me from across the room with both fists extended, growling and yelling "special attack!"
That night I realized that our brief moments of terror are now happening hourly, or more frequently, in Southern Israel and in Gaza. It's hard for me to digest this, imagining children like my son taking the rough steps towards permanent trauma -- as unspeakable panic and destruction becomes normal experiences in their bodies and brains. Fireballs erupt. Houses crumble to the ground. And at the worst, men wail as they hold their dead children in their arms.
War brings out the worst in humans. In the fear and violence, many naturally take sides.
Daniel Gordis, a Jerusalem writer and rabbi, wrote a couple days after this war commenced about his grandfather crying -- Gordis as a child sitting next to him -- as they watched Sadat get out of his plane after landing in Israel. His grandfather was born in Russia five years after the famous Kishinev pogrom.
Gordis' story touches us. But then in the middle of the article, he veers towards that familiar Israeli cynicism and stereotyping of Arabs: "Mohammed Morsi, a tyrant and a radicalized Muslim... he hates the Jews no less than did any of his predecessors."
Gordis mirrors our current Prime Minister, whose entire world view seems to be about taking sides, and the tragic zero sum thinking that goes with it. Sadat's visit shook the world and led the way to the 1979 Egypt-Israel peace treaty. But Netanyahu has never made the trip -- less than ten miles -- from Jerusalem to Ramallah, to have coffee with his Palestinian counterpart, Mahmoud Abbas. (To contrast, Ehud Olmert, Netanyahu's predecessor, met with Abbas 36 times in less than two years, including several times in Ramallah.) When Morsi won Egypt's first free elections recently, Netanyahu sent no congratulations, no "Best of luck with the challenge of democracy, from a fellow Middle Easterner."
We are all human. And humans, especially men, seem to ride high in war times, looking at it as cold-heartedly as a chess game. This is probably the first war when both sides are tweeting to influence public opinion. Soon after the sirens went off in Jerusalem, I went to my computer and was able to read a tweet the al-Qassam Brigades had posted about 20 minutes before the rockets, that closed with, "more surprises on your way."
Where is there hope? In spite of Gordis' blanket put-down of Egypt, in their fragile new democracy, their Foreign Ministry is advising Morsi about Hamas' "pattern of sacrificing the lives of Gazans to Israeli military campaigns for little reason other than to burnish its claim to be the champion of resistance to the Israeli occupation." It's clear to many that, cold as ice, Hamas' real motivation is to stay in power, just like Netanyahu's (Israeli elections are January 22, 2013).
Where is there hope? Technology is neutral, but if we want, it can allow us to get to know each other across the globe. I'm blessed to have a Facebook friend, a Palestinian who lives in a refugee camp outside Damascus. An hour after our sirens went off that night, she messaged me, "hi dear , how are u ? r u ok ? stay safe, sorry about what is going on, it is war. :( take care". And yes, she speaks from experience.
I am working on a documentary film, A Third Way about a small group of West Bank settlers and Palestinians who have decided to buck the mainstream and become friends. Nahum, one of the settlers, has visited Ziad's Palestinian village many times. Ziad, who was in Israeli prison for five years during the first Intifada, sums up dramatically, "The best way to kill the fear between people, is meeting."
Ziad, like all West Bank Palestinians, is prohibited from entering Israel proper, unless granted a special permit by the Israeli army, which rarely issues them. Ziad's application was finally recently approved, and his first wish was to visit the Mediterranean Sea, which he hadn't seen in 3 years.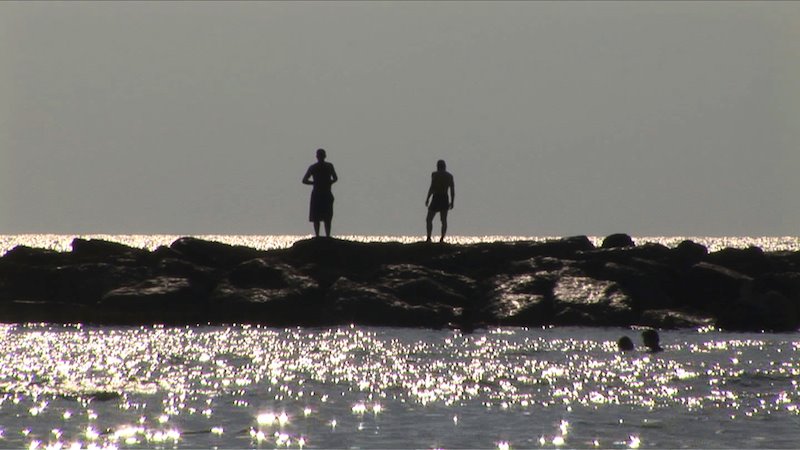 So, one Saturday over the summer, Ziad, Nahum and my family all went to the Tel Aviv beach in our car. Ziad and Nahum swam out to a breakwater together. Later, my son and Ziad played for an hour on the sand, building castles, and throwing buckets of water on each other. My son has talked about this afternoon many times since.
Mark Gopin says in his powerful book, Bridges across an Impossible Divide: The Inner Lives of Arab and Jewish Peacemakers, that we should acknowledge how natural the urge to revenge is.
But it's clear that the best hope for a less violent world is resisting that temptation, and instead working to realize (and if possible, experience) that the other side are humans just like us. Any context we can find to courageously do this -- whether in the flesh or virtually -- will go against the other tendency, to demonize or hurt the other.
I'm waiting for the time that my country encourages putting even five percent of the efforts it puts into being the hi-tech "Start-up Nation," into being the "Peace Laboratory Nation." Luckily the answers are actually very simple: people laugh when we sneak up and splash cool bucketfuls of water on them on the hot beach. They cry when our rockets or bombs fall on them from the darkened sky.