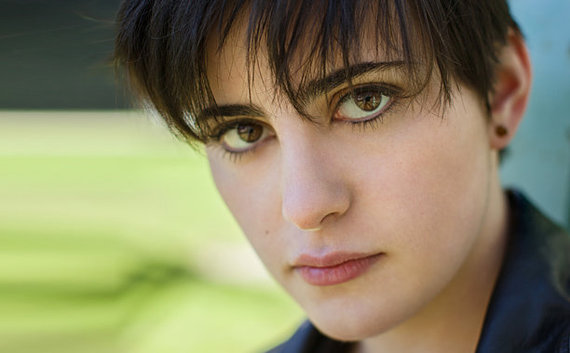 We are often told that in order to find success in life, we must go out and chase down our dreams. Yet, University of Michigan senior Jacqueline Toboni did not have to look very far. Her dream serendipitously found her in an unassuming screenwriting class at U of M.
In a personal interview with Jacqueline, she candidly walks me through her journey -- where she comes from, the whirlwind that has defined the last few months, and how she landed a breakout role on NBC's Grimm.
Earlier this year, Grimm executive producer Jim Kouf came to speak to Jacqueline's Screen Arts and Culture seminar at U of M. The original purpose of Kouf's trip was to offer words of wisdom to those students interested in screenwriting -- and to visit his daughter who is also a student at U of M. Kouf left the home of the Wolverines, however, with something completely different than he had anticipated.
With the initial aim of offering screenplay advice, Kouf had the students in Toboni's class do a table read for a film called Bad Girls. Jacqueline recalls, "I didn't know I was supposed to be nervous. I remember I had my head down most of the time, and I was messing up my hair every thirty seconds. I don't remember much else from the actual reading."
Impressed by several of the performers, Kouf and his wife Lynn subsequently asked the students if they would be interested in reading for a major female role on the upcoming season of NBC's Grimm. Three of the four students -- Jacqueline included -- jumped at the opportunity.
Kouf revealed that the girls would read for a future character named "Trubel," whom Jacqueline says she felt an immediate connection with -- "She's tough and I liked that."
The following day, Jacqueline and the two other students showed up to audition. "It was a very warm room. Everyone was very supportive of each other. At the end, I didn't think there was a shot in hell. Little did I know I would be on a flight to Los Angeles twelve hours later."
Kouf was utterly blown away by her reading. In a recent statement, he described Toboni's audition as, "one of those serendipitous moments where [he] walked into a college classroom to talk about television and walked out with a star."
Although Kouf realized her potential, Jacqueline's real job was to impress the slightly more skeptical NBC executives and production team in L.A. Jacqueline was flown out west the following morning. She recalls, "The audition in Los Angeles went well. I think they were just as shocked as I was that this was happening. It was on the Universal lot and I remember thinking, 'I wonder if I'll get a tour on one of those little golf carts.'"
Actor-producer Sean Hayes, whom Jacqueline eventually auditioned for, had some "nice things to say," post-audition, she recounts modestly. "But he had to fight me for compliments because all I could say was, "We are doing 'Will and Grace' scenes right now in acting for the camera class! I'm a huge fan!" I'm not embarrassed. Who doesn't LOVE Sean Hayes?"
But Hayes did manage to sneak in a compliment in an Entertainment Weekly interview. He remembers, "It was one of those rare moments in this business when you actually believed you were witnessing the birth of a gigantic star."
Unlike many actors and actresses who tout they have been budding Meryl Streeps since age 2, Jacqueline tells me she began acting as a junior in high school -- which she refers to as a "late start." She confesses, "It took getting cut from the varsity basketball team for me to have the guts to audition for the American Conservatory Theatre," in San Francisco where she studied drama. Although she does admit, "I've always been a bit of a performer, I guess. My Chris Farley impressions became a regular occurrence around age 10."
I later ask Jacqueline what she thinks has been the most valuable thing she has learned during her time at Michigan. Her answer flows like enviably good improv. "The most significant thing: to be fully what you are," and "the most valuable: to always bring fierce joy to my work."
Prior to landing the role as Trubel, Jacqueline, like any senior in college, was uncertain about entry into real life. "I was nervous. I was really, really nervous. Going out into the world post-grad is scary enough, but as an actor? You are asking for failure. I planned to land in New York, create some awesome theatre with my pals and audition as much as possible."
But now, life for this 22-year-old looks very different. She has been catapulted from student life to work life as a full-time actor.
She shares, "The hours are the biggest transition. That's probably a boring answer, but in college, I rarely stayed up through the night until 5 AM on a Saturday morning, and the times I did... well, it's college... it wasn't for work."
With this transition, however, has come the realization of a lifelong dream. Jacqueline previously told EW, "As an actor, you think you will be waiting for this moment your entire career, and then someone walks into your classroom the next day and gives you the opportunity to make that dream a reality. That's what it's been, an absolute dream come true."
And what about the Grimm character Jacqueline will bring to life? It seems she and Trubel do have some similarities, although their backgrounds fundamentally differ. "I was fortunate enough to be raised by a family who provided a very strong, loving foundation for me. Without giving much away, I will say that Trubel did not have the support I did growing up -- and that is what makes her who she is."
Jacqueline expresses that aside from Trubel's more dysfunctional past, they do share something undeniably special. "As I start on this amazing adventure, she is about to embark on a wild journey of her own. In other words, we're both undergoing a huge life transition -- as most 20-somethings are."
And similar to most 20-somethings, Jacqueline's future is completely unknown. Based on the trajectory of the past few months, she knows better than to make plans. "Things just change. When opportunity comes knocking, you better answer that door and thank it profusely for coming because for actors, opportunities don't come everyday, especially ones like this. I feel like the luckiest person on Earth. This experience taught me one thing for sure -- anything can happen! It's an unbelievable jumpstart to my career and that's more than I can ask for."
Finally, I invite Jacqueline to tell me something about her that would surprise people. She reveals, "I carry a clown nose with me almost everywhere. Except for black tie events, then I don't carry it... I wear it."
And for other aspiring actors and actresses, Jacqueline has only words of inspiration and encouragement. "Don't compare yourself to other people. You must accept fully who you are -- the good and the bad. Just be you, it's enough."