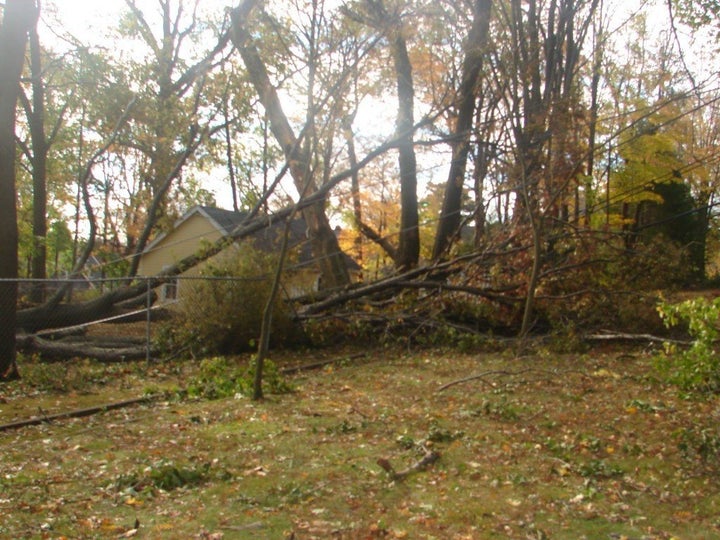 First things first. I am OK. My family is OK. We are out of power. The extent of our damage: A bag of ravioli perished in my melting freezer, my fence hinges blew off and Halloween was postponed until Monday. Probably the saddest piece of all this was my 3-year-old daughter's response: "Mommy, I'm afraid of electricity," which makes me wonder if she's really an Amish under those cute new pink leopard sneakers I bought her, or if she means that this whole Hurricane Sandy disaster has frightened her. Sleeping in a cold house is probably, outside of the ravioli, our biggest problem.
I'm perched on my staircase, which is about 15 feet away from my neighbor's house, pirating (with permission) their Internet. (They rigged electricity from a neighbor who is still on the grid.) Two houses down, a giant oak tree plowed into a couple's front porch. In the yard directly behind mine, a massive tree took out all of the power lines and transformer connecting about ten homes.
Hoboken, just 12 miles away, is still underwater. Doing a Whole Foods run this morning for firewood, a dairy worker told me his sister and her 4-year-old son are trapped in their fourth floor apartment. That the water is still up to the second floor. The National Guard is plucking people from their apartments.
We drove by a gas station today and my 9-year-old son said, "Why are all those people standing in line, Mom? Why are the police surrounding them?" How do you explain the desperation of people waiting for gasoline that potentially could run out? (It has, in many cases.)
But the worst news, the most daunting news, is about the Jersey Shore. I live in Glen Ridge, New Jersey, which some of you might recognize as exit 148 off the Garden State Parkway. Only 85 exits away from Long Beach Island, or 85 miles; about an hour and a half away. Long Beach Island is one of the barrier islands that the news has been reporting is devastated. Seaside. Point Pleasant. Long Beach Island. You've seen the devastation.
Thankfully Barnegat Light, which is the town on the most northern end of Long Beach Island, protected by acres and acres of dunes, seems to have gone unscathed. It's the only section of the island that's been untouched. (At least by view of some aerial shots.) On the southern side, there's been more devastating news than I can bear.
We've been going to Long Beach Island, also known as LBI, since my son was 2. It's the kind of place where everyone walks around in flip-flops. You eat fish tacos. You grill with friends. Doors are unlocked all day. Kids ride bikes in bare feet. The no shoes, no shirt rule doesn't exist.
On LBI, my kids get a taste of a world that's unaffected by the changing times. It's the one place I can actually instruct my children: "Go play in the street." Or "Go play in the dunes, come home soon." Or "Sure, you can go bike-ride down to the bay to watch the fisherman." Can you imagine such a place? A little blue tractor rides through the dunes of Barnegat Light, picking up people to take them closer to the lifeguard beach just a few minutes away. All for free!
Down the road in Harvey Cedars, we buy fresh lobster from The Shellfish Company. Our kids play at Sunset Park right on the bay under the water tower. We crab (or at least try to, mostly it is only my husband cursing at the poor things as they hop out of the cage) on the pier. We watch the sunset glide over the bay as our kids swing, slide, jump and muddy their feet in the marshes.
When I see people on message boards asking How could homes could be built on a barrier island? or Those people get what they deserve for living there, they don't realize that those barrier islands are a way of life in New Jersey. And now, that way of life is in jeopardy with the devastation of the Jersey Shore. This is what's most frightening to me. This is what most frightens my kids. So Barnegat Light is safe, I assure my children. But how do you cope with the rest of the monster? The wreckage of the rest of the island? The marina. The park. The countless homes and memories washed into the ocean. The appliances strewn along the now sand-covered streets. I can only tell my children that time, and hope often solve the worst of problems.
"Has a hurricane like this ever done so much damage?" my son asked last night. No, I tell him. It's never been like this.
"Does it mean it'll happen again?" he said.
I don't even bother to discuss climate change. That the Atlantic Ocean was 80 degrees before Hurricane Sandy hit. That scientists all agree that the oceans have been rising steadily for years because of man-made warming.
For now, I stick to hope and time.

(This is the massive oak that took out about ten power lines, blew a transformer and set fire to another tree as it fell.)
Here are a few ways to help:

*Hurricane Sandy Relief T-Shirt -- all profits go to relief efforts.

*Restaurants for relief, check out these Hurricane Relief Maps

*Twitter feed list of places to volunteer in New Jersey

*Animals at Jenkinson's Aquarium in Point Pleasant need help -- gas and D batteries -- to continue their filtration systems.

*Island Heights Volunteer Fire Company Needs dry pasta, cereal, bread, Gatorade powder mix, protein/cereal bars, bottled water. Address: #1 15 Lake Avenue PO Box 316 Island Heights, NJ 08732