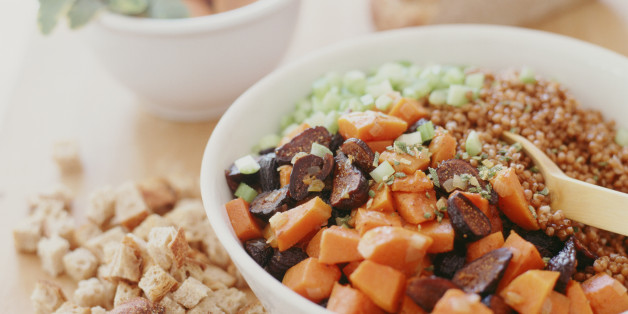 Alright, no one panic.
Thanksgiving might as well change itself to "National Dinner Day" and definitely does not seem like it will lend itself to your "eating right" plan. Plus, once the eat-xtravaganza begins, how do you get it to stop?!
But no worries -- tackling turkey day is easier than you think.
Leading up to the big feast...
With the work week shorter and the exciting feeling of the holidays beginning, it's all too easy to say "screw it." Especially if you're preparing, baking and cooking up a storm, the last thing you want to do is stop to make something extra for dinner. It shouldn't be a surprise that this week, more than any other week, is important in terms of maintaining the healthy practices you've instilled in to your day to day. It should be business as usual, no matter how many relatives decided to treat you by showing up days early...
It will be a lot easier to recover from a "screw it" day then an "screw it" week.
Adorably, many towns have taken to a new tradition called "Turkey Trots" -- basically just a run or walk on the morning of Thanksgiving. Even if there isn't a community organized event like this, getting in a workout or physical activity early in the day is a good idea -- even if it's just a jog to the coffee shop for morning coffees. A few laps around the block is also a great way to actually spend time with the relatives and friends with whom you might be sharing the day, and will allow you to focus less on the feast and more on what the day is actually about -- being thankful for the great people in your life.
If you know you're a "grazer" and just can't stop yourself from stealing tastes (or marshmallows off the top) of Grandma's famous mashed sweet potatoes, elect to help out in a different way. Be in charge of set up or doing the last minute straightening up of the house.
The day of...
It's so tempting to slip into your best "eatin' dress" on Thanksgiving. And of course you should be comfortable, but dress for success. Wear something a little more fabulous than frumpy and you'll feel good before the feast even begins. Today would be a great day to break out those brand-new, size smaller pants you've been dying to show off. Any way you can remind yourself of your hard work will help you avoid going nuts.
Believe it or not, the feast itself isn't the most dangerous part of the day. This is why it's important not to arrive on the scene starving -- as the appetizers will already be out when you get there. Start by never eating anything that you don't put on a plate first. Stick to only two little plates (or cocktail napkins) worth of appetizer goodies. Veggies from crudités are your best bets, as well as shrimp cocktail. While ordinarily sticking to three or four plates or napkins will allow room to sample some of the more sinful offerings, today it's best to stick to just the safer snacks -- and if possible skip the picking altogether. Of course, skipping the snacks will be a lot easier if you show up after having a well-rounded breakfast (instead of "saving room" for dinner).You'll be less likely to go crazy with ravenous hunger.
When it comes time to create a plate, fill up half of the plate with healthy green veggies, one-quarter of the plate with turkey and just leave a small area for tastes of those fun foods like mashed potatoes, stuffing and sweet potato casserole. You definitely shouldn't restrict yourself from tasting what you're craving (that will just leave you unsatisfied and more likely to binge later) but if you're going for seconds, take only more of the turkey and the green stuff. And today -- skip the bread!
Basically, the whole feast should consist of "three plates": one for dinner, one for seconds and one for dessert (and remember, if you used up a plate's worth picking on appetizers, you need to scrap either seconds or dessert). If you really don't care about dessert, then it's okay to take a small serving of seconds on the starchy stuff. But if you want to indulge your sweet tooth, pick a serving of whichever dessert delight you're craving. It's also a good idea to fill up the rest of your plate with fruit.
After the feast...
If you can get in a little walk or activity after the meal, that's great -- even if it's just a few rounds of Wii games with your little cousins. But most importantly - even if you definitely overindulged during the day -- let the meal be just one day. Buy to-go plastic containers and send everyone home with a good helping of leftovers. If you do end up with a few pieces of the meal left, don't recreate the entire feast the day after. Throw the turkey over a salad or in a 100 calorie wrap instead of on a roll topped with stuffing and potatoes.
Try and plan an activity for the next day that will get you up and motivated. Whether it be a post-Thanksgiving Turkey Trot or a marathon session at the mall on Black Friday, grab a few pals (or any leftover family members) and get moving.
A little extra...
If you've been commissioned to help cook or even host, you can always take a few favorites and cut out some calories so you know you'll have a few great lighter options on the spread. I like sweet potato mousse, which is simple:
Peel and chunk up a few sweet potatoes, boil them in water until they're soft. Whip them with a handmixer and stir in about a tablespoon of Can't Believe It's Not butter and about a cup of skim milk. Then stir in a little salt and a palm full of pumpkin pie spice -- which usually contains nutmeg, allspice, cinnamon, all of the seasonings you'd find in a pumpkin pie. The mixture will be smooth and you can put it in a casserole dish to reheat when you're ready to serve.