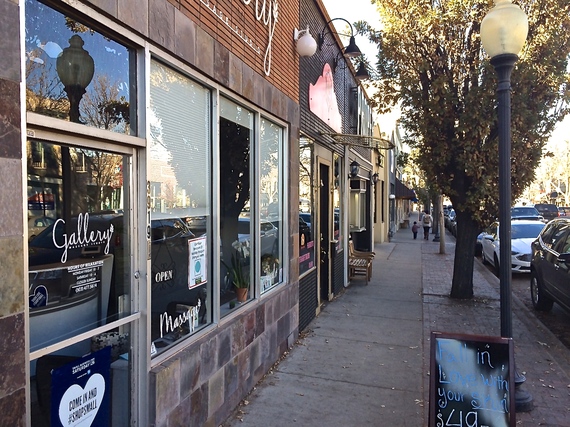 I've never been a fan of Black Friday. My preferred post-Thanksgiving activity is lounging on a couch with a movie and leftovers. I definitely don't want to be anywhere near a stuffy, airless shopping mall crammed with crowds. But, Small Business Saturday is a different story. I love strolling our streets, popping in and out of cute little boutiques, stopping to chat with friends and neighbors along the way.
Denver is blessed with more than our share of fantastic neighborhood shopping districts. Whether you're looking for gifts or perhaps just picking up a little something sparkly for an upcoming holiday event, here's where you should be hanging out this Small Business Saturday...

Cherry Creek North
The shopping mall may be packed with big-box retailers, but the walkable shopping district just north of it is heavily peppered with independent local businesses. You can check out a list of the Cherry Creek North shops participating in Small Business Saturday here.
Where to Shop:

The Artisan Center, 2757 E. 3rd Avenue
With creations by local and national artists, this is one of the best Denver shops for finding unexpected gifts.
Inspyre Boutique, 171 Detroit Street (See also Tennyson Street, and Littleton and Lone Tree locations.)
Inspyre has an extensive collection of women's clothes, accessories and fashion jewelry with nothing priced over $100.
Lolo Exotic Home Goods & Jewelry, 3003 E. Third Avenue
I was so excited to discover this little shop this year. They have a huge selection of Turkish towels -- one of my favorite gifts to give -- as well as bath products and home accessories.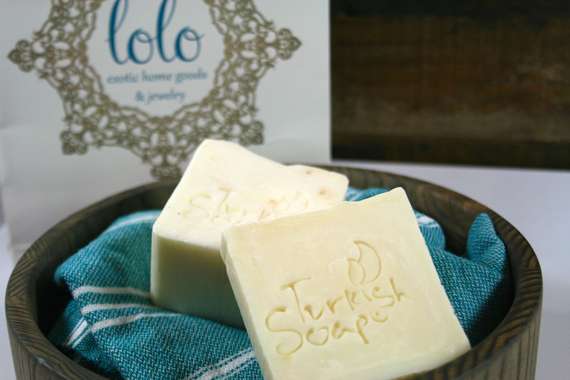 Show of Hands, 210 Clayton Street
You're sure to find a unique handmade gift at this locally owned gallery that carries affordable art by Colorado and national artists.

Spinster Sisters, 2628 E. 3rd Avenue (Also check out their RiNo location.)
The Golden-based company sells all-natural bath and body products. This Cherry Creek location just opened a couple of weeks ago.
Where to Eat:
Fuel up with a pre-shopping breakfast at Syrup (300 Josephine Street) or post-shopping lunch at Cucina Colore (3041 E. 3rd Avenue).
Highlands Square
Nestled into Northwest Denver, Highlands Square boasts a walkable mile of boutique shops and local restaurants.
Where to Shop:

32nd West, 3631 W. 32nd Avenue
This outdoor living shop carries an assortment of clothing and gear for men, women and kids.

The Perfect Petal, 3600 W. 32nd Avenue
So much more than just a florist, The Perfect Petal is a great place to pick up a little gift, including candles, bath products and home accessories.

Melrose and Madison, 3420 W. 32nd Avenue (See the S. Pearl location, too.)
This women's clothing boutique rivals any of the department stores in style and selection.

Ruby Jane, 3616 W. 32nd Avenue
One of my favorite local clothing boutiques!
Vert Beauty, 3442 W. 32nd Avenue
This beauty boutique is packed with all-natural bath and beauty products, including Colorado-made product lines.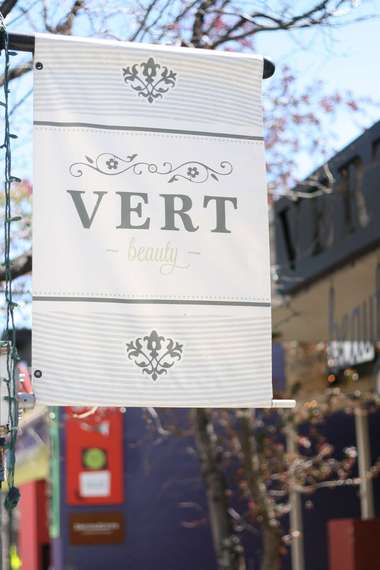 Where to Eat:
Grab a quick gourmet sandwich at Frank Bonanno's Salt & Grinder (3609 W. 32nd Avenue), pop into El Camino (3628 W. 32nd Avenue) for a Mexican dish, or stop by Sera's Ramen Enclave (3472 W. 32nd Avenue) for a twist on traditional ramen.
Platt Park
If you only come to South Pearl Street for Sushi Den, then you're missing out on so many great little shops (and other restaurants, too).
Where to Shop:
5 Green Boxes, 1596 S. Pearl Street and 1573 S. Pearl Streetb
With two shops packed with fun gifts and home accessories, you could get lost in here for hours. I sure have.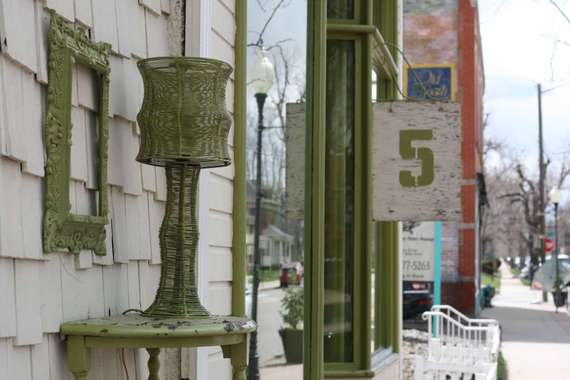 Melrose and Madison, 1500 S. Pearl Street (See also Highlands.)
Paige on Pearl, 1509 S. Pearl Street, Denver
A sliver of a store, but well packed with stylish women's clothes and accessories.
Where to Eat:
Grab a quick gourmet burger at Park Burger (1890 S. Pearl Street) or enjoy the more extensive menu at Hanson's Grill and Tavern (1301 S. Pearl Street).
RiNo
Trendy RiNo is more than just art galleries, cool bars, and industrial lofts. There's also a number of little boutiques many with a focus on promoting locally made products.
Where to Shop:

MegaFauna, 3102 Blake Street
Locally made t-shirts and other cool stuff for your favorite hipster.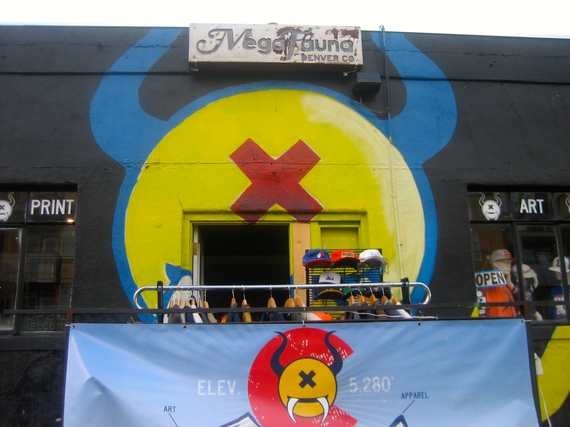 Shea, 2605 Larimer Street
A men's and women's clothing boutique with high-end stylish basics.
Spinster Sisters, 3070 Blake Street
(See also Cherry Creek.)

Winter Session, 2952 Welton Street (Five Points)
Not actually in RiNo, but so close and definitely worth a drop-in. These locally made, handcrafted bags are so beautiful, you might just end up keeping whatever you buy for yourself.
Where to Eat:
Grab some sushi as it rolls by at Sushi Rama (2615 Larimer Street) or check out The Denver Central Market's (2669 Larimer Street) buzzed-about foodie scene.
South Broadway
In the past five years or so, South Broadway has exploded with trendy shops and a booming restaurant scene.
Where to Shop:

Decade, 56 S. Broadway
Long before South Broadway was a hip destination, Decade was a draw for shoppers looking for fun little trinkets, unusual gifts and irreverent greeting cards.
Hazel & Dewey, 70 S. Broadway
Billing itself as a "modern mercantile," this carefully curated home and kitchen shop will charm you with its well-crafted tableware, gourmet pantry items, and other home accessories.
Meininger, 499 Broadway
It's a little further north, but Meininger is such a worthwhile stop...the vast selection of art supplies could inspire the most creatively blocked. And, art supplies make perfect stocking stuffers!
True Love, 42 S. Broadway
Trendy shoes and accessories with nothing over $50.
Where to Eat:
Drop into Karma Asian (22 S. Broadway) for fantastic curries and noodle dishes, or Euro Crepes (1842 S. Broadway) for sweet or savory crepes.
Tennyson Street
Tennyson Street brings back their Small Business Passport Crawl again this year. Tennyson is my neighborhood shopping district, which makes it so hard to choose favorites. But here are a few can't-miss spots...
Where to Shop:
BookBar, 4280 Tennyson Street
It's a bookstore and it's a wine bar. And, all of their children's books are 20% off through December 24.
Feral Mountain Company, 4320 Tennyson Street
Serious outdoor gear for serious outdoor types. But, you can also pick up practical accessories like sunglasses and Smartwool socks.

Jolly Goods, 4020 Tennyson Street
Filled with vintage and artisan-made wares, including a ton of locally made items. One of my favorite stops for gifts!
Inspyre Boutique, 4170 Tennyson Street (See also Cherry Creek.)
Lady Jones, 4016 Tennyson Street
The latest addition to Tennyson Street, this women's clothing boutique carries chic, upscale staples inspired by European classics.

Ooh! Ahh! Jewelry, 4216 Tennyson Street
A one-stop shop for women's accessories, one-of-a-kind jewelry, scarves and purses. I've yet to walk out of here empty-handed.
Real Baby, 4315 Tennyson Street
The best place to pick up baby gifts. Plus a small but lovely selection of toys for younger kids.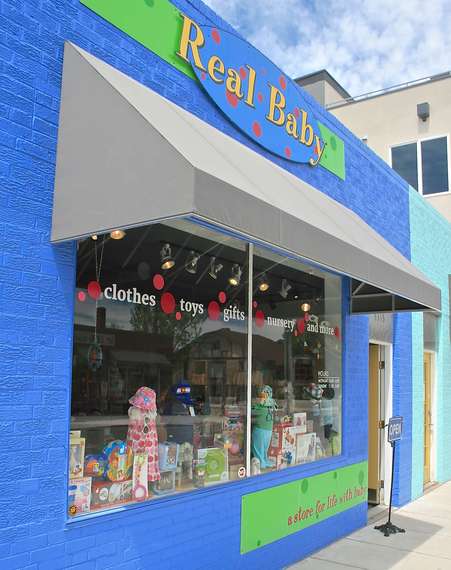 Where to Eat:
Mas Kaos (4526 Tennyson Street) is one of our favorite spots for groups, and carries many gluten-free, dairy-free and meat-free options, and Justin Cucci's Vital Root (3915 Tennyson Street) has a vegetarian menu that even non-vegetarians love. Hops and Pie (3920 Tennyson Street) offers unexpected gourmet pizza combos and a rotating house-made soup of the day that never disappoints.
Small Business Saturday, this year on November 26, was launched in 2010 to encourage shoppers to kick off the holiday season by patronizing their favorite local shops.

Heather Garbo is a Denver-based mama of two with a love for all things local. Her blog, www.denverdweller.com, provides inspiration for better local living, including a Denver Shop Local Guide.