In my last article, "Life Is Full of Pawsibilities: Dogs and Their Owners Tell How They Met," I featured the tales of two dogs and how they met their owners. This time, I wanted to celebrate the opposite end of the age spectrum of dogs young and old. It turns out that one stop at a friend of a friend's house afforded me the opportunity to hang out with 10 puppies under two years old and seven adult dogs.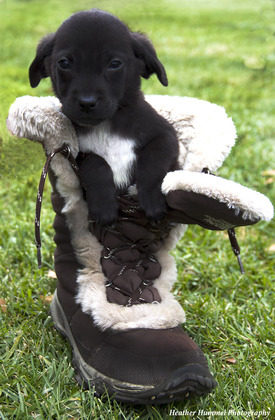 Photo Credit: Heather Hummel Photography
This little guy, named Pipsqueak, was the runt of a litter of eight black lab puppies. He was more than happy to settle into the warm, fuzzy lining of my boot while I captured his image. What we love about puppies, besides their wet noses and endless licks of affection, is that they have a way of warming our hearts with a promise of joy and unconditional love for years to come.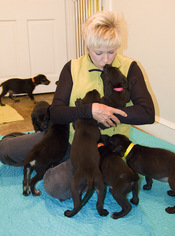 Photo Credit: Heather Hummel Photography
Pipsqueak and his seven littermates are currently being fostered by a woman named Beth, who also has seven rescue dogs of her own. When we ventured into the basement and she sat down with the litter, it quickly became evident as to why she is the perfect foster mom. From dog beds to water and food bowls to toys and blankets, these puppies are set until they find their forever homes.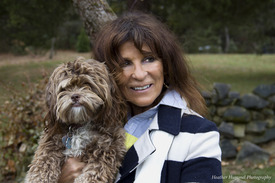 Photo Credit: Heather Hummel Photography
Outside in the backyard were Joan and her granddog, Bella Mia (aka Bell). In many families where sons and daughters are delaying (or foregoing) having children, "granddogs" have become a booming concept supported by an industry that caters to them with everything from bumper stickers to refrigerator magnets to t-shirts. Make no bones about it, dogs are the new grand(fur)kids for a lot of families. I know this truth firsthand as the frequent recipient of phone calls from my parents requesting a visit from their granddogs, Julie and Stephan. We have even been known to FaceTime so they can see their granddogs, much to the confusion of Julie and Stephan who look quizzically at the screen when they hear the high pitched voices calling their names.
In Joan's case, she shares custody of Bell with her daughter. "Bell was the runt of her litter, and the only brown one. Her siblings sported black and white coats, but Bell's cocoa color caught our attention," says Joan, who had by her side a bag filled with sweaters, treats and toys for Bell.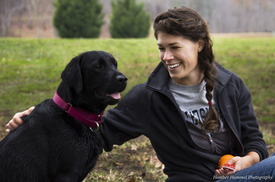 Photo Credit: Heather Hummel Photography
A different kind of bond occurs between those who give their time to training service dogs for those in need of assistance and companionship. Lauren took Dillon, a female black lab, into her home when Dillon flunked out of service dog school. Dillon now spends her days chasing balls and swimming in the lake while Lauren trains other service dogs for the Service Dogs of Virginia. Much like fostering, it's always bittersweet when it comes time for a service dog trainer to part ways with their crew. Knowing the dogs are going to help people in need and to their forever home makes it a bit easier to say goodbye.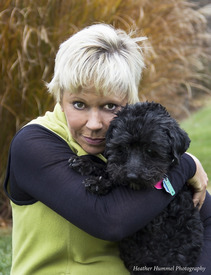 Photo Credit: Heather Hummel Photography
It's the elderly dogs that pull at our heartstrings in a different way. Their soulful eyes remind us of the shared years of life and memories they've given us. We worry and wonder when their last moments will be, while appreciating each day and each moment that they're still in our lives, wagging their tails when they greet us at the door or putting their heads out of the car window catching what could be some of their last breaths of fresh air. We can't imagine replacing them, because we know we never can. For some, the idea of a new puppy helps while others grieve for long periods of time before welcoming a new four-pawed family member into their home. Beth has a few elderly dogs of her own, specifically Minnie and Mousie. Shown here with 19-year-old Mousie, it's evident on Beth's face that she is grateful for every day Mousie is still in her life.
Note: The Charlottesville, VA SPCA is a no-kill shelter. Several years ago I was a volunteer photographer who helped photograph and name the incoming pups. It was the most rewarding volunteer work I've done. I encourage you to visit your local SPCA or other facility to see how you can help save a dog's life.
The Service Dogs of Virginia raises, trains and places dogs to assist people with disabilities. Highly trained dogs perform a multitude of tasks that allow greater personal freedom and independence. They serve clients residing in the Commonwealth of Virginia, and are based in Charlottesville, Virginia.