With summer in full swing, now seems like the perfect time to discuss ice cream. Not unlike the way Angeleno chefs have riffed on the traditional hamburger in recent years, a multitude of local culinary innovators and artisans have taken this simple dessert in new directions. Tai Kim of Scoops in Hollywood creates mind-bending flavor combinations that change daily; Leo Bulgarini at Bulgarini Gelato in Altadena produces gelato with so much authenticity that if you close your eyes, you'll swear you're in Italy; and on the mobile front, Natasha Case and Freya Estreller's Coolhaus truck churns out ice cream sandwiches inspired by famous architects that taste as good as they look.
But in terms of purity of flavor, not to mention charm, the small batch company Carmela Ice Cream, owned by Zachary Cox and Jessica Mortarotti, stands out amongst the impressive crowd. The husband and wife team has been selling their "garden-inspired" flavors at various farmer's markets and specialty food shops around Los Angeles since 2007. Flavors like Strawberry Buttermilk and Brown Sugar Vanilla Bean taste classic with a twist. And their Chocolate Sea Salt cookie/ Mint Cacao Nib ice cream sandwich has to be one of the tastiest desserts in the city. We chat with flavor developer Mortarotti about her culinary inspirations.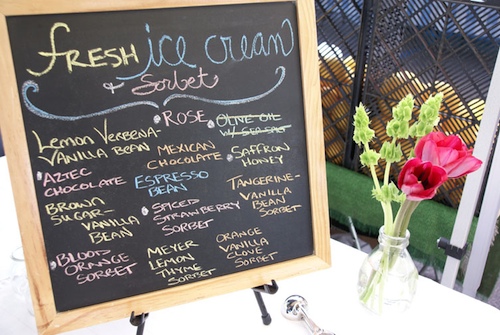 A standard day's offerings. (Photo: Carmela Ice Cream)
Heather Taylor: How do you develop your flavors?
Jessica Mortarotti: I am inspired by creating real flavors from real ingredients. It's about simplicity and letting the flavor speak for itself. We use ice cream as a blank canvas to create, what I call, "garden-inspired" flavors. This is why we use only fresh, real ingredients that are in season at the local farmer's markets.
HT: What are some of your most unique offerings ? What are the most popular?
JM: None of our flavors are too over-the-top, in my opinion. It's really just the simplicity and freshness that set it apart. But, some of my favorite off-beat ones are Lemon Verbena Vanilla Bean, Rose Petal - with flecks of organic roses - and Meyer Lemon Basil sorbet. Ironically, our best-seller is Salted Caramel.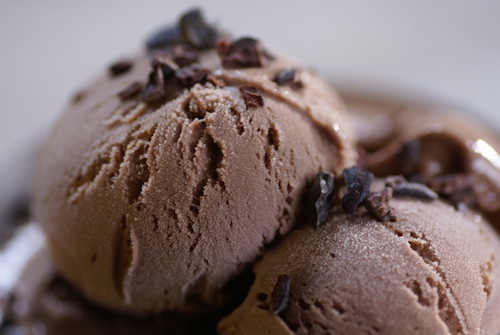 Dark Chocolate Cacao Nib Gelato. (Photo: Carmela Ice Cream)
HT: When did you start experimenting in the kitchen?
JM: I would say I officially became a foodie while living on Bainbridge Island, Washington. In the summer we would pick wild blackberries around the island and combine them with things like fresh-cut lavender or whole vanilla bean to make jam. It was then I realized how much I enjoyed working with fresh herbs and spices to enhance flavors. I've translated a lot of those island jam recipes to ice creams.
HT: Is the experience of selling at the farmer's market important to you?
JM: Absolutely! I'm a huge fan of the local farmer's markets and we decided to start our business selling in the markets as a way to get face to face with customers who appreciate market-driven artisanal foods. It's also a great way for us to buy directly from farmers we sell with, which is pretty rewarding.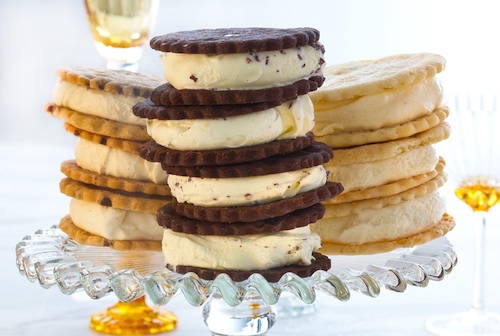 Delectable ice cream sandwiches. (Photo: Ed Alfaro)
HT: That being said, any plans to expand?
JM: We are always thinking of the next step and the various directions we can take the business. At the moment, we are working on creating our first boutique, artisan ice cream factory and retail store - which should be amazing!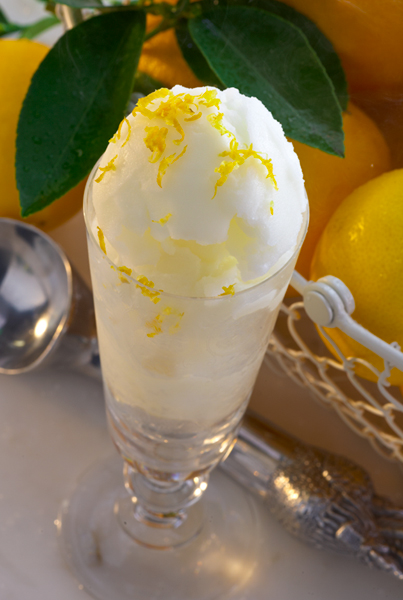 Lemon Basil Sorbet. (Photo: Ed Alfaro)
RECIPE

Carmela's Lemon Basil Sorbet

Ingredients:
4 cups purified water
3 cups sugar
Zest of 4 lemons (Meyers work great!)
1 cup lightly packed fresh basil leaves
1 1/2 cups fresh squeezed lemon juice

Instructions:
Combine 4 cups water and 3 cups sugar in medium saucepan. Stir sugar and water over medium heat until sugar dissolves. Increase the heat and bring to a boil.

Reduce heat to medium and add the lemon zest and basil. Simmer 3 minutes. Strain and transfer syrup to bowl and chill thoroughly.

Meanwhile, squeeze lemons for juice. Strain juice and reserve in a bowl.

Once lemon syrup is cooled, combine with juice. Cool in refrigerator for 4 hours or overnight.

Freeze in an ice cream machine according to manufacturers instructions.

Serves 4-6.

Carmela Ice Cream
www.carmelaicecream.com
323.319.6084
Chef Speak is a bi-monthly column by LA-enthusiast Heather Taylor in which she explores LA's diverse and dynamic food culture, featuring interviews with Angeleno chefs of-the-moment, seasonal recipes, and rising restaurants.