"Braley works for Iowa" is the tagline on the campaign website of Senate candidate and Rep. Bruce Braley. When it comes to clean energy and climate change, Braley's tagline rings especially true. The congressman has a history of working hard to bring attention and solutions to the energy and climate challenges that affect his heartland district.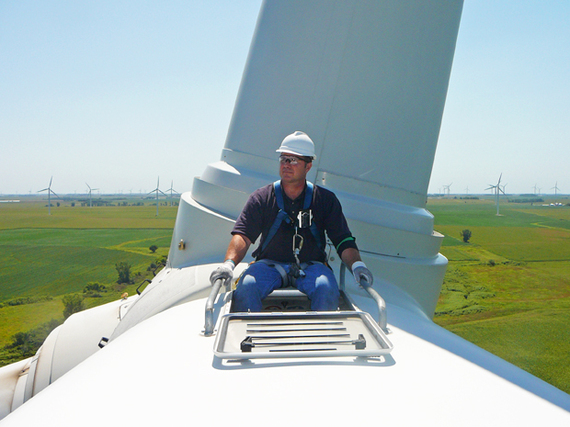 High stakes
The Senate race in Iowa will be one of the most important races to win in 2014 and our opponents are already on the attack, buying up the radio waves to mislead the public about climate change and Braley's record. It's a high stakes race for a state that will be profoundly affected by unchecked climate change and that has tremendous clean energy potential. According to the American Wind Energy Association, Iowa currently ranks third for installed wind energy capacity and ranks seventh for potential wind energy production. Iowa wind power is capable of meeting 44 times the state's current electricity needs, according to AWEA. That's a good weapon for a state that could be seriously damaged by a changing climate. According to the state's leading climate scientists, Iowa's agricultural industry's ability to "feed the world" is threatened by extreme weather, droughts and intense rain storms caused by a warming world.
Braley's record
Faced with the energy and climate challenges and opportunities in the Hawkeye State, Braley is the right candidate to continue pursuing sensible solutions to move his state forward. In the House, Braley has a history of working constructively as a member of the House Energy and Commerce Committee to promote progress on these issues. Braley has been especially focused on Iowa's strong wind energy and biofuel industries. He has sponsored legislation to improve worker training in clean energy jobs, to extend wind energy tax credits and to end Big Oil tax breaks in favor of clean energy investment.
Running clean works in Iowa
Iowans want clean energy and they want action on climate change. Recent polling in the state has found that 80% of Iowans believe global warming is happening and that 73% support government action to reduce greenhouse gases from U.S. businesses.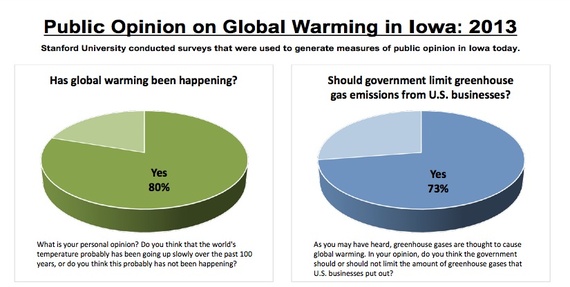 http://democrats.energycommerce.house.gov/sites/default/files/documents/Stanford-Climate-Polling-Iowa-2013.pdf
Running on these popular issues has a history of success. During the 2012 presidential election, President Barack Obama successfully used clean energy as a winning wedge issue in the state. As discussed in our Running Clean report, Obama regularly discussed wind energy at rallies, in advertising and on his Iowa-specific campaign website. Obama's campaign manager credited the wind energy message as part of a factor in winning the state.
With his strong record on clean energy and climate change, it is clear that Bruce Braley is the best candidate Iowans can elect to represent them in the Senate in 2014. We're looking forward to watching Braley show his colleagues how to "run clean" - and win - in the America's heartland.