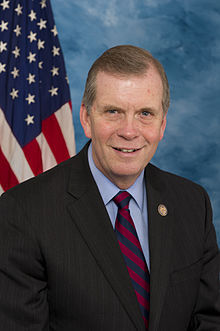 Congressman Tim Walberg seems perfectly happy as a reliable foe of clean air, clean water and taking action on climate change, doesn't he? Maybe it's because he's tucked into the National Republican Congressional Committee's "Patriot Program." And he's done well, raising more than $700,000 from congressional colleagues' leadership political action committees. In addition, he's brought in $137,000 from dirty fossil fuel interests and another $47,700 from the oil billionaire Koch Brothers.
It's no surprise why they want him in the House--he's a consistent supporter of their anti-environment, anti-public health agenda. He sponsored a bill allowing states to waive some environmental standards. He inserted riders into bills barring efforts to promote alternative energies, encourage energy efficiency and decrease oil consumption. And he backed a huge give-away to Big Oil.
He lands on the Daily Dirty Denier$ list for these bills and his numerous votes against addressing climate change. He voted against reducing dangerous carbon pollution. He's backed a bill enabling other agencies to stop EPA from doing so, as well as a measure to stop all agencies from assessing the costs of climate change.
His own views on climate change? While he noted that some scientists believe it is occurring, "I read scientists...an equal number at the very least that say just the opposite that this is something that's gone on for eons, that we go through these cycles."
Walberg's dirty denier actions have earned him just a 7 percent rating with the League of Conservation Voters, showing how far out of step he is with protecting our health and environment. His opponent for the 2014 elections, Pam Byrnes, has challenged him to seven debates one in each of the district's counties, and he should accept them to explain why he consistently backs polluter profits over public health.
Our advice: It's time for Walberg to stop throwing up roadblocks against protections for public health. He could start by supporting the EPA's Clean Power Plan to tackle climate change.