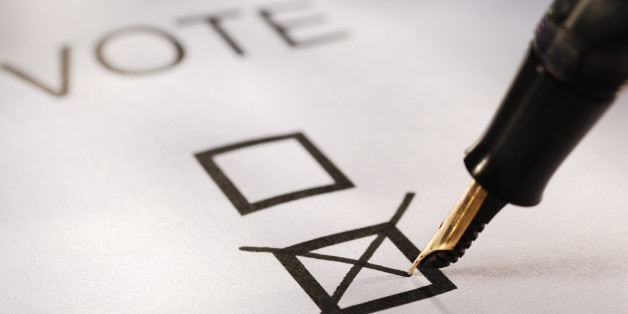 As 2014 draws to a close, most people are reflecting on what the new year will bring. The political junkies among us, however, have skipped ahead to 2016 and the presidential race. And we've had plenty of material to parse these last few days. Jeb Bush's announcement that he will "actively explore" a run exploded on Twitter this week, while Senator Elizabeth Warren's every move has been tracked by analysts.
This week also offered another insight into presidential politics. A new poll released Thursday shows that a climate denier will have a hard time winning the White House in 2016.
The poll, conducted by Harstad Strategic Research surveyed voters in nine battleground states about their attitudes on climate change and clean energy.
Researchers found that more than two-thirds of likely 2016 voters support the Environmental Protection Agency's plan to limit climate change pollution from power plants. That includes 87 percent of Democrats and 53 percent of Republicans.
Support was especially strong among voting blocs that will play a big role in electing the next president. A full 70 percent of Latino and African American voters, for instance, favor the EPA's plan to address climate change. The numbers for women were especially interesting. Sixty-two percent of Independent woman and 59 percent of Republican women want the EPA to rein in the pollution that causes climate change and makes air dirtier and more dangerous to breathe.
If voters want the EPA to tackle climate change pollution, then they won't want a president to pretend the climate threat doesn't even exist.
Americans expect leaders to tackle the big problems, not ignore them. Climate change is hitting home, and communities across the nation are paying a price. Whether it is record-breaking drought in California or dangerous flooding in Detroit or devastating fires in Washington State, extreme weather is damaging people's homes and threatening their health and livelihood. People are looking to elected officials and government agencies to confront this crisis.
Republican leaders should take note. The growing momentum for climate action should inform their choice of 2016 candidates. But it should also make them reconsider their positions right now.
Incoming Senator Majority Leader Mitch McConnell (R-KY) has vowed to block every effort to reduce climate change pollution, and House Speaker John Boehner (R-OH) plans to continue his course of undermining the EPA whenever possible.
This attack on clean air and climate stability may appeal to polluting industries, but it is not what voters want. The polling released today found that nearly two-thirds of Americans want their US senators to support efforts to address the impacts of climate change on local communities. A full 86 percent of Democrats, 62 percent of Independents, and 43 percent of Republicans agreed.
The Harstad polling -- as well as surveys for ABC News/Washington Post, NBC News/Wall Street Journal, Gallup, and many others -- make it clear that voters want leaders to clean up climate change pollution now, and they will bring that desire into the voting booth in 2016. Putting a climate denier on the ticket or spending two years attacking climate action in Congress won't appeal to this majority of voters, but a champion who makes the air safer to breathe and shields our families from unchecked climate change will.