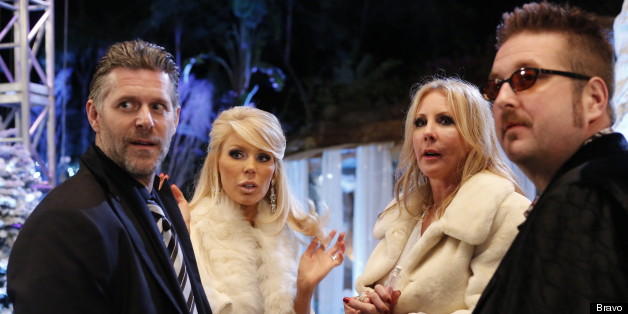 Note: Do not read on if you have not yet seen Season 8, Episode 17 of Bravo's "Real Housewives of Orange County," titled "An Immodest Proposal."
What is this thing called "love" -- It is a mere form of chemical madness, hormones running furiously amok; Is it inexorable bonds formed between like-minded, socio-economically compatible individuals; Or is it something more -- a cosmic, near-divine affection that nourishes two entwined souls? Maybe, just maybe, the answer lies in this next hour of Bravo primetime (Promotional Consideration Provided By "The Smurfs 2").
Vicki welcomes Alexis and Lydia into her freshly redecorated home. She's removed all Donn-related décor and has reimagined the interior in a style she deems "theme-y." I would go a step further and describe the theme as "Menopausal Mediterranean."
She announces her plans to throw a "Winter Wonderland" party, inspired by their recent trip to Canada. There Will Be Penguins! The three gals discuss who is and isn't invited to the party. Not on the list: Brooks, Lauri, and ... Slade? The three tune in to "Radio Slade" for confirmation of his smack-talking crimes against "Housewife" humanity.
DJ Slade's broadcast is pretty beat. We hear him complaining about a certain disliked person in his "social circle," a woman with a surplus of plastic surgery. Code name: "Tupperware Face."
Vicki is aghast.
"I know you were swollen for a couple weeks, but ... look at you now," Alexis lamely comforts her.
The girls agree that Slade is rude and classless and he's crossed the line ... so, of course, by the show's conflict-at-all-cost logic, Vicki will go ahead and invite him to the "Winter Wonderland" party.
Meanwhile, the swishy Dubrows break the news to their four cute, squirmy children that they're moving from one $16 million mansion to another, bigger mansion. The kids humbly request a bigger movie theater and a chocolate milk pool. Sounds doable. And delicious ...
Grossout DJ Slade is on air with his pseudo-punk, pink-haired sidekick. She tells him, mysteriously, that she's going to play a song by "someone he knows." Gretchen's over-produced vocal track hits the airwaves, singing: "I'm giving my heart to you/And I'm ready to spend my life with you/Marry me/ahhhhhh-ahhhhh-ahhhhh." It's an auto-tuned angel.
Slade at last gets the picture, wipes away tears, and follows his fuchsia flock-of-seagulls cohort out of the studio, where a tux, a limo, and a note from Gretchen await.
In a nondescript event space, Gretchen is wearing a Snow White/flapper getup, preparing for her grand rooftop proposal. She has an aggressively glittery party theme going on for the post-proposal festivities, and announces to her hairdresser that none of "the girls" are invited, for various Gretchen-slighting reasons.
The guests arrive. Oh my god, Slade's younger brother Kent looks EXACTLY like Slade, only with a rockin' ponytail! My heart skips a beat.
Slade is escorted into a limo and whisked away in a helicopter. This is some serious next-level "Bachelor" action, and I must give Gretchen kudos for her unconscionably extravagant, yet seemingly heartfelt efforts.
"I'm off to the roof," she exclaims, after a one-one-one chat with her mom and a series of flashbacks featuring horrible scenes of her freaking out about Slade's debt and the other women disparaging him with various levels of coherence.
But, when Slade makes landfall, all is well.
"I want you to understand that being in love with you makes me feel like I'm on top of the world," Gretchen says. "The world" being an office park in Van Nuys.
She apologizes for getting cold feet and says he's amazing, and that nothing matters but Slade. "I was allowing my past to get in the way of my future, but you are my future. I want you to be the father of my children, and I want to have a wonderful, maybe not perfect, but happy life together. What do you say? Do you want to do this?"
[AM I SHEDDING GRETCHEN-SLADE REVERSE PROPOSAL TEARS? WHAT IS WRONG WITH ME?]
Slade then kneels down and says it will be an honor and a privilege to marry her, and accepts his giant man-gagement ring.
Thankfully we "cut" to C.U.T. Fitness, which is looking marginally better than the last time we saw the space. There seems to be a lot of day-glow merchandise for sale. Alexis arrives and hops on a stationary bike wearing what appears to be a peplum sports bra. Tamra reflects that just weeks ago, she kicked Alexis out of her fitness studio -- and now, she's the first one welcomed in.
Alexis interviews that God wants you to forgive and love everyone. "Even Tamra."
Meanwhile, Gretchen revels in her engagement, and Gretchen's mom and dad, who had been longtime Slade skeptics, sincerely congratulate them both. Slade asides that his younger brother Kent is his polar opposite: He works on a fishing boat, rocks the aforementioned sweet pony, and carries a flask of moonshine at all times. Amazing.
"Kent is like the swamp version of Slade," Gretchen says, tacitly dissing her soon-to-be brother-in-law on national television. Still, I sort of laughed.
We're back at Vicki's, where her "Winter Wonderland" is looking a little too wintery for her refined tastes. She screams at a bunch of party planners who seem to be actively tuning her out. She gets her makeup done and orders around her son-in-law Ryan. Fresh off his military base, he looks a bit rattled to have been re-assigned to Camp Gunvalson.
The girls all arrive and marvel at the faux snow. Tamra changes a diaper. Lydia actually uses the term "ironic" correctly. The elusive Jim Bellino is spotted, wearing a long crimson scarf. Vicki announces to the group at large that Brooks is "back" and that, together, they're going to conquer the mountain of skepticism painstakingly built by her friends and family.
Tamra announces her June 22 wedding date with a catchphrase-y "Tamra and Eddie are finally ready!" And, the group snarks collectively about shady Slade and greedy Gretchen, just as the freshly engaged twosome enter this wintery crevasse of smoky-eyed hostility.
Next Monday -- it's the SEASON FINALE, you guys! Can you believe it? I won't even tease you with the trailer. Let's just say I hope Vicki doesn't have an ice pick handy. See you next week -- BYOT (Bring Your Own Tupperware).
"The Real Housewives of Orange County" on Mondays at 9 p.m. ET on Bravo.
PHOTO GALLERY
The Real Housewives of Bravo