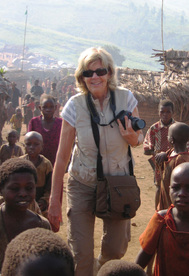 This week the Archbishop of Canterbury welcomed the historic vote by the Church of England to allow women bishops, but how will this translate for women across the world? The Nigerian girls are still missing, the leading women's center in Sudan has been closed, six leading women activists in Cairo have been arrested, and the leading activist for women's rights in Libya has been assassinated. Add to that Boko Haram (whose name means "Western Education is forbidden") has put out a video that has gone viral mocking the Twitter feed #BringBackOurGirls made infamous by the voices of First Lady Michelle Obama, Angelina Jolie and Malala Yousafzai. Malala didn't stop there. She was in Nigeria this week to meet the Nigerian president and families of the girls, urging both men and women to stand up and demand these girls be returned. That is quite the polarity for women's rights today.
And this is where Sally Armstrong says we are seeing the earth shift in her new book Uprising: A New Age is Dawning for Every Mother's Daughter Even amongst all the atrocities in the few months for women, the Amnesty-award winning journalist who has stood up to the Taliban and elders in war-torn countries, says there is hope. The tide is changing and she believes the earth is shifting under the status of women.
"This is a tipping point when age-old oppression is seen as harmful to the economy and the health of the community and the opposite -- emancipation -- is seen as the route to prosperity."
In her eyes, this shift means a better economy, reduced poverty, and a cut in conflict. Her research in Uprising: A New Age is Dawning for Every Mother's Daughter, claims that women from Nairobi to New York and Kabul to Cairo are powering changes so immense everyone from presidents to pollsters see them as the way forward. A typical take from Armstrong: the kidnapping crisis in Nigeria is not only about missing girls -- it's a first.
"No military, no government, nobody has ever gone anywhere to rescue girls before. When President Barrack Obama said, 'I'm sending in strategic and military advisors' he checked off a box in history that has never been checked off before," says Armstrong.
Armed with stats and figures, including those from Jeffrey Sachs that "educated women hold the key to ending poverty," Armstrong stands up to dictators, oppressors, and North American family members who refuse to change. They call her the war correspondent for women and the Talibanista. Mother of three, widowed too young, and making strides for women around the world -- Sheryl and Hilary might want to have her on speed dial.
"I can tell you something is happening right now for women. And to me it is a double-edged sword. It's very worrisome on one hand and very telling on the other," Armstrong said in reference to the string of events against women over the past few weeks. She believes the extremists likely had coordinated the Libyan assassination, the Sudan women's center closing, and the Cairo arrests.
It's almost like the last stand or the last gasp for these misogynists to say we are in charge. Because when these horrible honor killings, murders, beatings are happening these days they are making the front pages of the newspapers and that must be driving the fundamentalists crazy. They can see the rest of the world is onto the hideous behavior they use in order to keep women repressed.
She sees it as a sign of "the misogynists' desperation."
So who will get these girls back? Armstrong implores religious leaders to get out there on the stump. "Where are the religious leaders? Where is the Grand Mufti? Why is he not speaking out? What does he have to say to Boko Haram? Does he not want to protect Islam from the slander with which Boko Haram is staining the religion? Why is he so silent?" (Sheik Abdulaziz Al al-Sheikh, the top cleric in Saudi Arabia, did condemn Boko Haram on May 9th as reported by the Guardian, but has not spoken out since.)
In Islam, the Grand Mufti in Saudi Arabia has a very big reputation and Armstrong urges him to use it.
The Koran does not say to deny a girl an education. Where are the leaders and voices that can speak to the extremists? The voices of those who can speak to the women are loud and clear but we need the people who can speak to the extremists to get busy.
And she does not stop there. She says religious leaders in North America should also be speaking out.
If a minister got up in a large church and said hurting your wife, beating her, depriving her of her rights is wrong in this religion, its wrong in the world, and wrong in society, he'd be speaking to one in five people in his congregation but you don't hear him saying that. It is in every religion.
Let's hope the Church of England is onto something.

This is an exclusive excerpt for the Huffington Post. The full interview with Sally Armstrong is posted on TheEditorial.com