As always, I'm fascinated by people that do things, and I'm even more fascinated when they come from street culture.
So, I'm doubly excited that two of my friends have books out this month -- both on vegan living, and the evils of GMOs.
Both John Joseph (sometimes better known as the singer of the legendary New York Hardcore band the Cromags) and Supa Nova Slom (founder of Unify the Hood, Heal the Hood, and a member of Bill Cosby's positive hip-hop music project, Cosnorati) have put down their years of research, and their proven successes.
Over a year ago, I bumped into John in our neighborhood. He was training for Ironman. John's been in great shape as long as I've known him, and I can attest to the fact that his cooking is off the hook. He'll frequently bring home-cooked vegan food backstage at concerts. That day, John said he was working on his newest book, and when I asked the title, he said, Meat is for Pussies. I laughed. He continued to explain, saying many he trained with thought meat and animal protein were necessary, and made jokes in front of him about 'wimpy vegetarians' -- not knowing that John himself refuses to eat animal products. He wrote this book to dispel those myths.
Slom and I met through his lovely publicist -- and the first day we met, he took me to the Russian Baths near Wall Street. Me and three of his friends sweated, and drank tons of distilled water laden with chlorophyll and greens. Slom grew up heavily influenced by his mother -- who is a strict vegan and avid proponent of juices and greens to heal. He saw food destroying his friends -- deteriorating their health, and making them sick. He began to share his wisdom with them, and earned the name 'Medicine Man'.
Both John and Slom came up on the streets -- they both question and seek to educate and innovate.
Learn more about John's book here.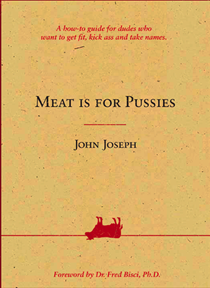 Learn more about Slom's book here.