This is the perfect Monday night dinner for those of us that tend to carb-load on the weekends. The high fiber zucchini pasta undoubtedly makes this a guilt-free meal. We topped the vegetable pasta off with salmon to provide heart healthy omega-3's, protein, B vitamins and vitamin D. These nutrients add an array of health benefits to our easy 'get back on the healthy track' dinner.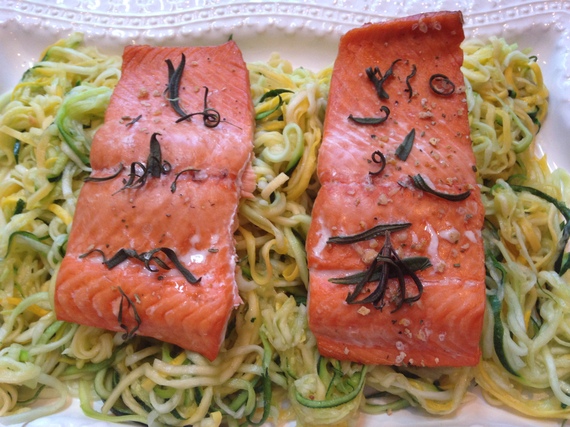 Ingredients
(serves 2)
Salmon
2 fresh Coho salmon fillets
2 teaspoons orange ginger seasoning
1 sprig rosemary
Zucchini
2 green zucchini, sliced into pasta
2 yellow zucchini, sliced into pasta
1 tablespoon extra virgin olive oil
1 1/2 teaspoons garlic & herb seasoning blend, salt-free
Directions
1. Clean and preheat grill for salmon. Lightly season salmon fillets with orange ginger seasoning and rosemary.
2. Grill salmon until opaque and flaky. There should be a crispy layer on the outside. Set aside and keep warm.
3. Heat olive oil in sauté pan over medium heat.
4. Place zucchini pasta in sauté pan. Season pasta with garlic & herb-seasoning. Sauté until pasta is tender (approximately 3-5 minutes).
5. Serve pasta warm on a platter and top with salmon fillets.
~Healthy Happy Eating!
For more healthy recipes and nutrition advice visit ProNutritionConsulting.com and "Like" Professional Nutrition Consulting, LLC on Facebook.