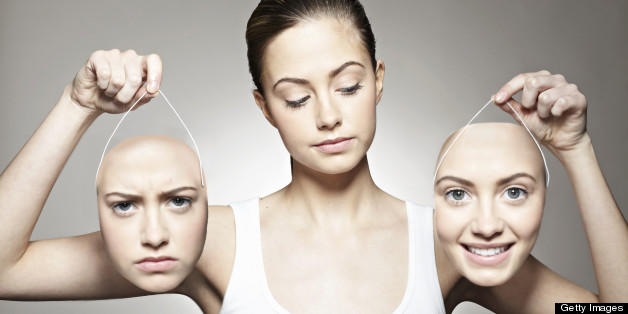 The thought of seeing a one-person show always makes my heart sink a little. Instead of anticipation I feel a kind of dread, as if I'll have to work for my pleasure instead of sitting back and surrendering to some grand, mindless entertainment. I know the experience will be -- well, edifying, maybe, but not exactly fun. Still I go, and never expect what I often find: that a great solo performance can contain multitudes, casting a spell as powerful as the most lavish effects-laden spectacle.

TONY, MEET ANN
Ann Richards is on the phone with every single member of her family, and what feels like everyone she's ever met. Each conversation reveals a slightly different facet of the woman we think we know: in seemingly insignificant exchanges we see the essence of who Richards is and the dazzling balancing act she's constantly performing.
Except it's Holland Taylor, alone on an enormous stage talking into a piece of plastic. We hear entire conversations in her elliptical asides, the essence and history of each relationship. Using nothing more than a small inanimate object, Taylor seamlessly weaves what appear to be inconsequential parts into a vivid whole.
That Taylor delivers a delightful performance is no shock; the eye-opener is the agility and reach of her script. Using the small details in life to evoke the big picture, Taylor has crafted a play at once light and resonant, equal parts silly and deep. She uncannily channels Richards, but not through a lecture or "important" tale; instead Ann is an invitation to hang out with the life of the party -- the life of many parties. We come away feeling -- keenly -- not only what Richards' unique persona brought to the world but what it felt like to be part of her private circle, to be her cherished (and beleaguered) friend. The piece could lose a good 20 minutes, particularly the last 15 (chiefly here, one suspects, as the setup for a delicious Bill Clinton joke); it's when she reaches for Big Truths that the picture grows a little vague. Yet even a less-than-magical ending doesn't dissipate the fizzy glow Taylor sends us away with.

EVERGREEN
The perfect pairing of actor and play is a rare joy; it can feel like a miracle. In Jonathan Tolins' Buyer & Cellar, a giddy fantasia about a struggling actor and a certain legendary diva known for her perfectionism and untrammeled self-indulgence, Michael Urie masterfully rides every emotional and comic wave. Like Ann, Buyer & Cellar carries its message lightly, with an ostensibly frivolous story that packs an emotional punch. A sweetness underlies this outlandish yet somehow not that implausible tale, which Tolins wisely chooses to tell through a character once removed from a certain kind of obsessive theater queen (though that species is also represented). By showing how much strivers on all rungs of the celebrity ladder have in common -- how their dreams can taunt or tickle, curdle or take flight, Tolins' finespun script allows us to appreciate its subjects' humanity as well as the comic potential in their plight. And it's hard to imagine a more sublime tour guide than Urie for this dizzy trip.

BOMBSHELL
In our age of continuously streamed hilarity, even the thrill of watching, say, Michael Shannon reenact a frat-girl's rabid tantrum online can't compare with sitting in a room as an artist with that indefinable magic performs live. And sometimes the ideal match of art and artist is just around the corner, waiting to come into focus.
Megan Hilty is an actress and singer who has been around for some years paying her dues, just like her shamefully underutilized character on Smash. If you've ever seen her on stage, you won't be surprised to learn that Hilty put an entire roomful of hardened New Yorkers in her pocket during a brief demonstration of her gifts the other week at Joe's Pub. Her quickie appearance -- a teaser geared to lure fans into buying her debut album -- cleared up a nagging mystery for me: why I persist in watching the stunningly ersatz television program on which she appears. Hilty is like the promise of gold flickering amid the dross of Smash's second season, about which the best that can be said is that it makes season 1 seem like the Homeland of musical dramedy. (That first, Theresa Rebeck-helmed season, while inconsistent and often ludicrous, at least managed to evoke the unique mad joys of working in, and watching, theater, and it knew to highlight its talent -- Hilty, Anjelica Huston, Christian Borle -- even as it dutifully pretended Katharine McPhee's Idolized performance deserved to be in the same room with them. Season 2, for all its leadenly deployed theater-insider shout-outs, is 100% TV, in the most painfully retro sense of the word).
Hilty in the flesh is exactly as she appears on the show: luminous, luscious, alternately wry and bubbly-sweet, at times utterly transfixing. "We made a breakup album!" she exclaimed, delivering several songs centered on heartache in a pleasant belt-y voice. Though she'd initially planned her debut disc to be a collection of her favorite covers, particularly show tunes, most of the baker's half-dozen pieces she sang were originals. Then she began to sing one of her wish-list standards that had made it onto the record -- "Am I allowed to say record? I'm old" -- and she conveyed, as a great musician and actor does, volumes of feeling, simple but indelible truths about human existence, an entire story told in music. We held our collective breath.
Hilty is entirely winning, one might say adorable, with a radiance both childlike and seductive, and singing her bouncy, spirited, up-tempo numbers she would make a lovely addition to any ensemble. But why? Why, when she can do something that makes time stop and no sentient being be able to take our eyes off her, would she do anything else? Too often artists feel driven to pursue the one thing they're not best at -- actors want to be rock stars, rock stars want to be actors, writers want to be models (anything but writers). Maybe their retinue of advisors are the ones who steer artists toward conventional endeavors they can do agreeably instead of less marketable corners where they truly shine; it's a rare performer with the self-knowledge and spine to sidestep the call of commerce for the siren song of art. I don't know if Hilty's record will hit the top 5 on my iPod rotation, but I would go anywhere, any time, to watch her sing a standard ballad live and unvarnished.