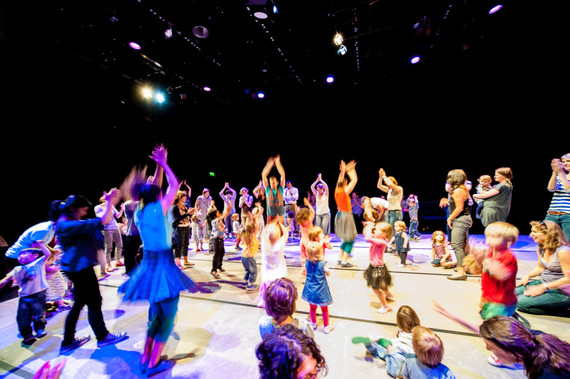 Widening a child's perspective on the world is part of healthy child-rearing and one way to do that is introducing music and performing arts, which is essential for development and stimulation. The Edinburgh Imaginate Festival, part of Edinburgh Festivals, runs until Sunday, 17 May and aims at providing thoughtful, introspective performances at children from infants to teenagers. From a giant acrobatic bouncy stage to tough conversations about body images, there's a wide array on offer.
For little ones, you get a giant bouncy stage with two professional acrobats with dance and parkour skills in Bounce, specifically commissioned for Imaginate. "Parkour" comes from the French movement of overcoming obstacles by propelling yourself with momentum. Kids want to do this naturally as they usually plow through barriers, bushes and toys as if they don't exist, leaving bumps, scrapes and bruises all over shins.
Hup introduces under-2s to classical music with violins, cello and a raccoon. Wee Dance, wee groove is an interactive dance party with babies grooving to salsa and hip-hop. For physical comedy, you might want to get a taste The Edibles is a story of a three-tiered cake, three bakers and a hungry mouse. I know the show has the right plot to crack my five-year-old up uncontrollably.
On a more serious note, Dream City (Droomstad) from the Netherlands takes its inspiration from a Dream City set up in Iraq, which gave children in war zones an outlet to dance and spin away their anxieties and stresses. Mess deals with a young girl's grappling with anorexia, not a fun subject but a reality for many pubescent audience members. There's also a dark adaptation of Hansel and Gretel with Johannes & Margarethe from Germany and Switzerland. Unicorn Theatre in England brings an updated version of Shakespeare's Henry the Fifth where the premise lies in whose castle is bigger than Henry's, something that sounds like what you hear from kids about who has better toys than them.
Gold Digger from Denmark's Teatret Mollen centers of an urban legend Laust Eriksen who leaves his family for America to join the gold rush. Blue-grass music serves as musical accompaniment as he reminiscences about his old life and his new life in search of fortunes halfway around the world. It was a big risk for others Americans to pan for gold in the remote Wild West but to leave Old Europe by crossing an ocean would've been an ambitious journey indeed.
Along with the shows, Traverse Café Bar is hosting a free Family Fringe on May 16-17 where you can get a shot of Fringe before the main Fringe Festival hits Edinburgh in August and September.
There's no shortage of what you can take your kids to at the Edinburgh Imaginate Festival. From pure bouncing and spinning to real pressures teenagers have to face, it won't be hard to find something to catch your children's interest in Edinburgh.
For more informaton, go to Edinburgh Festivals or Edinburgh Imaginate Festival.