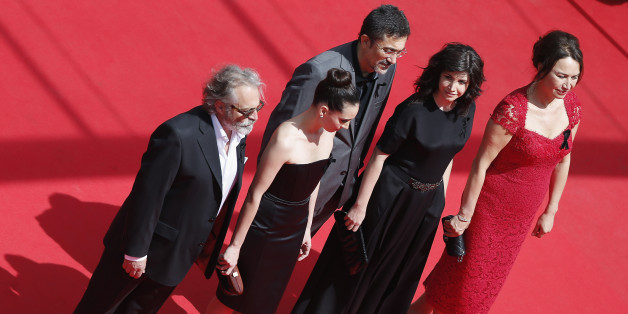 When Aydin comes home to find his abode to be abuzz with the banter of warm conversations, the inviting glow of a fire and the relaxed vibe induced from the local Turkish liqueur, his first reaction is confusion because he doesn't know what the party is for. It turns out they are the guests of his pretty, young wife who has barely hidden her disdain for him for the last two years.
However, he regards himself as the de facto village elder since he's one of the richest men in town (via inheritance) with a weekly newspaper column. And his superficial self-esteem is hurt for two reasons. One is he didn't convene the gathering and two, it wasn't his idea to run what is looking like a vibrant charity meeting. To further bruise his tender ego, his wife kicks him out of the room so he won't hijack her pet project, and thereby the cold charade of their marriage begins to unravel.
Winter Sleep, winner of the Palme d'Or and FIPRESCI Prizes at this year's Cannes Festival, is a film centered on brilliant dialogue where the subtleties of the relationships are slowly unveiled through conversations of what's said and not said.
Running at 196 minutes, it's one of the longest films in this year's offerings. It's a strong contender for the Academy Awards as Turkey's official entry for the Best Foreign Language Film, directed by Nuri Bilge Ceylan.
Set in Turkey's Anatolia region, cinematographer Gökhan Tiryaki captures the beauty of the area's famed cave dwellings and fairy chimneys during a period many people do not see. The movie takes place just as the end of the tourist season where guests for Aydin's cave hotel peter out and snow sets in, leaving the remote mountain area in hibernation. With few strangers to distract, the unhappiness from the emotional strained relationships between the permanent inhabitants comes in stark light.
Aydin and his wife Nihal hardly communicate. Necla, Aydin's middle-aged sister, has recently divorced her husband in Istanbul and has come to stay with them. While Necla tells Nihal that she is "an expert at criticizing by being silent" and is considering going back to her abusive husband to get away from their misery, she also tells her brother that he is full of "soppy romanticism" in his arrogant articles in the local paper Voices of the Steppe. Aydin also fancies himself as an intellectual who's main goal is to write the first tome about the history of Turkish theater.
As the owner of several properties rented by poor locals, Aydin also believes he's above the mundane trappings of money, even when he finds out one of his tenant families could not pay the rent and had their refrigerator and television taken away by his henchmen. Still, he doesn't lift a finger to alleviate their suffering. Instead, he soap-boxes in his column about the sloppy appearance of the imam who is his tenant, oblivious and inconsiderate of the fact the imam is struggling to provide for his extended family of five.
Written by the director and his wife Ebru Ceylan, the screenplay captures the dialogue of deteriorating relationships succinctly and tersely. Interestingly enough, there's also a writing credit to Anton Chekhov. Toward the end, the characters also realize they only have each other in their circumstance with no tangible or major incentive for changing. The only thing they can work on is themselves, and the audience hopes the realization in their souls will translate to a less toxic relationship between each other.
Only time will tell what will happen but this type of human drama can be found in any country and in any language, if we look well beneath the surface.

Winter Sleep is now playing at the Glasgow Film Theatre. Directed by Nuri Bilge Ceylan.