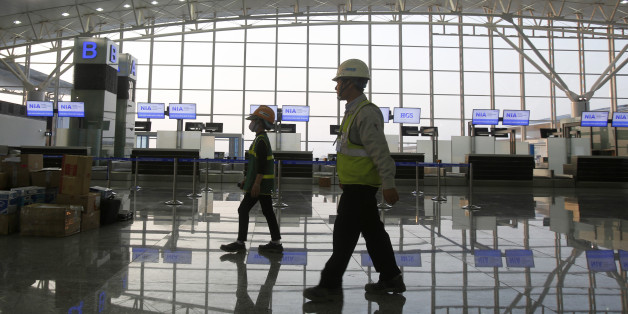 PERTH, Australia -- On July 29, loudspeakers and screens for national flag carrier Vietnam Airlines were hijacked in two major Vietnam airports in the cities of Hanoi and Ho Chi Minh City. Offensive messages and what has been described by state media as "distorted information" about Vietnam and the Philippines' claims to the South China Sea were displayed on flight information screens and broadcast over the public address systems.
The breach forced many airlines across the country to perform all check-ins manually. According to Vietnamese media, Chinese hacking group 1937CN first claimed responsibility for the hack, but has now refused to confirm or deny any affiliation. However, the group has been associated with many other cyberattacks in Vietnam, according to Vietnamese news reports, and it is largely believed that this hijack is Chinese affiliated as well.
The hack comes after the Hague Permanent Court of Arbitration's ruling against China over sovereignty issues with the Philippines in the South China Sea, and it is the latest example of the fight over the South China Sea moving online. Though the ruling was in favor of the Philippines, the waters are contested by Vietnam, too, and any win against China for one is a win for all claimants.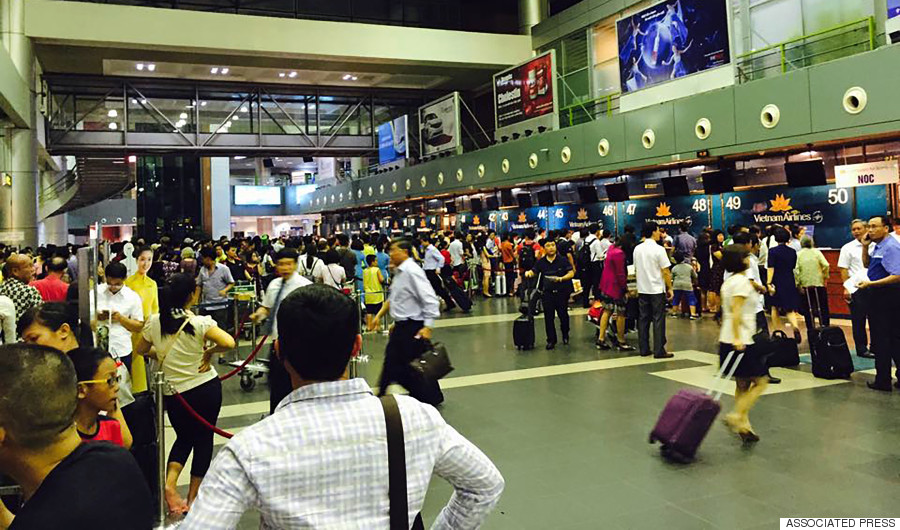 Passengers crowd at check-in counters at Noi Bai Airport in Hanoi, Vietnam Friday, July 29, 2016. (AP Photo)
The recent airport hack and the South China Sea ruling highlight twin issues facing Vietnam: what are cyberattacks by civilians going to do to Vietnamese-Chinese relations while Beijing and Hanoi are trying to be civil, and why does net savvy Vietnam lag when it comes to cybersecurity?
Nationalism and the Net
The battle for the South China Sea expanded online some time ago, and the Philippines has been involved in its own cyberwar with China as well. Last year the Hague's own Permanent Court of Arbitration website went offline, subject to a similar attack by suspected Chinese hackers. Cyberattacks across the world are now a political tool, and Vietnam is not unique (just see this list of attacks around the world from the first half of May), but what makes this situation worrying is the possibility that tensions in the region have been driving a serious increase in attacks it is not prepared to deal with.
Hanoi is still managing disagreements with Beijing diplomatically, but managing Chinese nationalist attacks is something different. Hanoi has not publicly mentioned this to Beijing nor publicly demanded the government in China order a halt to attacks. Whether this has been discussed behind closed doors at meetings is unknown as is the certainty of the hacker origins. The populace are expressing their feelings in other ways; last week a Vietnamese border guard apparently scribbled "f**k you" twice into a Chinese passport showing the "nine-dash line" that designates Beijing's claim to territory in the South China Sea.
The hack is the latest example of the fight over the South China Sea moving online.
As investigations were underway on the airport hack, the minister of information and communications, Truong Minh Tuan, said he wanted no reprisals, stating, "I call on Internet users in Vietnam to remain calm and comply with the law, avoiding provocations or seeking revenge. Such actions would compromise socio-economic development and national security."
According to Tuoi Tre News, the Vietnam Security Information Association said that the attacks were "deliberate, well-planned and began long before [the 29th]." Cyberattacks appear to have increased greatly since 2014, when China moved its HYSY 981 oil rig into Vietnam's exclusive economic zone, or EEZ, for over two months. Vietnamese protests were unexpectedly large and violent then, with Taiwanese factories torched and Chinese and Taiwanese nationals evacuated by the government.
In December 2014, a Thanh Nien article reported that a survey of companies and organizations by the Vietnam Information Security Association found that, "20 percent of respondent firms expressed concerns that the East Sea/South China Sea tensions could threaten their information security." In 2015, some 10,000 sites were hacked, 224 of them reportedly government ones. Most hacks seem to attack businesses, but it is the Chinese nationalists that are an obvious worry to the country.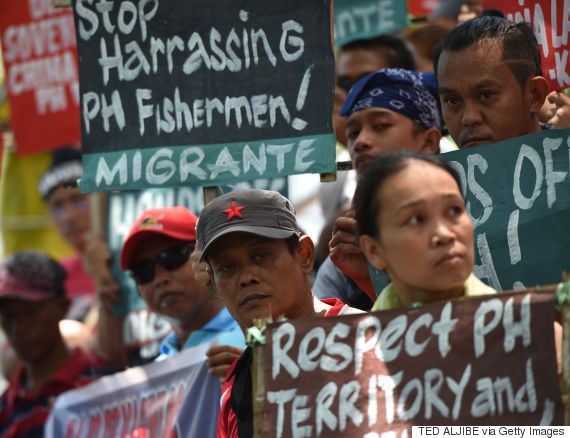 Activists hold anti-China placards during a protest in front of the Chinese consulate in Manila, Philippines on July 12, 2016. (Ted Aljibe/Getty Images)
Net Savvy, but Net Safe?
When U.S. President Barack Obama visited Vietnam in May, he attended an entrepreneurs event at DreamPlex in Ho Chi Minh City. He described the country as "full of energy" and said, "You can spot it online, where tens of millions of Vietnamese are connecting with each other and with the world." He pointed out that a "leading global venture capital firm called 500 Startups just launched a $10 million fund here in Ho Chi Minh City."
Things have moved quickly indeed. For some years Vietnam has had one of the fastest internet uptake rates in the region. At the Obama event, Le Hong Uyen Vy, founder of Adayroi, an Amazon-like website in Vietnam, told a packed audience, "It's much, much better now because people are getting used to using their smartphone to order things online. Three years ago, when I first started, it was so difficult to get people online."
Meanwhile the government in Vietnam has been fostering startups since 2013 and put $110 million into the venture, with a large portion coming from the World Bank. "The diversity of the startups is a testament to the openness of the Ministry of Science," Tech in Asia reported. Startup fever is real, and foreign news became more interested in the phenomenon beginning in 2014 when the record-breaking game Flappy Bird, designed by a young Vietnamese developer, became one of the most downloaded apps in the world.
'Vietnam has seen a more rapid growth of the internet over the last few years than most other countries in the region and is one of the fastest growing internet countries in the world.'
The view from afar thus seems rosy, but those in the industry are more measured. Hai Nguyen, founder of financial startup LoanVi, told me that the term "startup" is still new to the government but that the government has begun to pay more attention even as infrastructure seems faulty (underwater net cables that link Vietnam to the world have repeatedly suffered, most recently during a typhoon).
"Personally, I am surprised to see the appearance of C-cabinet level (minister, deputy minister and even deputy prime minister) to attend and speak at startup events within the last two years. I think this is the huge positive point," he said.
As for why the government falls short in protecting itself Hai could offer no serious answers but said it was a "transition time" and "[the government is] switch[ing] from [an] offline model to shar[ing] information online." But this "transition" should move faster.
Vietnam loves the internet. Cimigo, a Ho Chi Minh City-based market research firm said in a 2011 report: "Vietnam has seen a more rapid growth of the internet over the last few years than most other countries in the region and is one of the fastest growing internet countries in the world." Another report from April of this year said that mobile app downloads grew 60 percent in 2015 and overall net penetration went from 13 to 48 percent from 2005 to 2015, while it jumped from 20 percent to 72 percent in urban areas. New video on demand sites are also doing well, including NetTV which is owned by Viettel, which itself is actually owned and operated by the Ministry of Defense -- one of the ministries that oversees cybersecurity.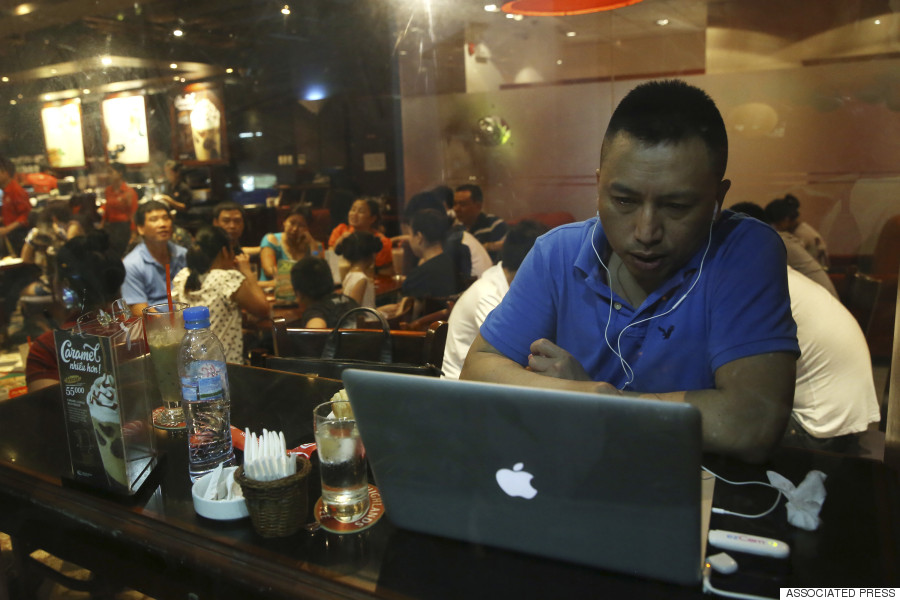 In this May 14, 2013 file photo, a Vietnamese man uses a 3G device to get online at a cafe in Hanoi. (AP Photo/Na Son Nguyen, File)
With that kind of commitment and advancement you might think that cybersecurity was taken care of, but it seems to be a slow moving process. A new information security law was passed in November of last year and it went into effect July 1. This was the first actual law to address cybersecurity. Previously, efforts had been piecemeal throughout other laws. Yet laws on how citizens use the internet have been common for a decade (see here for a 2014 summation I wrote). And despite not being prepared for cyberattacks, the government has perpetrated them in the past, purportedly hacking the Anh Ba Sam blog (whose founder was sentenced to prison in March).
Ten years ago, a man sitting in a local internet cafe broadcasting his views across the net could be tracked and caught in a string operation. And in 2016 many government websites still seem vulnerable to cyberattacks, some from alleged Chinese nationalists.
Diplomacy, but Not Digital
Maritime disputes in the South China Sea are a major irritant to smooth relations between Vietnam and China. Carlyle Thayer, a longtime Vietnam expert and emeritus professor at the Australian Defence Force Academy, wrote in a recent paper for the Journal of Asian Security and International Affairs that Hanoi does not wish to derail the comprehensive strategic partnership it has with Beijing. When Chinese President Xi Jinping visited Hanoi in November, bilateral agreements based on that partnership's cooperative framework were signed.
As the South China Sea issues flare up rather than resolve, it's hard to see that nationalist hackers will stop unless told, or forced, to.
As I wrote last month, Vietnam's reaction to the ruling that denied China its despised "nine-dash line" was, at the very least, muted. Antagonizing an upset Beijing or fomenting nationalism that could turn destructive were both unappealing ideas. Anti-China protests in Hanoi were swiftly shut down days after the ruling and Vietnam in the past has sometimes allowed protests so as to send a message to Beijing.
What is going to happen in the future is harder to say, but as the South China Sea issues flare up rather than resolve, it's hard to see that nationalist hackers will stop unless told, or forced, to. It probably is not the "next" front so much as just another area to battle over.
Tracking a few dissidents, even when they get their own web security training, is not the same as stopping legions of talented Chinese hackers who have compromised systems the world over. But this latest hack has not simply pointed out that nationalism and the fight over the South China Sea is being dangerously disaggregated (I can't bear to use "disrupted") from governments to citizens, but it has also shown that one of Southeast Asia's brightest tech hopes has a terribly large chink in its armor.
Earlier on WorldPost:
PHOTO GALLERY
China Sea Fort