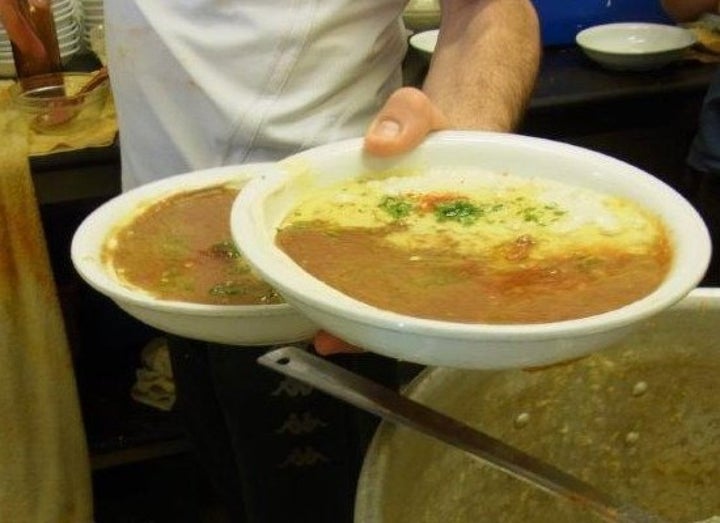 Waking at 6 or 7 a.m. to bubbling vats of fragrant humous mixed with just the right bite of salt from the Mediterranean is a life changing experience. As a "local" of Jaffa Port, I quickly learned the art and benefits of earning celebrity status at Abu Hassan (a.k.a. Ali Karavan), the best humous maker in Israel.
Parts of the north of Israel and Jaffa are the real producers of masabacha, a rich, secret potion of blended humous (chickpeas), tehina (sesame paste), lemon juice and a touch of chile. The others simply produce humous.
The name "masabacha" was coined from the Arabic sabach, meaning morning, the traditional time for starting one's day with a bowl of this high energy, high fiber mix that can sustain even the titans until sunset, at which time a main meal is served. The local patrons of Abu Hassan's store -- located at One Dolphin Street, Jaffa -- simply stroll down with their favorite dish, plate or tiffin carrier, and the creamy, velvety warm nurturing mix is lovingly spooned into their vessels. It's paid for by weight or by serving.
In the 1950s and 1960s, Ali Karavan took his family's recipe for humous and masabacha and ful (an Arab dish that incorporates fava beans with the chick peas), and started selling door to door in his neighborhood, hoping to support his growing family. He became a success, and in the early 1970s rented a space on Dophin Street. Today this is known as the "original" Abu Hassan, or Ali Karavan, and is frequented by long lines of hungry waiting patrons from all over Israel. One can see diplomats, leaders in business and industry, cab drivers, builders, soldiers, and cross generations of women, men and children all waiting for this delicious mix.
It's extraordinary that this limited menu: humous, masabacha and ful, with fresh warm pita bread, entices such a diverse range of people. Honnie, one of the grandsons who now manages the Dolphin Street outlet, tells me the freshness of the chickpeas and tehina is critical. He pointed out that today one has to check carefully with suppliers that peanuts and other fillers are not used in the production of tehina or mixed in the raw grains of chickpeas, all of which must be kept in impeccably clean and dry surrounds.
I was fortunate enough to meet Mrs. Hassan, the matriarch of the family who lives in a nearby four-story stone home. Our meeting took place in the secret basement where Mrs. Hassan shared with me the history of the family. One by one her daughters, and some of her grandchildren, came to greet me with the title of "aunty." They all bore the smiles and educated poise of one of the aristocratic "food families" of Jaffa. The shiny stainless steel vats of humous grains stored in pristine conditions to maintain their freshness before being cooked, and the tiled floors and drains would do a small winery proud. Here in the basement, somewhere etched in the collective family memory, lies the secret recipes...
The family grew, and today there are two other stores located in nearby Shivtei Israel Street. One is a humous-only cafᅢᄅ, and the other across the road is much larger, serving an extended menu, including falafel and salad.
Here's a quick recipe for masabacha that I created for the many unfortunate souls who don't live within an accessible distance to Jaffa Port and its secrets.
Two 14 ounce cans of cooked chickpeas with no preservatives or additives. (I prefer to use Italian 'cecci')
Organic tehini (crushed sesame seed paste)
Juice of 1-2 lemons
About 1/2 to 1 cup of warm water
1/2 cup of pure extra virgin olive oil
1 tsp salt
1 tsp finely chopped hot chile (optional)
Drain and rinse the chickpeas and place in a food processor. Add about 3/4 cup of pure undiluted tehini. Blend. Then slowly add water until you reach the consistency you desire. It should look like crunchy peanut butter. Add lemon juice, salt and olive oil to taste. If it's too thick, add more water. Stir.
Note that if you store this in a clean, dry glass container, it will keep for a few days and the chickpeas actually keep absorbing liquid so you'll have to add more water, lemon juice and olive oil before serving.
The traditional way of serving humous is not cold, but warm, on a flat plate or wide pasta bowl, with a ring or two of olive oil and fresh chopped parsley. It's placed in the middle of the table and everyone simply takes pita and dips.
PHOTO GALLERY
The Best Little Humous House in Israel