I was never a cheerleader. Ever.
"Peppy" isn't a term I use to describe my high school-self. Awkward? Probably. Smart? Sure. Ambitious? Yes. Spirited? Not so much.
It's not that I didn't have school pride- - I played varsity tennis and ran cross-country -- but shouting words of encouragement from the sidelines in short skirts and tight tops didn't exactly excite me.
Before becoming a member of the varsity cross-country team, I spent a year on junior varsity. My JV comrades and I had a group name: the "you knows." The inside joke came from our coach, who didn't care enough to address us as a team of competitors. He would assign a workout to his stars, and with a flick of a wrist add, "...the rest of you (us)... you know..."
True story.
As sophomores, this was tragic and hurtful -- we were there to work hard, not to be unintentionally harassed. We wanted to win: to prove ourselves, represent our school and to achieve varsity status... even though that dream seemed further from reach than working out with Richard Simmons (see photo). Side note: Ninety percent of the "you knows" became varsity runners the next year, anyway.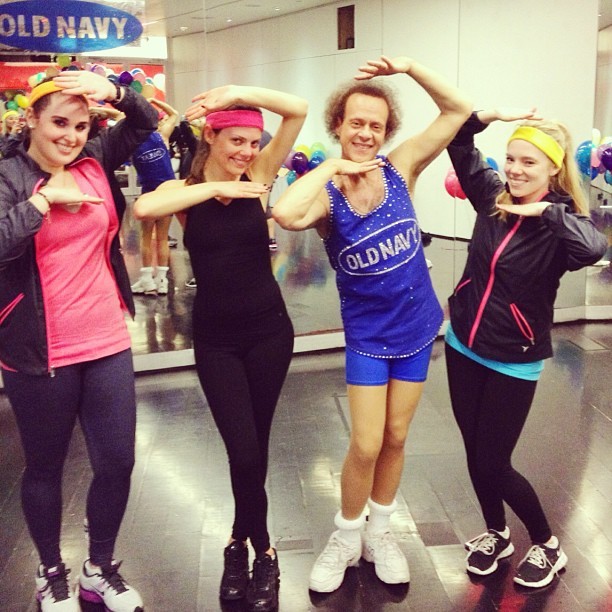 My friend Amanda, me, Richard and my friend Lauren
But even though we earned letters in the end, still: Obstacles (and naysayer) are like shin splints. They hurt. A lot. So we power through them, they slow us down, or they stop us altogether.
If my teammates and I took our coach's words to heart, we would have quit on day one (which I silently considered when we were assigned to run more than 3.5 miles in the south Florida summer sun). But we didn't -- and I somehow managed to not faint, or die of heat stroke. We stuck with it.
Post high school (and since college) graduation, I try to exercise regularly to stay in shape (or, more honestly, to offset my Godiva addiction). The biggest lesson I learned from JV cross-country (and I've learned a bit from team sports) is that motivation comes from within. It's helpful to have a team, a coach, family and friends, or cheerleaders to show support, but ultimately, the only cheerleader that matters is you.
Running long distances is exhausting. So are negative people, negative thoughts and negative temperatures. Sometimes we win and sometimes we lose, despite our personal best, the equipment we've been granted and the course we set out in front of us.
Regardless of these factors, it's important to believe in our selves -- with or without pom-poms.
For more by Hilary Sheinbaum, click here.
For more on success and motivation, click here.