Singer/Songwriter, Brechtian Punk Cabaret Priestess, Piano-Slayer, Blogmistress, Performance Artist, Ukelele-Freak, Creativity Muse Amanda Palmer unveiled a Kickstarter campaign early Monday morning to fund her first new studio album release in four years (her last full length album being the widely acclaimed Who Killed Amanda Palmer in 2008). Palmer, who eschewed her label Roadrunner Records a few years ago and went gloriously indie, is now her own brand, living and breathing the new paradigm of the music industry. Funds raised will go for mixing, manufacturing, distribution, and promotion of the new album, which was recorded over the past few months in Melbourne, Australia with her band The Grand Theft Orchestra. The album will drop in September followed by a U.S. and European tour this fall that will eventually span the globe over a period of 18 months.
The Kickstarter campaign's aim was to amass $100K in 31 days and reached its goal and beyond in a mere seven hours after it was posted; Palmer's huge fan base (over half a million twitter followers for starters) eagerly showered her with the funds with which to achieve her goal and then some. Depending on the size of one's donation, receivables range from a digital download of the album for a mere $1 to a professional photo shoot with Amanda and band including Thai food and alcoholic beverages and likely an acoustic performance on ukulele with Her Fabulousness for $10K.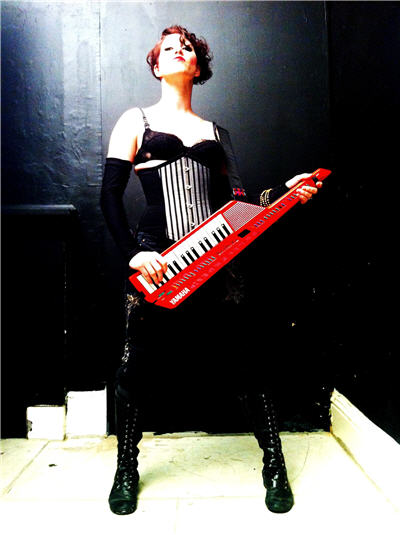 Photo Credit: Andrius Lipsys
Palmer has also created the Loanspark Collective for well-heeled backers who want to help her out with interest-free loans that will be paid back after the album is released. In addition to paying these investors back, she will also create some kind of special art project or performance to support a charity the investor cares about. "It's a slightly mad idea, but if it works, we may be on to a new form of patronage that could work for other artists... so I'm very happy to take a crack at it."
Says Palmer, "I've been waiting what seems like ages to release this album, trying to figure out how to serve it best, since I think it's the best material I've ever written. I had to find the right business team, the right musicians, the right producer, and most importantly, the right system through which to release it. I've been experimenting with self-releasing little projects for a while, learning as I go, and my team knows enough now to self-release a massive record."
Palmer's genius goes beyond her musical prowess and songwriting; her very real and genuine engagement with her audience is legendary as evidenced by this video created last year from clips of ninja gigs she did in L.A. Right around the same time this was filmed Amanda had released a single called Map of Tasmania that started with this couplet:
they don't play the song on the radio
they don't show the tits on the video
they don't know that we are the media
they don't know that we start the mania
Just about every release by Palmer has included a strong visual art component. The new album goes even further, featuring a Pop-Up Art Exhibit in which Amanda commissioned 30 unique artists (including Shepard Fairey, David Mack, Molly Crabapple, Tao Lin, Robyn Hitchcock, Kristin Hersh, DJ Spooky and others) to create work inspired by the record. The exhibit will touch down in 6-8 cities in the U.S. and Europe, where Amanda and band plan to perform exclusive shows in each gallery to reward local Kickstarter backers. "I'm pretty sure I became a musician so I'd have an excellent excuse to throw an Art Party everywhere I went. This upcoming gallery tour is about as close as I get to fulfilling that fantasy," says Amanda. "Wine flowing, visual art and artists everywhere, music playing loudly, everybody excited about the album in one tiny room, jumping up and down... it doesn't get any better than that, really."
Art Exhibit Tour Dates:
BERLIN / Platoon
(Alte Schönhauser Straße 3 10119 Berlin)
June 13-15: Exhibition open to the public (11am - 10pm daily)
June 12: Press / artist reception, 7-10pm (PRIVATE / Invite Only)

LONDON / The Village Underground
(54 Holywell Lane Shoreditch, London EC2A)
June 19: Exhibition open to the public (hours tbd)
June 18: Press / artist reception, 7pm (PRIVATE / Invite Only)

NEW YORK MomentaArt
(56 Bogart Street Brooklyn, NY 11206)
June 29 - July 1: Exhibition open to the public (12pm-6pm daily)
June 28: Press / artist reception, 7-10pm(PRIVATE / Invite Only)

SAN FRANCISCO / PublicWorks
(161 Erie Street San Francisco, CA 94103)
July 14: Exhibition open to the public (5:30 to 8:30 pm, 21+ only)
July 12: Press / artist reception, 7-10pm (PRIVATE / Invite Only)

LOS ANGELES / PopTartGallery
(3023 W. 6th St. Los Angeles, CA 90020)
July 20-25: Exhibition open to the public (Tues-Sun 1:pm-7:pm and by appointment)
July 19: Press / artist reception, 7-10pm (PRIVATE / Invite Only)

BOSTON The Middle East Restaurant
(472 - 480 Massachusetts Ave Cambridge, MA 02139)
Aug 2-4: Exhibition open to the public (11am - 12am daily)
Aug 1: Press / artist reception, 7-10pm (PRIVATE / Invite Only)
Amanda Palmer and The Grand Theft Orchestra will also debut her new material in a series of small live appearances this summer, tickets on sale May 11:
June 14: BERLIN - Roter Salon
June 20: LONDON - The Village Underground
June 27: NEW YORK - Music Hall of Williamsburg
July 13: SAN FRANCISCO - Public Works
July 18: LOS ANGELES - The Roxy
Aug 2: BOSTON - The Middle East
For more on Amanda Palmer visit her website