The prolific creative team of Billy Van Zandt and Jane Milmore have written, produced, and starred in 23 comedic stage works since 1979, many of which are constantly in production not just in the United States, but all over the world. Their work has been seen everywhere from Paducah to Poland, from New York City to Beijing as well as in Hungary, South Africa, Australia and the Czech Republic. In addition to their popular farces and musicals, they've also received several film and TV awards as stage actors, producers and writers.
One of their all-time most popular productions, You've Got Hate Mail, enters its fourth year on Friday June 28th, consistently packing in audiences on Manhattan's Upper West Side at Stage 72 (formerly The Triad Theatre). The play, a clever one-act farce about the mishaps of electronic communication told entirely via email and text message, performed by five actors onstage with only one prop each - a laptop computer - is a wisecracker of epic proportions. According to Frank Scheck in The New York Post, "Anyone who's ever hit 'reply all' by mistake will find much to relate to. . .The comic momentum -- there's even a chase scene! -- never flags, even though all of the dialogue is spoken by performers seated in front of computers. Expertly directed by Gary Shaffer, the piece is enlivened by some terrific performances, especially Van Zandt's sleazy, Jon Lovitz-like philanderer and Jones' wacky, electronically clueless cohort."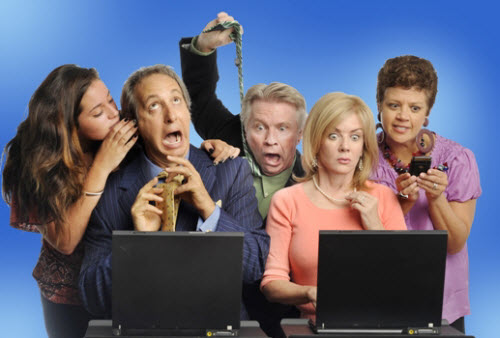 (L to R: Fran Solgan, Billy Van Zandt, Glenn Jones, Jane Milmore, Barbara Bonilla)
Photo (c) by Danny Sanchez. Used With Permission.
You've Got Hate Mail was initially workshopped in 2007. "I was going through a divorce and Billy told me I should save some of the emails I showed him until I was less upset because they were very entertaining," recalled Jane as regards the original genesis of the show. "I said 'These are horrible. Hang on to them, we could use them someday,'" said Billy. "Later that year we saw my wife do Love Letters which is two people sitting there reading love letters back and forth, and my only thought was 'Why didn't I think of that?!' So we originally set out to do the opposite of Love Letters and tried writing something like "Hate Mail" but it didn't work. And then we thought of those emails, and realized the way to go was laptops and emails, and the story of a divorce. Once we hit on that, You've Got Hate Mail just flowed." Jane added, "It still amazes me that moments that were ugly and heartbreaking at the time get huge laughs now. It's a true example of taking lemons and making lemonade."
They opened at Stage 72 in 2010 with rewrites and a new ending, and sold out instantly. "And before we knew it, here we are going into our fourth solid year at Stage 72," Billy observed. It proved to be a challenge getting reviews and even listings since the play was only on one night per week. Therefore, the raves have been largely all via word of mouth - and the audiences keep on coming, and keep on laughing.
"After a while, Jane and I started using guest stars in our roles, because the commute back and forth from LA to New York was killing us - I raise my kids out there and our TV work is out there, too," he added. "We've been fortunate to have some incredible people as guest stars over the years from Broadway, TV and film: Tony nominee Richard Kind ("The Big Knife", "The Producers," "Dirty Rotten Scoundrels," "The Tale of the Allergist's Wife"), Jeff Keller ("Phantom of the Opera"), Brian O'Halloran ("Clerks"), Julia Duffy ("Newhart"), Meg Bennett ("Grease"), Teresa Ganzel ("Viagra Falls," "The Toy"), Cerina Vincent ("Cabin Fever", "Not Another Teen Movie"), and Khrystyne Haje ("Head of the Class")."
In addition to the New York date on June 28, You've Got Hate Mail will also be presented at 7:30pm on Saturday June 29 at Tim McLoone's Supper Club in Asbury Park, New Jersey. Both Van Zandt (brother to Springsteen's long time guitarist Steven Van Zandt) and Milmore are Monmouth County born and bred. A long and fruitful relationship with Brookdale Community College in Lincroft resulted in a technical theatre scholarship program bearing their names in 1997 which has, to date, put 35 kids through college. "We hope the next year will give us the opportunity to spend more time with the Brookdale Theatre Department and the students," said Jane.
"We haven't been back home to perform since June of 2010," remarked Billy. "In our earlier, more ambitious days we did an original show every year, every May and June. It led to some frantic last minute writing at times. In fact one show we did was sold out before we'd written one word - and the only thing we had a month before we opened was a title (Do Not Disturb). Our set designer was told to build a hotel room set - we figured whatever we came up with could take place in a hotel room. But then the day of the first rehearsal was upon us, and we still had no show. And then I had the brilliant idea of doing a series of one act plays - thinking it would be easier to write for some reason - not realizing instead of one play we were now writing ten."
The three ancillary characters in You've Got Hate Mail capture perfectly the best friend (Peg), work colleague (George), and slutty girlfriend (Wanda) to Van Zandt and Milmore's husband and wife characters (Richard and Stephanie). The others are played expertly by Glenn Jones, Barbara Bonilla, and Fran Solgan. "Glenn Jones is my rock, my favorite sidekick," Billy stated unequivocally. "He's brilliant, and unique. There's no Glenn Jones type - he's it - without question, the funniest guy I've ever worked with. He's been in about 15 of our 23 shows. We always write a Glenn role. And they're always better than my roles, or maybe he just makes them better."
"Barbara Bonilla we first worked with in our play High School Reunion: The Musical and You've Got Hate Mail is the second show we've done with her," said Jane. "She is a very funny lady and we love working with her." "Her timing is rock solid. Now I can't think of ever working without her," Billy added.
"Fran Solgan is brand new. The role of Wanda the mistress was a tricky one to cast. She's a jealous psycho one minute, a purring sex kitten the next. We lucked into Fran at an open audition and only after casting her did we learn this was her second play. Ever. She's terrific," Billy remarked. "All the guys in the audience go from wanting to sleep with her in the first few minutes of the show to being terrified of being killed by her in a Fatal Attraction way."
So much has changed with electronic communication even in the past four years. Now we know, for instance, that the NSA apparently taps into our every move both online and on mobile phones. How would the five characters in You've Got Hate Mail feel about this? "Stephanie and Peg would both feel triumphant - that no one can keep secrets any longer. Richard would start sweating. George would start deleting all his photoshopped porn. And Wanda wouldn't know what you're talking about - unless it was mentioned on one of those Kardashian shows," said Billy.
"I think the characters in our show are more concerned with the personal repercussions of their emails than the government's reactions," Jane noted. "Personally it's scary to think anyone is reading your private email. But it seems like every week we hear about someone - usually a man - caught in some sexual email scandal. It makes me think of our show! And when your emails are in the news everybody including the government knows your business."
What other projects do Billy and Jane have up their proverbial sleeves? They are currently working on two TV pilots, one a multi-camera comedy and the other a historical drama. "Things never get boring," said Jane. In addition, You've Got Hate Mail won't get less relevant any time soon and is enjoying long-term runs in Slovenia, Poland, and the Czech Republic. It opens in London and Mexico City come September. Besides New York City, it's also proved to be a certified hit in Malta, Australia, and New Zealand.
Seems everyone, on a global scale, can relate to a hilarious, cleverly written comedy about accidentally sending an email to the wrong person.
Tickets are on sale for You've Got Hate Mail at Stage 72 on June 28 here.
Tickets are on sale for You've Got Hate Mail at Tim McLoone's Supper Club on June 29 here.
For more on Billy Van Zandt and Jane Milmore visit their website.