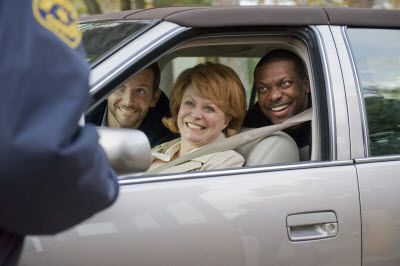 Bradley Cooper, Jacki Weaver, Chris Tucker in Silver Linings Playbook, courtesy The Weinstein Co.
"Isn't it fun? I can't believe it. I'm still blown away by it, I really am," laughed Jacki Weaver, second-time nominee for Best Supporting Actress for her role in David O. Russell's powerful, critically lauded dramedy Silver Linings Playbook. "We're quite sanguine about it because it's a really strong group of actresses and I really admire every single one of them, so it's anybody's guess, I think, how the Academy members are going to vote," she continued, confiding that she was actually in the process of filling out her own ballot just before we spoke.
Weaver is up against Anne Hathaway (Les Miserables), Sally Field (Lincoln), Helen Hunt (The Sessions), and Amy Adams (The Master) for this go-round. Silver Linings Playbook has garnered eight nominations in total for this year's Academy Awards. Though Lincoln and Life of Pi both lead in terms of the number of nominations for their films, no other film in over 30 years has had nominees in all four acting categories. Additionally, Silver Linings Playbook has been nominated for The Big Five (Best Picture, Best Director, Best Actor, Best Actress, and Best Adapted Screenplay), the first time this has happened since 2004's Million Dollar Baby.
What was it like working with Bradley Cooper, Jennifer Lawrence, and Robert DeNiro? "It was a dream -- it was heaven," Jacki stated unequivocally. "They're all so fantastic, and we really were a very closely knit group." She admitted that she was, at first, awestruck about working with DeNiro, but "he was so generous and kind, that soon dissipated, and I could just concentrate on being in love with him which wasn't difficult whatsoever," said Weaver. "David O. Russell kept saying to us: 'You two have been in love for 30 years, you still make love twice a week,' and it didn't take my imagination much to fit that into the picture."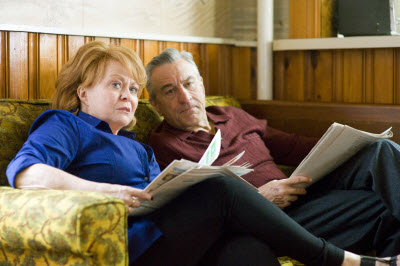 Weaver and DeNiro, Silver Linings Playbook, courtesy The Weinstein Co.
Weaver and DeNiro play the parents of Bradley Cooper's character, Pat Solitano, Jr. The film deftly takes on the issue of mental illness and bipolar disorder in a very real, relatable home setting. The Solitanos live a working class life in a row house in a Philadelphia suburb, trying their level best to keep Pat Jr. reined in and on his meds after he is released from the mental hospital he was sent to after threatening his ex-wife and her lover. The last puzzle piece is Cooper's love interest, played by Jennifer Lawrence, who's beautifully understated performance has already won her Best Actress at the Golden Globes and SAG Awards. "Isn't she amazing? She's only 22 years old," said Jacki. "Extraordinary! She's going to be able to do anything. She's really got the world at her feet."
What was it like, I asked, to work with David O. Russell?
Every director's so different. Everybody has their own modus operandi and I love getting to know different directors in the way they work. David O. Russell is very exciting to be with because he's got a mind like quicksilver. He's fascinating; he has a brain that goes a million miles an hour. They call him the Actor Whisperer because he's really got a way of getting the utmost out of you. And he keeps you on your toes, you've really got to be totally focused and ready for anything when you're working with him. I like that, it's stimulating, and can have really extraordinary results.
Silver Linings Playbook is a brilliant film on many levels. It succeeds as a drama and as a romantic comedy; it portrays a real American family with love and compassion; it brings a subject into the light which has long been ignored or stigmatized in American cinema. Just last week, in fact, the film took center stage in an even more important setting when Russell and Bradley Cooper met with Vice President Joe Biden to discuss mental health issues. A bipartisan group of senators and mental health professionals also welcomed Russell to weigh in on legislation to improve and expand mental health options after the tragedy at Sandy Hook Elementary School. Russell has said that he embraced this project because his own son was diagnosed with bipolar disorder. Robert DeNiro also admitted that the film hit close to home for him in this regard.
"There's been enormous reaction to it," said Jacki. "People have said that this film has changed their lives, that it's made them feel exactly that -- that they're not alone in the world. I've got a couple of friends who are clinical psychologists, have been for 40 years. They both said to me that the film is wonderfully authentic and realistic in its depiction of mental illness." After a recent post-screening question and answer session, she related, a young man stood up and made a comment that he was bipolar with Asperger's syndrome. "He said, 'there've been many times in my life I wished I were dead, and this film has given me so much hope'."
Weaver's Academy Award nomination for Silver Linings Playbook is but the latest cherry on top of a long, incredible career. She is a household name in her native Australia (and was once lovingly called a "National Treasure" by former Prime Minister Gough Whitlam), beginning her acting career on Australian television in the 1960s before going into film. Her third film, in 1975, was Peter Weir's iconic Picnic at Hanging Rock. Animal Kingdom, a stunning 2010 crime drama set in Melbourne, was built by writer/director David Michôd around her character 'Smurf', who certainly ranks with the most evil matriarchs ever portrayed on film. Once Weaver was cast (and it was her first film in 13 years, coming during a time when she was doing a lot of theatrical productions) Michôd cast the other actors. That portrayal brought Weaver her first Academy Award nomination as well as several other awards.
When I spoke to her, Weaver had just returned from Texas where she was playing Marguerite Oswald, mother to Lee Harvey, in Peter Landesman's Parkland, due for release later this year. She also stars in Park Chan-wook's Stoker, due out soon, alongside fellow Aussies Nicole Kidman and Mia Wasikowska. "A really nice American journalist said to me recently, 'you know what a second Oscar nomination means?' I said 'no, what's a second one mean?' He said it means the first one was not a fluke."
No flukes here, that's for sure. In fact, the word fluke is probably about as distant as one can get from discussing the career of Jacki Weaver, who, in her sixties and going strong, is well on her way to becoming a household name in this country as well as at home in Australia.