The Golden Globes Ceremony signifies without any doubt that we're right smack in the thick of it -- awards season. This is where the rubber meets the road on that slippery slope that leads us straight up to the Main Event: The Academy Awards on Feb. 26. One of the most important pieces of the entire puzzle is red carpet fashions and who better to ask about this than couture designer Randi Rahm, who first opened her successful Fifth Avenue atelier 14 years ago. Rahm is a classically trained conductor and concert pianist who studied music and art history in school. When her son was born in 1976 she designed a baby quilt for him and found that she was really, really good at it. So good that she began producing quilts for an upscale children's boutique. The proprietors asked her to design little girls' dresses for their customers and she ended up starting her own business. And the rest is history.
I asked Rahm what were the biggest challenges during awards season in getting her outfits seen on the red carpet.
There are so many factors! Great working relationships with stylists is paramount to having a celebrity consider your line, and consider is the 'operative' word. Just because a celebrity pulls one -- or 10 -- of your gowns, until she shows up wearing it you just never know. The anxiety can be tremendous, but it's nothing compared to the elation you feel when you see a star walking in one of your creations.
With that said, are there particular designs she is deliberately holding back? "I believe the Oscars are the most formal of all award shows and like to hold my collection's 'big guns' for this event."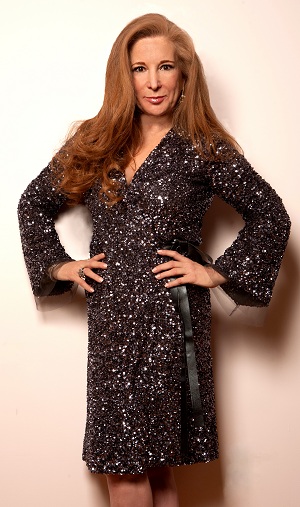 Rahm's clients have included Beyoncé, Edie Falco, Mariah Carey, Halle Berry, Carrie Underwood, Joy Behar, Sharon Stone, Vanessa Williams, and Jennifer Hudson. What was it like designing for celebrities? Did it sometimes...well...suck? "Every day I design is a gift to myself, so even the bad is just part of the overall experience," Randi responded. "It's always a disappointment if a dress is pulled and then not worn but that's part of the game." On the other hand, did she have a favorite celebrity experience? "I have so many favorite celebrity experiences it's hard to pinpoint just one. Working with my diamond gown collection, attending the Vanity Fair and outstanding Oscar parties, meeting so many great celebrities and industry icons are all a part of my best experiences." She noted that at the beginning of her career she designed for Joan Rivers, who continues to be a client to this day. "I knew each meeting would be met with nothing but fun and laughter, as it's continued all these years! Who would have known she'd head up the Fashion Police someday?!"
What was the process of working with clients such as these, I was curious to find out. Did the client have any role in the fabric or beading of a custom gown? "In the case of a custom made gown, I consult with the celebrity client to get a feel for their personal sensibility of design. Together we review material swatches and beading. Generally, the celebrity stylist plays a key role in the selections." And, naturally, did she have any favorite among the many couture looks she has created over the years? "I design what I love and love what I design. Just as a mother loves her children, it's impossible to choose one over another. You love them equally, but each one for special reasons."
Now that the Globes are over, Rahm's focus is of course the Oscars. But did she have further plans for this year she could reveal? "I'm anxious to expand the Randi Rahm brand throughout the U.S., as well as internationally." She is currently contemplating several licensing deals within the fashion industry with an emphasis in bridal gowns. "Designing that perfect dress for the most memorable day in a girl's life brings me such joy and a personal sense of accomplishment." Her gowns were stunningly featured last summer in Brides Magazine, in Inside Weddings last fall, and in this year's January/February issue of Bridal Guide.
Long range plans?
Ever present and consistently on my radar screen are my endeavors to assist children's charities. More than ever, we need to protect, mentor and provide for children in these uncertain and tenacious times. I will encourage any industry I'm a part of to help safeguard the wellbeing of these precious kids who are all a part of our collective lives.
Randi's next charity endeavor is
Rahm's Prom
at the Essex House on April 12th, which will benefit The Children's Storefront, an independent tuition-free school in Harlem.