Labor Day weekend is all about enjoying a three day weekend and barbecued food. You don't have to choose between getting away this Labor Day or staying home and having a cookout - just make sure there's a grill where you're going, and you can take your ultimate Labor Day BBQ on the road.
Great Ingredients = Great Taste
Whether you're a backyard cook or a big city chef, the secret to success is the same: the taste depends on the quality of the ingredients that you start with. But good food doesn't mean fancy food - it means fresh.
Do a little pre-trip homework to find the local farmers' markets or neighborhood butcher. Don't be afraid to ask your vacation home owner for advice on the local markets and local specialties, like old-fashioned pickles or local heirloom tomatoes. If you can, locate a bakery for fresh-made rolls.
Plan Ahead
All brilliant BBQ cooks agree; after having great ingredients, the second secret to great barbecues is to marinate your meats overnight. But also remember to baste the meat once again, during the last 5-10 minutes of grilling. There are dozens of different marinades to use, depending on personal tastes, from rosemary and garlic to brushed-on honey, which goes great on grilled chicken legs!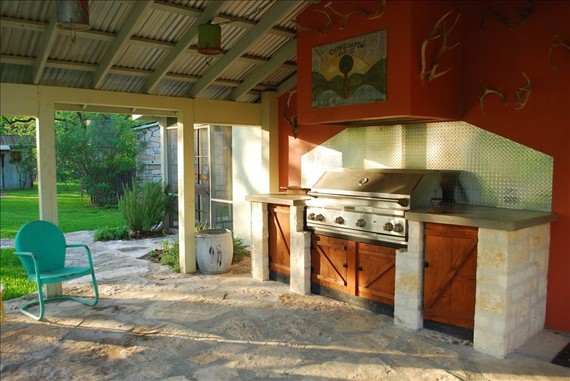 Photo: Texas Hill Country vacation rental, Credit: HomeAway.com
Make sure you check with your vacation rental host to know what will be available and what you will need to bring or buy. Think about the essentials, like:
• Grill and fuel
• Tools, like a cleaning brush, tongs, spatula, a sharp knife
• Platters and plates
• Basic seasonings
• Basting brush
• Meat thermometer
• Condiments
Prepare Your Fire
Find a sheltered spot for the grill where there's not much wind. Be sure it's spotlessly clean, of course. And, if your BBQ is a dinner, string some extra lights when the sun goes down.
If you're using charcoal, it'll take 30 minutes to get your fire going - so give yourself extra time for this. The secret is to place a small amount of newspaper on the bottom of the grill, then build a solid pyramid out of the charcoal. Sprinkle a small bit of lighter fluid on top and around the sides, then light the paper. Before putting anything on the grill, let the flames die down, till the charcoal is deep red inside but white-grey on the outside - this makes the perfect heat for cooking.
Well Done, Grill Master
Know your temperatures: Steaks are at their most tender and juicy from 130 to 135°F, and all meats should be piping hot all the way through. Chicken needs to reach 165°F; burgers are cooked through at 160°F , and pork chops or roasts are in the safe zone at 145 to 160°F. Do a quick visual check by making a tiny slice to ensure that there isn't any pink meat in burgers, pork, chicken or sausage. All those yummy juices should run clear with no color. Only turn your meats once, to get both sides nicely seared, but no more than that because meat loses moisture each time it's turned.
The Great BBQ Debate: Charcoal vs. Gas?
There are avid fans for both sides, but really there is no right or wrong, as it's purely a personal choice. While it's said that charcoal can provide a more woody flavor, well marinated meat still tastes great on a gas grill.
When you're traveling, you may have a type of grill you aren't as used to, so get instructions from your vacation home's owner or property manager as part of your advanced prep. Do your homework; keep your ingredients fresh and simple, and pick up easy side dishes from the local market, and you will have a great Labor Day BBQ.
Adapted from our original article in HomeAway Travel Ideas.