Even if your garden isn't sprouting up blooms just yet, you can get your home exterior into the spring spirit with an eye-catching wreath full of bright seasonal color! Whether you're trying to save money or time, these DIY spring wreaths are the perfect way to bring in the spring.
1. Rain Boots and Peonies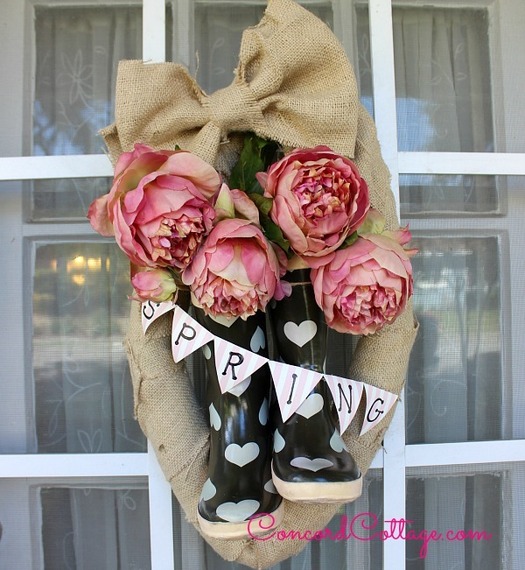 Project via Lisa @Concord Cottage
Upcycle an old pair of boots, or buy some cheap, for this too-cute spring wreath to celebrate the season.
2. Ruffled Muslin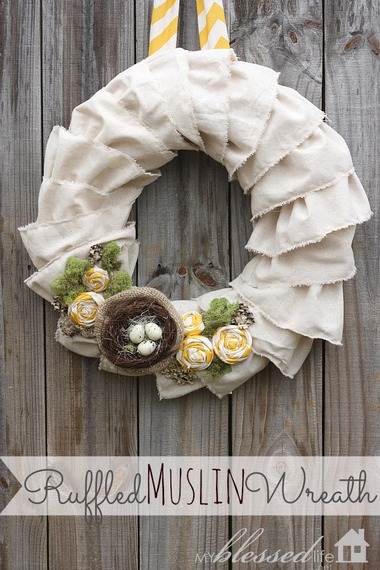 Project via Myra @My Blessed Life
Make a shabby chic spring wreath, complete with a tiny nest and colorful rosettes.
3. Bursting with Tulips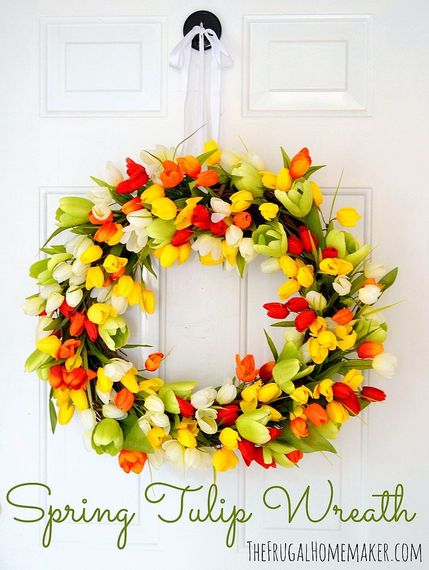 Projects via Christina @The Frugal Homemaker
For this 30 minute craft, gather all the colorful faux flowers you've got and mix and match to your heart's content! If tulips aren't for you, go for a totally different breed.
4. Bright Fabric Scraps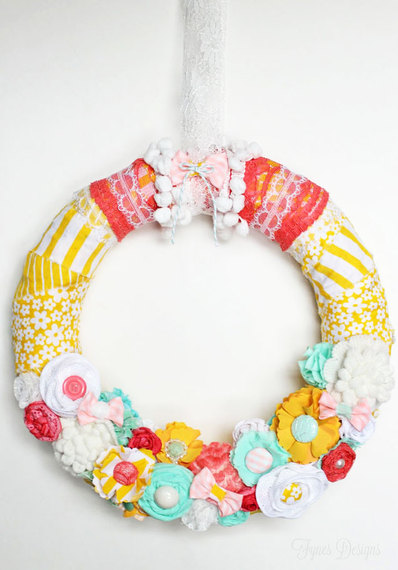 Project via Virginia @Fynes Designs
Now, this is a fabulous way to use some leftover scraps of bright and bold fabrics. Add accents with different designs of flowers, bows, beads, and buttons.
5. Faux Robin's Eggs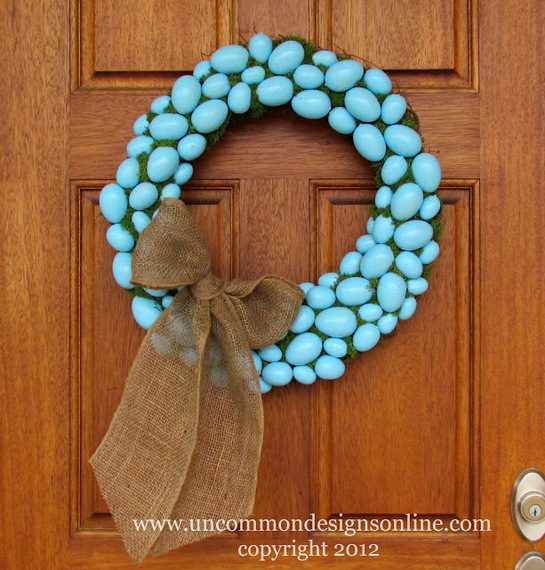 Project via Trish and Bonnie @Uncommon Designs
Nothing says spring like that cool, robin's egg blue, especially when it's mixed with vibrant green moss. Try this unique design for a wreath that will pop right off the door!
6. Blooming Burlap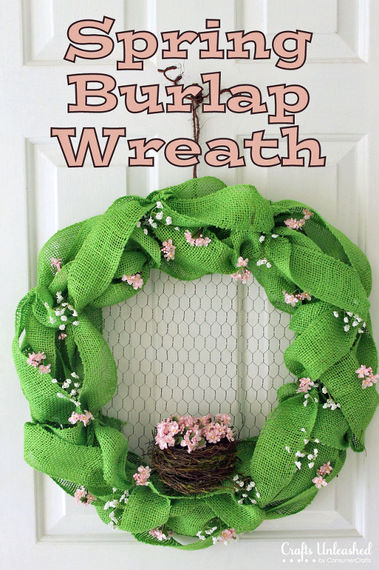 Project via Angie @The Country Chic Cottage (Crafts Unleashed)
We love burlap year round, but you can make it seasonal, with burlap that's perfectly colored for spring decor. Add a few flowering branches, and your home exterior is warm-weather ready!
7. Terracotta Ring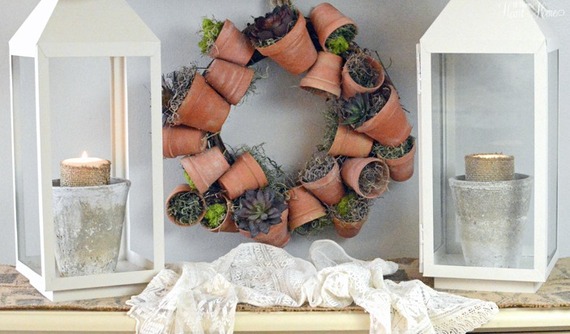 Project via Robin @All Things Heart & Home
Go all out and add a living wreath to your door, made from softly aged tiny terracotta pots filled with succulents.
8. Twigs and Tissue Paper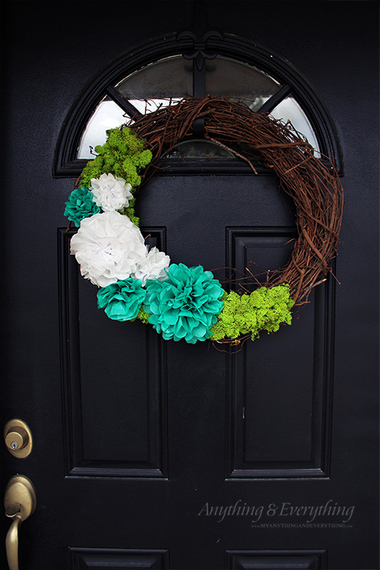 Project via Tara @Anything and Everything
It's true -- though they might look like fine silk, those bursting flowers are made using simple tissue paper. Pick up your favorite hues and spend a couple therapeutic minutes getting your craft on!
9. Easter Bunny Burlap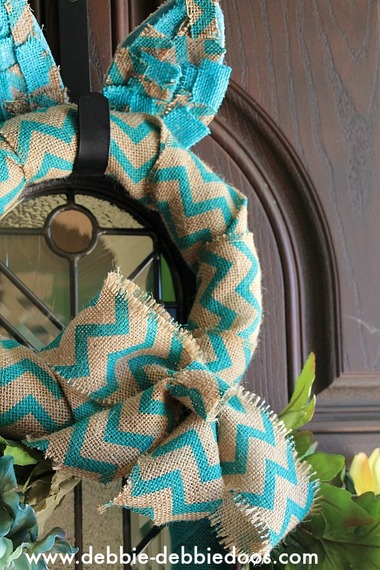 Project via Debbie @Debbie Doo's
Turn a spring wreath into an Easter Bunny homage, for just $10! Choose your own ribbon colors and imitate this awesome DIY.
10. Garden Goodness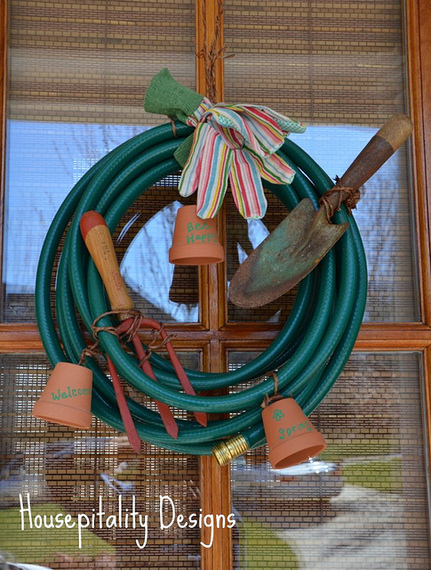 Project via Shirley @Housepitality Designs
For a ridiculously quick and totally unique spring wreath, round up an extra garden hose, top it off with garden gloves and mini flower pots, and call it a beautiful day!
For more amazing spring crafts, check out Spring Ideas on Hometalk!