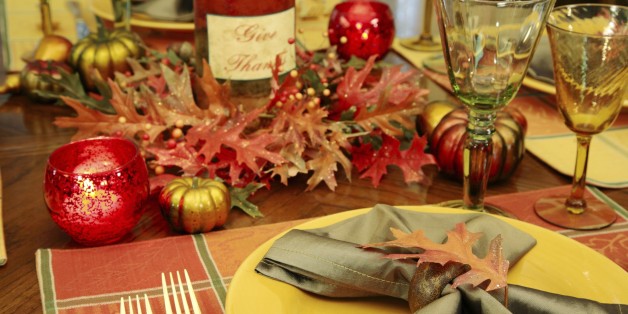 Thanksgiving is right around the corner, and it's time to think about which of the hottest 2014 Thanksgiving trends you want to use for your holiday table! Need some inspiration? How about a full-out glittering gold Thanksgiving, to set the tone for an elegant holiday dinner? Gold is the perfect way to add a little bit of chic to an autumn palette. Just take a look!
1. Giving Thanks in Gold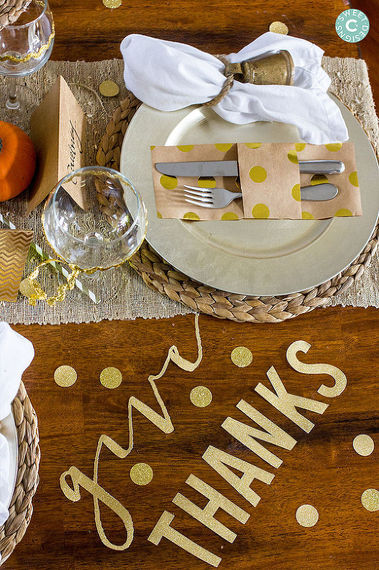 Project via Hometalker Courtney @Sweet C's Designs
Gold confetti fun for your Thanksgiving dinner!
2. Cream and Gold Pumpkins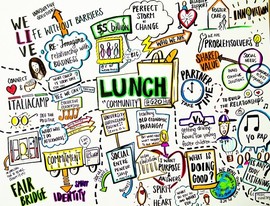 Project via Hometalker Allison @TwoThirty-Five Designs
Golden pumpkins big and small? The next best thing if you can't get Cinderella's pumpkin carriage.
3. Twisted Golden Wire Napkin Rings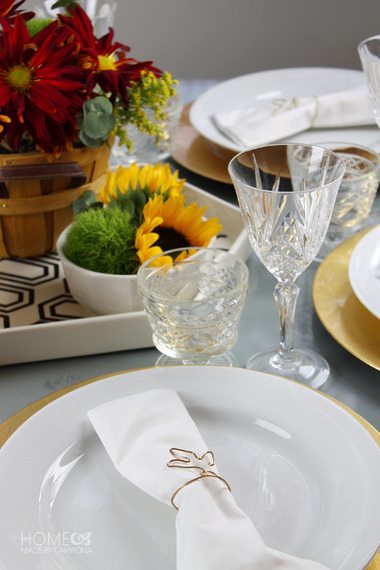 Project via Hometalker Ursula @Homemade By Carmona
The perfect delicate detail to add just enough autumn and just enough sparkle.
4. Gold Clay Leaves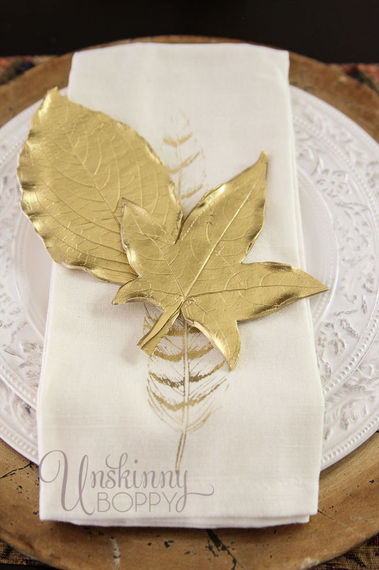 Project via Hometalker Beth @Unskinny Boppy
What could be better than an easy DIY with clay? Mix in a little gold. A fun activity for you and a stunning addition to your decor!
5. Royal and Rustic Place Setting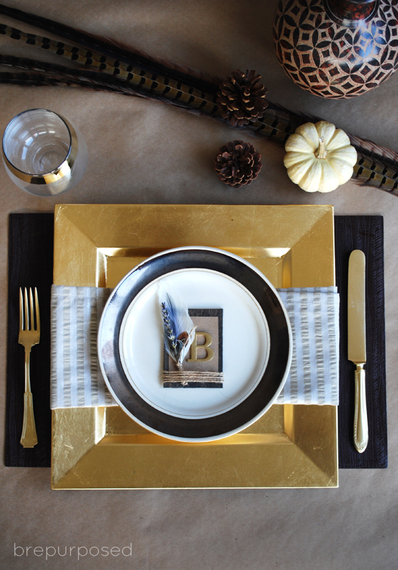 Project via Hometalker Bre @Brepurposed
Gather all the elements you need for a holiday place setting that balances metallic elegance and farm-girl rusticity!
6. Fancied Up Natural Elements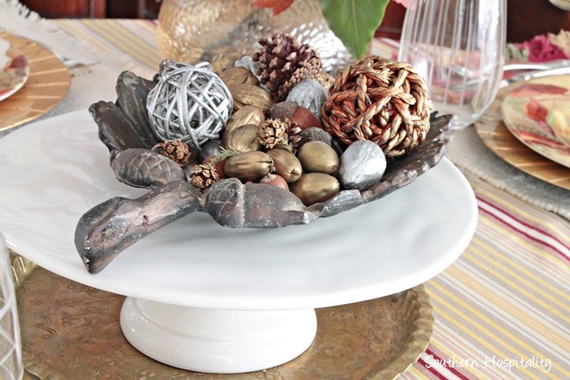 Project via Hometalker Rhoda @Southern Hospitality
Take what nature has to offer and just add a drop of glam, for some harvest-chic tablescape decor.
7. Candle Bling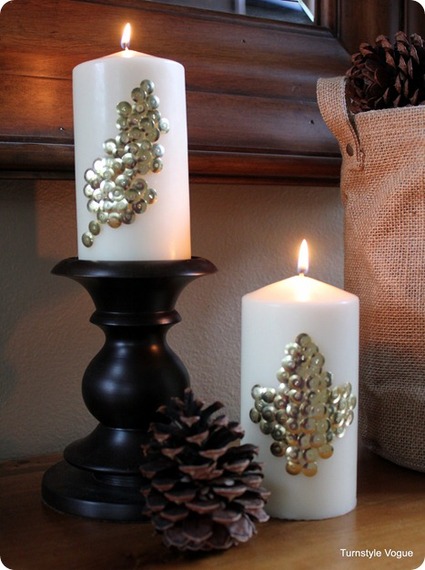 Project via Hometalker Shari @Turnstyle Vogue
A 1-2-3 way to bling-up your ordinary candles and make them shine this Thanksgiving.
8. Gold Stenciled Table Runner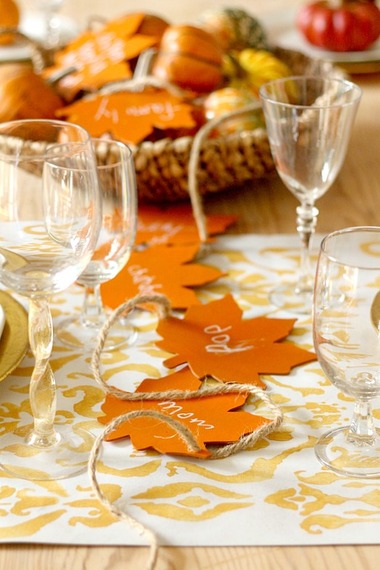 Project via Hometalker Laura @Top This Top That
Turn a long sheet of paper into an elegantly sparkling Thanksgiving table runner!
9. Blue and Gold Settings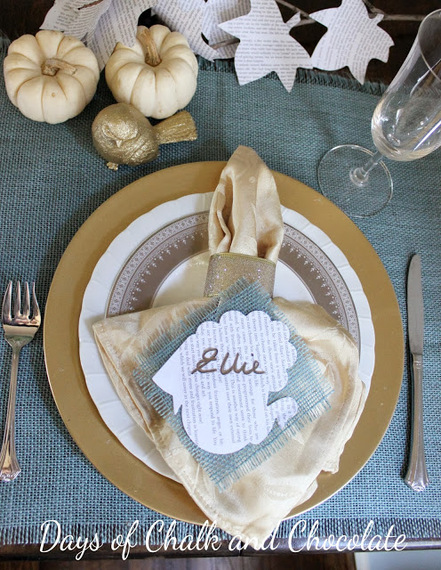 Project via Hometalker Jenny @Days of Chalk and Chocolate
This is what happens when you pair two of the most beautiful colors in the fall palette - an exquisitely set Thanksgiving table!
10. Mixing Metallics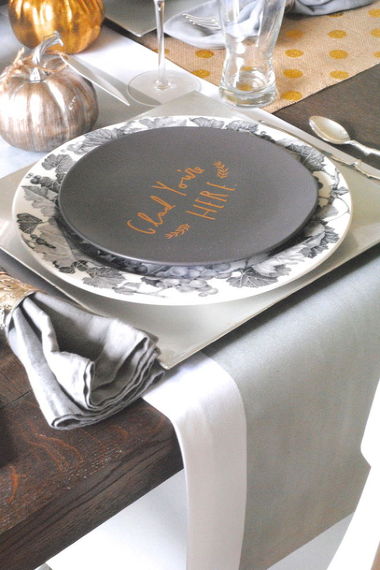 Project via Hometalker Carrie @Making Lemonade
Gold is definitely in, but don't let that stop you from adding some of its closest companions, like silver and copper, for a metallic mix that can't be beat!
11. Vase Full of Pumpkins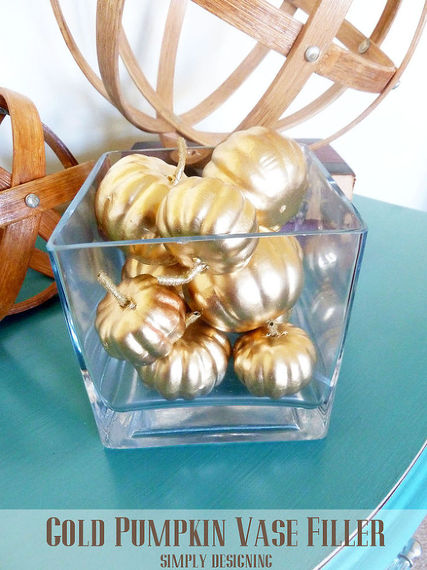 Project via Hometalker Ashley @Simply Designing
Perfect for decorating some corners or creating a simply elegant centerpiece!
12. Gold and White, Leaves and Cotton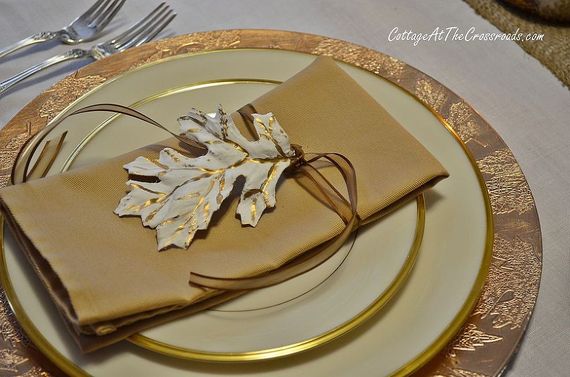 Project via Hometalker Jane @Cottage at the Crossroads
Dressed up with gold doesn't mean over-the-top gaudy, especially if you know how to pull it off in a classy way, like this crafty homemaker.
13. Cork and Feather Place Cards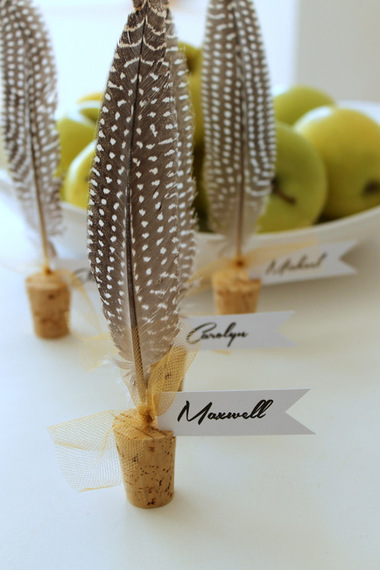 Project via Hometalker Carolyn @Homework
A glittering accent for your tablescape, not to mention a cute nod to the holiday mascot.
14. Regal Repurpose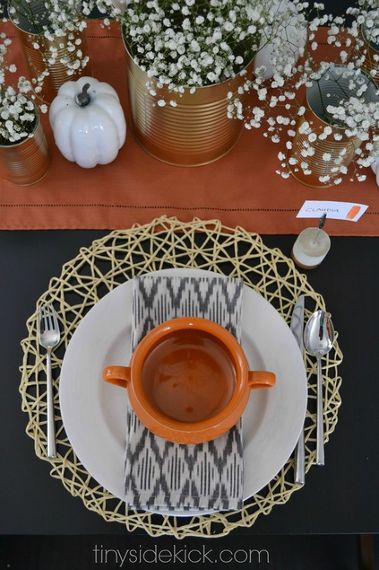 Project via Hometalker Corey @Tiny Sidekick
After all that cranberry sauce and pumpkin pie, what do you do with your empty cans? Paint them gold and fill them with flowers? Genius!
15. Gold Hydrangea Bonsai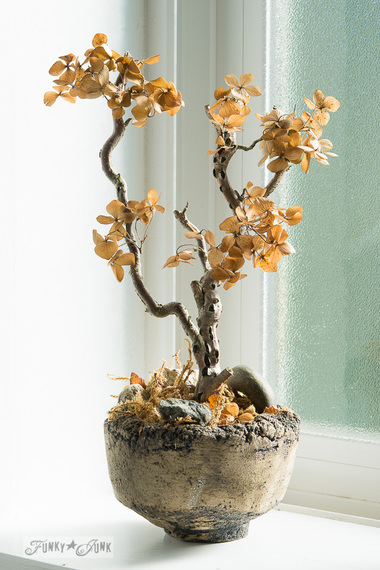 Project via Hometalker Donna @Funky Junk Interiors
What, you've never seen one before? Neither has anyone else! Anyone up for a unique, crowd-pleasing gold addition to your Thanksgiving tablescape?
16. Black and White and Gold All Over

Project via Hometalker Jenn @My Fabuless Life
Gold dipped glassware is just a glint of the treasure trove, with these golden glam Thanksgiving ideas!
17. Real Gold Leaf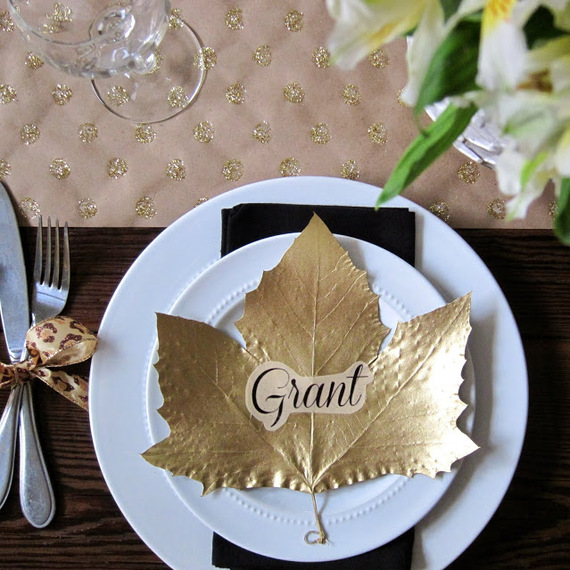 Project via Hometalker Becky @This Is Happiness
As if the gold leaf place cards aren't enough, that runner is made from brown paper!
18. Rocking the Gold Rims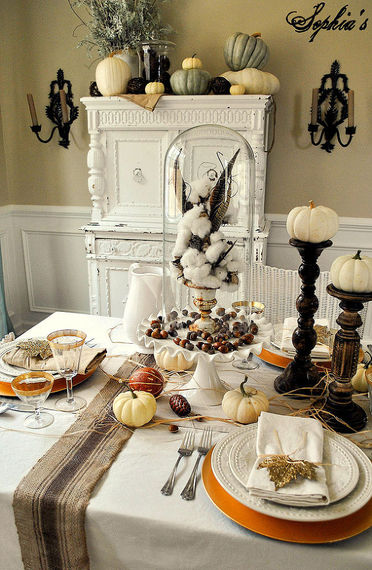 Project via Hometalker Sophia @Sophia's Live Beautifully
Everything dipped in gold? Don't mind if we do! Get ready for an overwhelmingly "wow" holiday design!
19. The Whole Metallic Family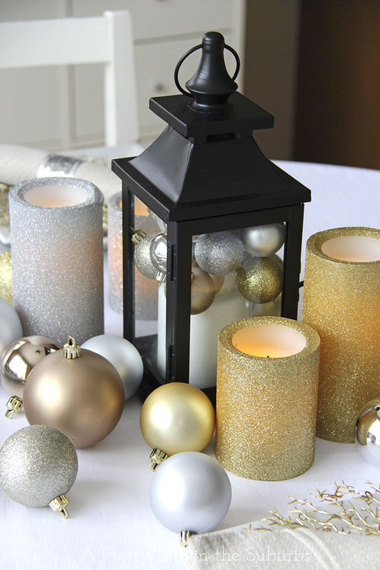 Project via Hometalker Jo-Anna @A Pretty Life In the Suburbs
Gold, copper, silver, bronze. Matte, shiny, glittering, glowing. Turns out, you can have it all, and it all looks fabulous!
20. Elephants and Rhinos in Gold - Oh My!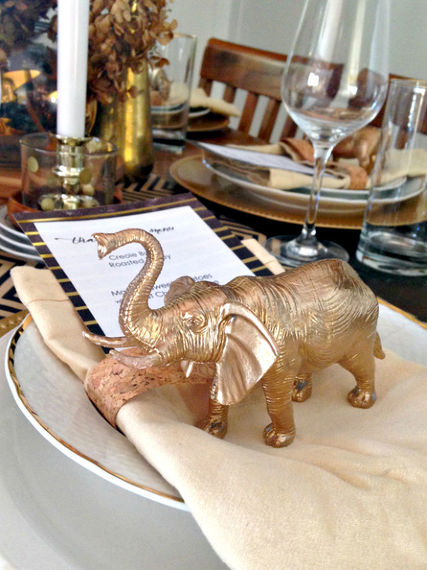 Project via Hometalker Leigh Anne @Houseologie
Gold has the power to make even your most thrifty pieces look like you spent a fortune - just check out the million dollar zoo animals in these table settings!
21. Painted Sea Shell Centerpiece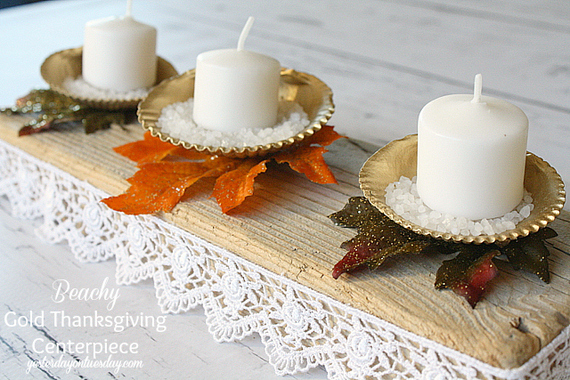 Project via Hometalker Malia @Yesterday on Tuesday
Thanksgiving gets nautical with this gold DIY centerpiece!
22. Tower of Golden Pumpkins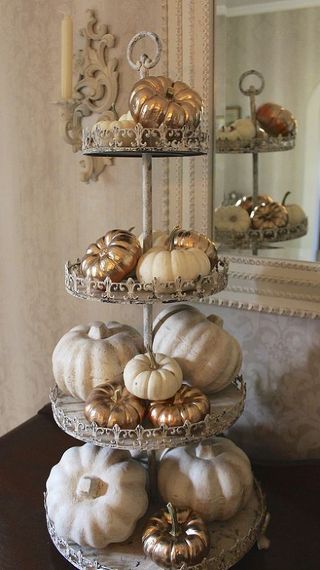 Project via Hometalk Heather @New House New Home
A vintage piece is just about the best way imaginable to display your glammed up holiday pumpkins!
23. Gilding Every Corner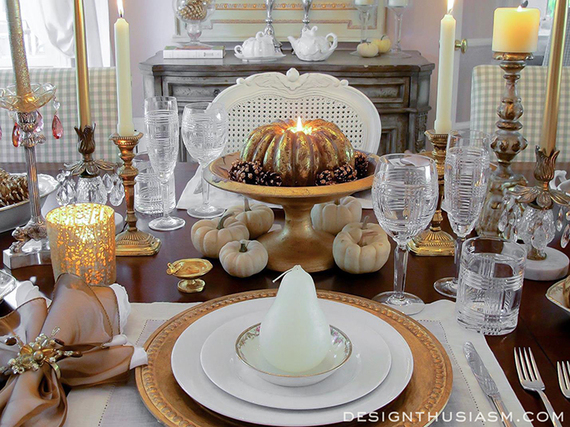 Project via Hometalker Lory @Designthusiasm
Ooh dark wood, white dishes, and gold accents! It doesn't get more romantically glamorous than this!
24. Golden Wreath of Fall Foliage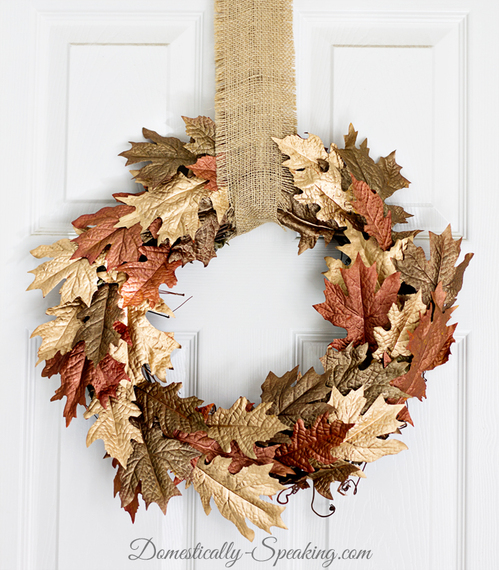 Project via Hometalker Maryann @Domestically Speaking
The perfect sparkling wreath to greet your guests, or even highlight on your tablescape as a festive centerpiece!
25. Glittered Pumpkins in Planters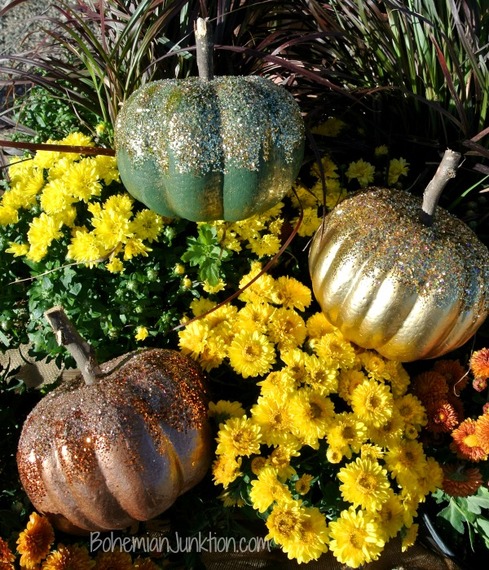 Project via Hometalker Shannon @Bohemian Junktion
Just a sprinkling of golden glitter for these outdoor fall beauties! How great would those look arranged across your tablescape?
26. Pretty Pine Cone Trees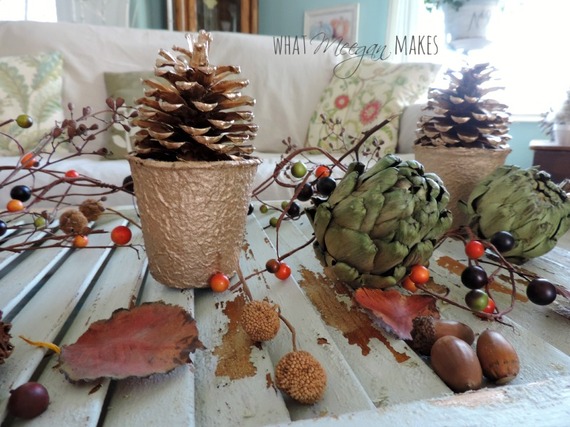 Project via Hometalker Meegan @What Meegan Makes
Turn a tiny pine cone into a glittering tree all its own! This is perfect for a spread-out simple centerpiece or table runner!
Gold is one way to go, but there are so many others! We've got them all for you to check out and choose from. Come take a look at our Thanksgiving Decorations page on Hometalk!