Ring in the fall with these top-of-the-line classy and crafty autumn wreaths, designed by Hometalkers! Nothing says homey and inviting like some front door decor, so grab some burlap, pinecones, foliage or any other favored fall materials, and start crafting. Neighbors will peek, traffic will slow, and you'll be autumn appropriate and fall festive in no time.
1. Coffee Filter Fun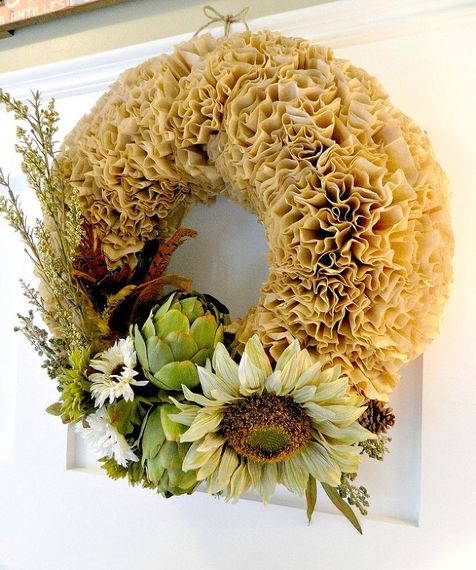 Autumn Coffee Filter Wreath via Hometalker Lisa D
Pick up a pack of coffee filters at your local dollar store, or recycle used filters for some natural dappled coloring, and make your own deceptively simple filter wreath. This intricate ruffled look is an extremely easy DIY, and then just add whichever flowers, sprigs, or organic autumn details that appeal to your artistic autumn senses.
2. Pretty Pinecones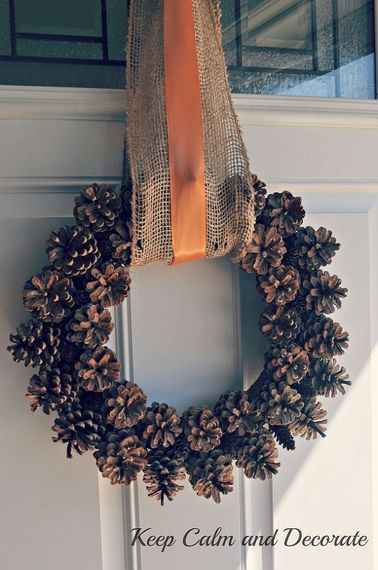 Pinecone Wreath via Hometalker Keep Calm and Decorate
So simple, but incredibly bold, this wreath is as au natural a look as it gets. You can't even tell that there's a foam wreath ring underneath all of that exciting and interesting pinecone action. If you're aiming for non-kitschy and understated yet festive, this no-fuss design, combined with a rustic burlap and ribbon sash, can do no wrong.
3. Inviting Burlap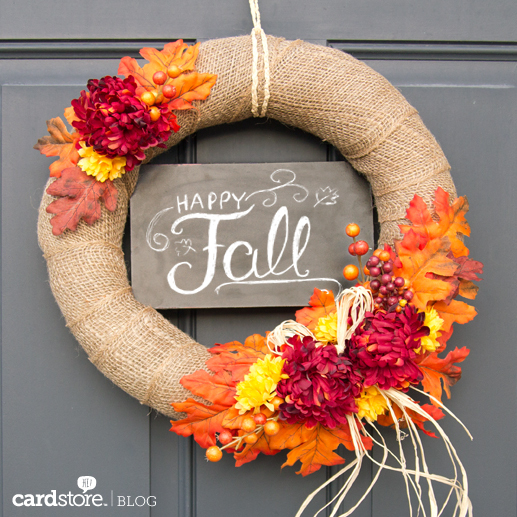 Inexpensive Gorgeous Fall Wreath via Hometalker Jessica
Instead of a charming frilly and rustic burlap wreath, this design is more shabby-chic, incorporating wrapped burlap, faux fall flowers and leaves, and an inviting chalk board sign. It practically sings "welcome" with its clean, sweet simplicity.
4. Felt Leaves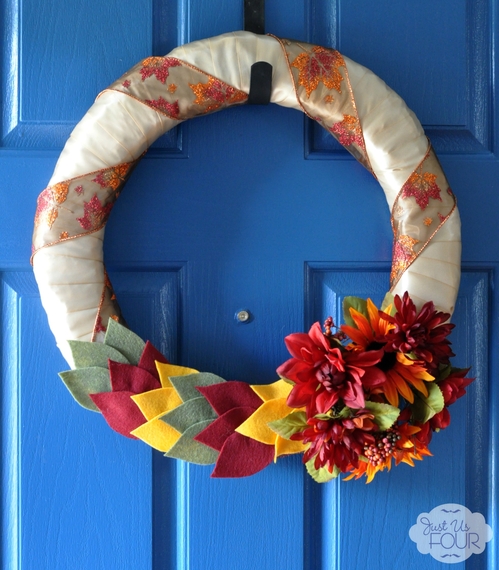 Fall Felt Leaf Wreath via Hometalker Just Us Four
Don't be afraid to really vary your materials. This ribbon wrapped, faux flower, cut felt wreath has so much going on, but it all just works! If you have an eye for wreath design, trust it - you might end up with the perfect balance of materials and colors to achieve a harmonious design, like this one!
5. Bright and Leafy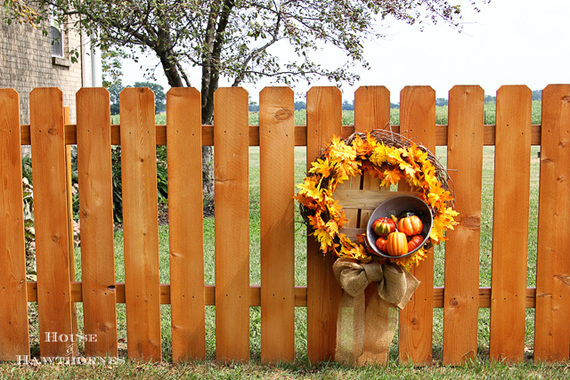 Quick and Easy Fall Wreath via Hometalker House of Hawthornes
You know how they say, the best art imitates life? Well, turns out they were right! A festive nest of sticks and leaves, accompanied by a bucket full of bright and yummy looking produce, creates an excellent fall feature piece. Plastic leaves and veggies let this design stay bright and vibrant all autumn long.
6. Bold Weave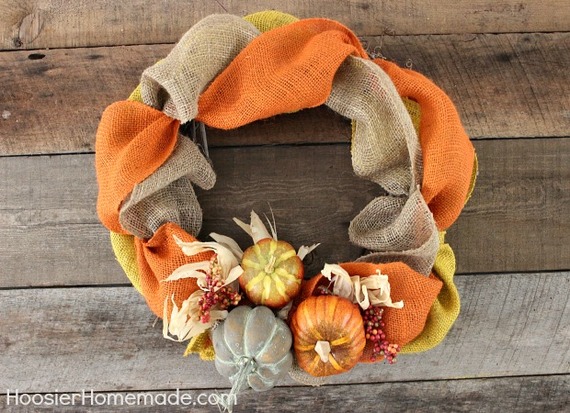 Fall Wreath With Burlap via Hometalker Hoosier Homemade
Few people think of multicolored burlap, but this design proves that more people should! Bright burlap maintains its rustic appeal, but adds a modern, attractive twist on the neutral barnyard style.
7. Colorful Corn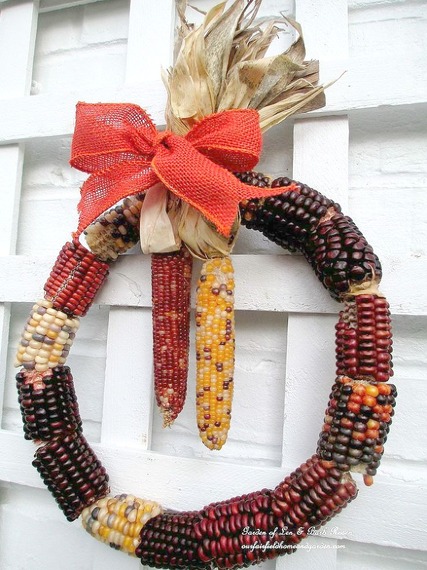 DIY Corn Cob Wreath via Hometalker Barb Rosen
Stay organic by using the abundance of autumn to create seasonal decor for your porch or yard. Colorful corn on the cob has all the fall color you'll need for a perfect welcoming wreath, and it's even simple to assemble.
Stay ahead of the fall decor trends and set an example for your neighbors, by designing your fall wreath now. These designs will last as the weather cools off, and you'll get a headstart on welcoming in the fall fervor. If these ideas didn't quite tickle your fancy, don't fret! There is a ton more inspiration on Hometalk's autumn appropriate topic page dedicated to fall wreaths.