Many an owner of a drooping flower bed has thrown in the towel and admitted defeat to the elusive perfect garden. You know what I mean -- seeds that never reappear as sprouts, flowers that stay in their buds no matter how hard you try to coax them out, lush, leafy plants that become rabbit food all too soon. What's the point of all that tough, dirty garden work if you never get to enjoy the benefits? Maybe, you think, you're just not cut out for gardening. Well, that's where you're wrong.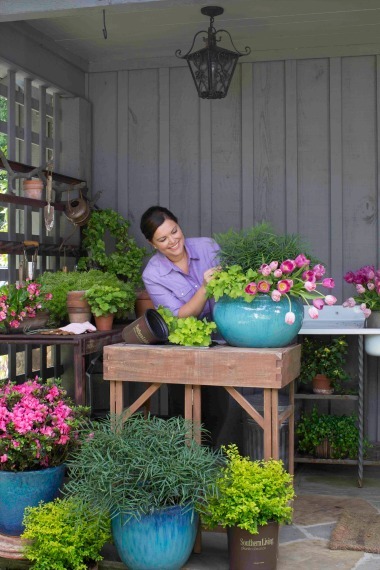 Photo by Mark Sandlin
When she started her decorating business Nectar & Company seven years ago, Carmen Johnston, of Carmen Johnston Gardens, noticed that her clients were eager to learn all about her work. Johnston, who is a Southern Living Lifestyle Garden Expert, runs a business that creates custom container gardens for people's homes, to dress up their space for an event, party, or simply for attractive decor. Instead of spending piles of money on cut flowers which would only last a couple of days at the most, Johnston's customers get full gardens, that they can enjoy long term.
So what is this magical garden that you can't get wrong, you wonder? A container garden is a small community of carefully selected plants that thrive together in a large container with good drainage. These gardens can be kept indoors or outside, and are especially successful because you can control their environment. You can create a container garden of edibles and vegetables, one that's purely ornamental, or one which has ornamental plants as well as herbs.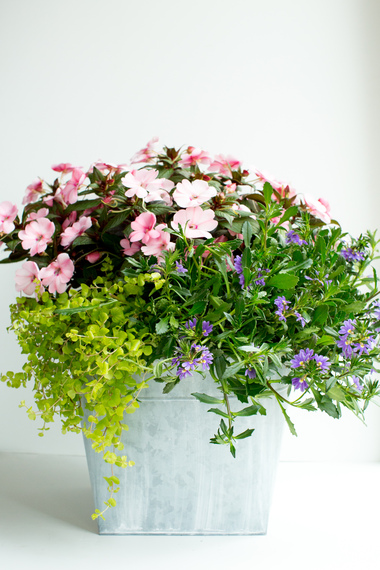 Photo by Haley Sheffield for Carmen Johnston Gardens
Johnston, who's loved gardening since her childhood days of planting with her father, decided to make it her mission to teach timid but eager wannabe green thumbs to easily start their own container gardens. She swears by this easy-to-follow method, and her work is pretty excellent proof that she knows what she's talking about.
Choosing a Container:
For your container, says Johnston, you can pretty much start with whatever big, beautiful bowl, pot, or bucket you like. Her one rule? Make sure your container has holes in the bottom for proper drainage, so that your plants don't drown. "Plants are like people," she says, "they need to breath." According to Johnston, galvanized buckets and tubs are very in, because they look great and they're lightweight.
Choosing Your Plants:
Once you've chosen your container, Johnston says choosing the plants is as simple as keeping in mind your "3-T's": Tall, Thick, and Trailing. Each container garden should have at least one tall plant, which will add some height to your design, one thick plant, which will add texture to your garden, and one trailing plant, which will soften the edges of your container.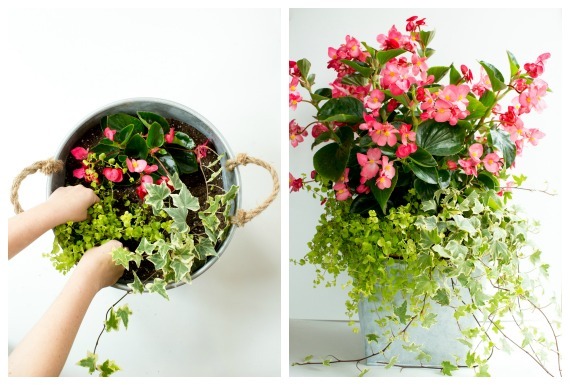 Photo by Haley Sheffield for Carmen Johnston Gardens
There are all sorts of plants that work fabulously as container roommates. One of Johnston's favorite threesomes includes Whopper Begonia (tall), Creeping Jenny (thick), and Ivy (trailing), shown above, and perfect for front porches, balconies, and mixed sun and shade areas. She also recommends mixing SunPatien Compact Blush Pink (tall), Creeping Jenny (thick), and Blue Fan Scaevola (trailing), for a great sunny spot arrangement.
Choosing a Soil:
There's one more step before you can start digging, and that's figuring out what to dig into. Regardless of your plant choice, you'll want a good soil mix that drains well. Johnston recommends a soil with peat moss or vermiculite, but she says that different plants need different soils, so make sure to ask an employee at your local plant nursery or garden store before you commit to one.
Constructing Your Garden:
Once you're ready to get your garden on, fill your container with soil, until you're left with about 2 inches of space from the rim. To get the maximum placement for your garden, you'll want to arrange your three plants in the form of a triangle.
Here's how: First, dig out a hole towards the center back of the container, ease your tall plant out of its pot, and press it into the hole, covering the top of the "root ball" with soil. Next, move down to the front right of your container, and add your thick plant the same way. Lastly, follow that method to place your trailing plant in the front left of your container, so that your plants form the corners of a triangle.
Make sure to pack soil into any air pockets or open space around your plants. Then, give your whole garden a good soaking, so that the soil feels wet to your fingertips. As a final treat, especially for any children participating in the project, Johnston adds some long, wriggly earthworms, to create natural fertilizer. Kid's love this part, so make sure to turn this into a family activity.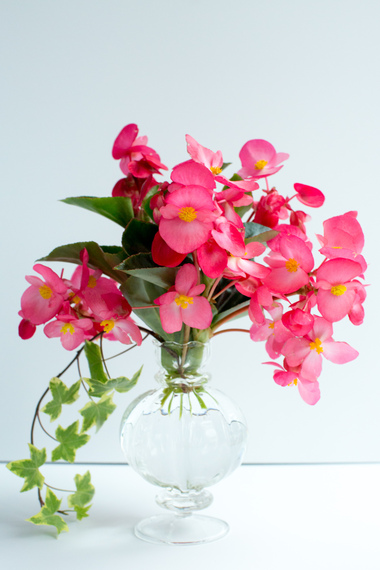 Photo by Haley Sheffield for Carmen Johnston Gardens
Once your container starts to flourish and bloom, snip some pretty flowers and branches for bud vases and floral centerpieces. Cutting back is actually healthy for your garden and encourages growth, and bringing in clippings is a great way to decorate on a no-cost budget!
That's all there is to it! With those easy steps, you're on your way to becoming a certified green thumb. To make things more interesting, always be on the lookout for good, unique containers. "Think outside of the pot," says Johnston, who enjoys planting container gardens in every different shape and size. Above all, don't be intimidated. "Gardening is a lot like cooking," says Johnston, "don't be afraid to give it a chance."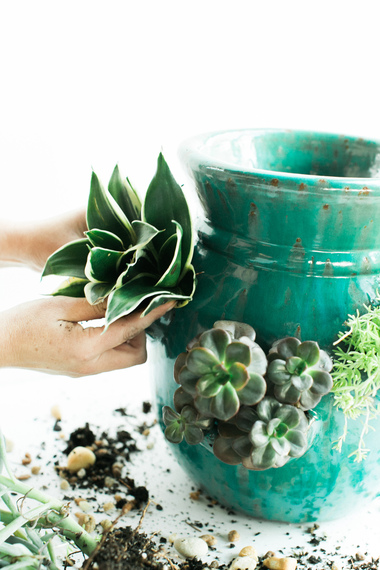 Photo by Haley Sheffield for Carmen Johnston Gardens
Still too timid to try your own? I was too. That's why Johnston recommended succulents as a starting plant for anyone who's lacking gardening confidence. "You have to try to kill succulents," she says.
If you're looking for more container gardening tips, tricks, how-to's, and inspirations, follow Carmen Johnston on Hometalk, and check out our Container Gardening page!