This season, 35 DIY bloggers decided it was time to bring fall decor up a notch, so they dreamed up some seriously amazing decor and inspired the internet to join in! These brilliant ideas are all the fall inspiration you will ever need, but hurry up - Thanksgiving is almost here and you can't let your guests see your house before it's autumn-ready!
1. Put Together a Rustic Repurposed Centerpiece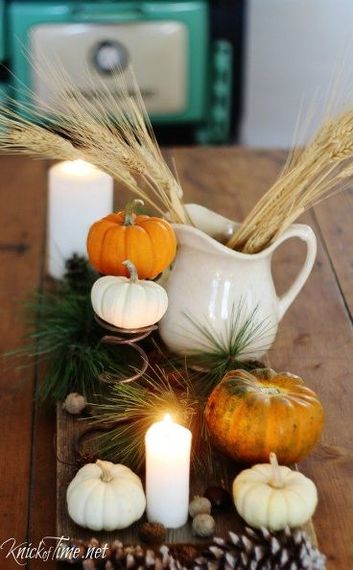 Project via Angie @Knick of Time
You can get a perfect rustic-chic look without spending a dime! See the full post here.
2. Make a Fallen Leaf Wreath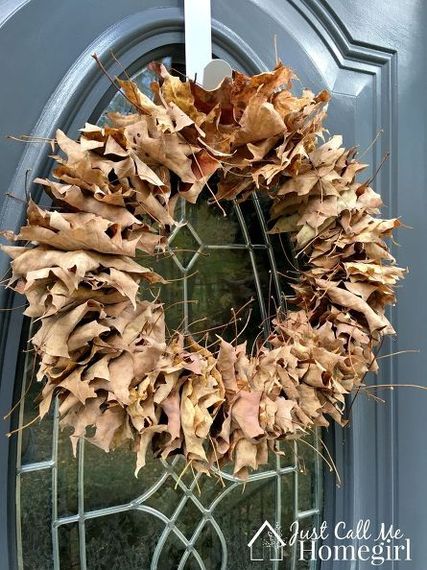 Project via Tara @Just Call Me Homegirl
Finally, a good reason to scour your yard for fallen leaves. See the full post here.
3. Line Decorative Candles With Leaves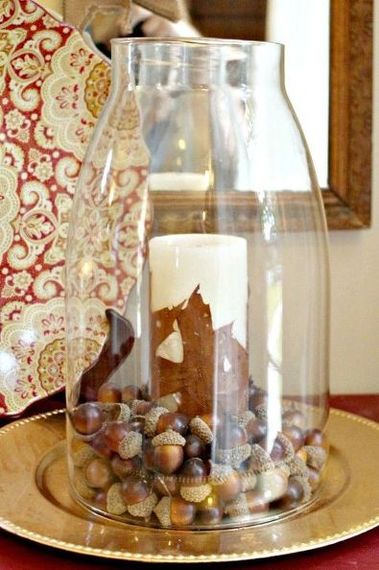 Project via Heather @New House New Home
Dress up chunky candles with colorful fall leaves. See the full post here.
4. Mount a Faux Deer Head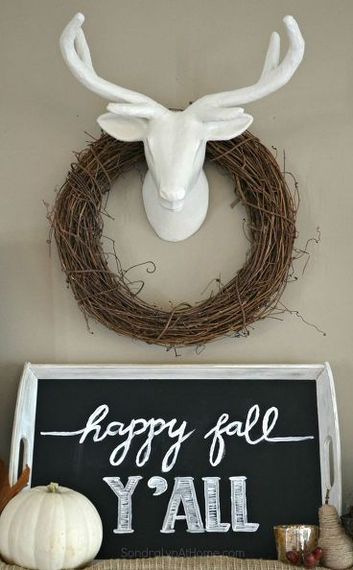 Project via Sondra Lyn @Sondra Lyn at Home
Antlers are a major fall favorite, but you can get that rugged-rustic look by going faux, with this mounted paper deer head. See the full post here.
5. Create Cute Owl Magnets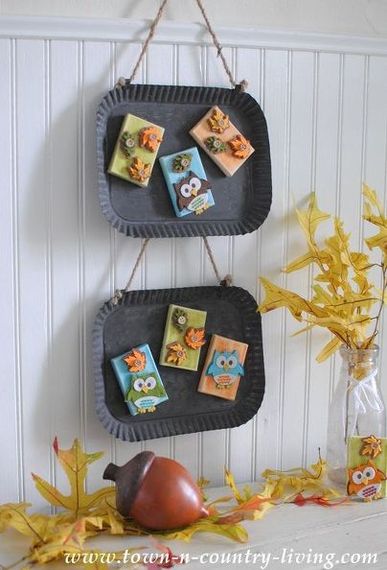 Project via Jennifer @Town and Country Living
Adorable owls are always a crowd pleaser, especially this time of year. Use them to hang welcome signs or your kids' Thanksgiving pictures. See the full post here.
6. Upcycle Some Romantic Wall Art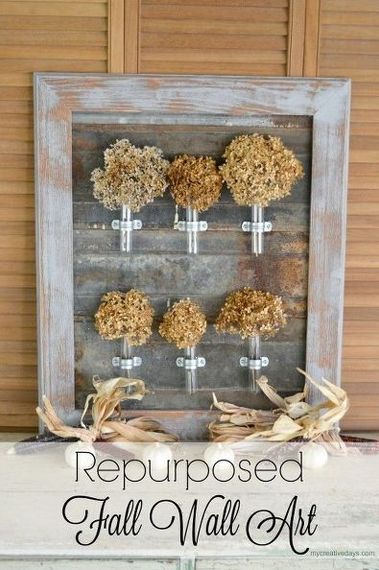 Project via Lindsay @My Creative Days
Make this wall mounted dried flower design using repurposed pieces. See the full post here.
7. Turn Old Fence Posts Into Celebratory Candles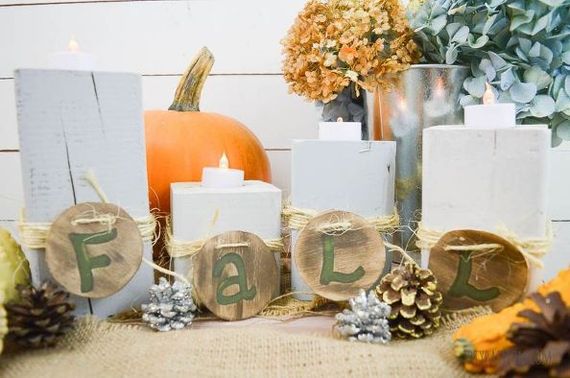 Project via Erin and Dan @DIY Passion
Chunks of old fence posts make surprisingly cute fall decor, if you know just how to style it. See the full post here.
8. Decorate Plain Glass Jars with Natural Elements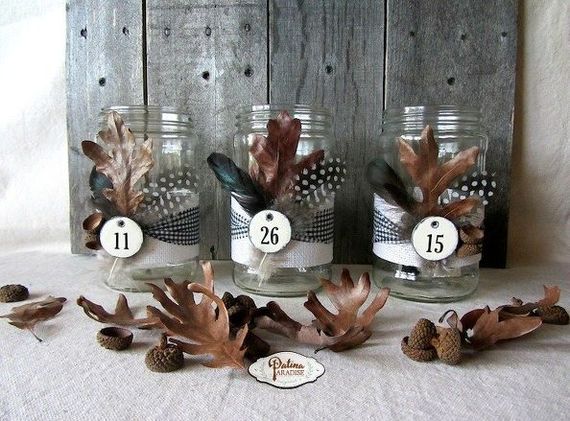 Project via Lucy @Patina Paradise
Cover glass jars in feathers, leaves, and all sorts of fun, fall elements. See the full post here.
9. Make a Giant Welcome Sign from Thrift Store Baskets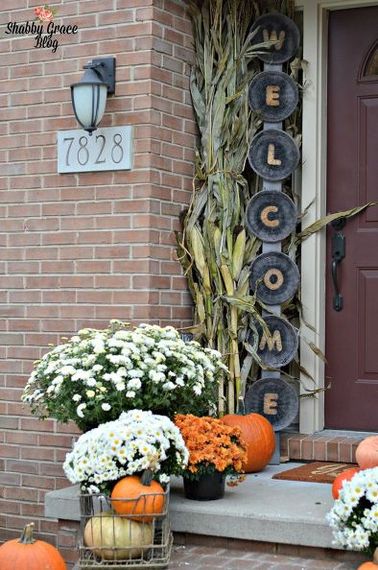 Project via Sara @Shabby Grace Blog
Line up a row of thrift store baskets, for this high-impact door decoration that will make guests feel more than welcome! See the full post here.
10. Use Glass Insulators to Share Your Bounty with the Birds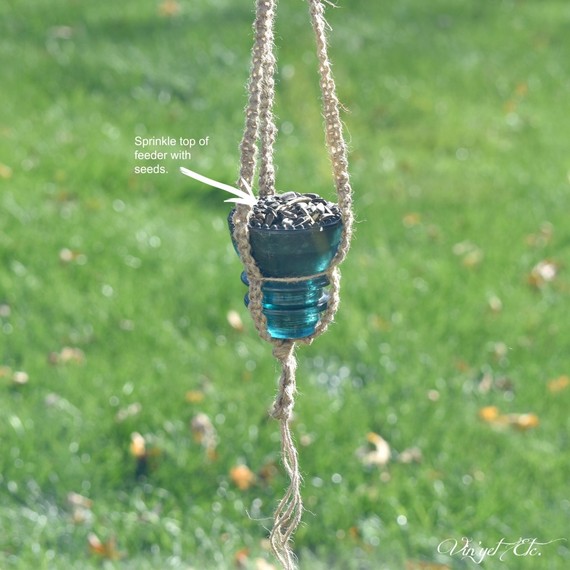 Project via Laurie @Vin'yet Etc.
Turn vintage glass insulators into romantic style bird feeders, so that your feathered friends can stock up before the cold. See the full post here.
11. Cover Cheap Glass Candlesticks in Sparkling Silver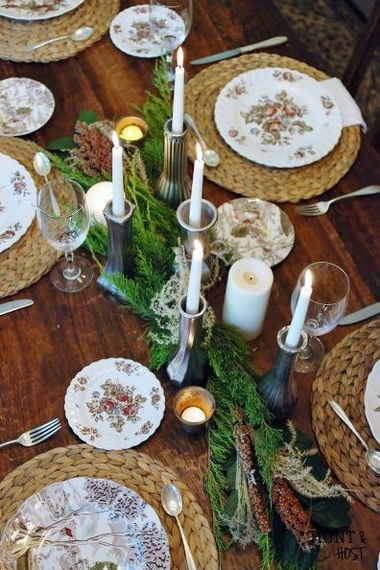 Project via Kim @Hunt & Host
We've all got a spare pair of these - put yours to work making a splash in your fall decor. See the full post here.
12. Use Neutral Colors for a Cozy Design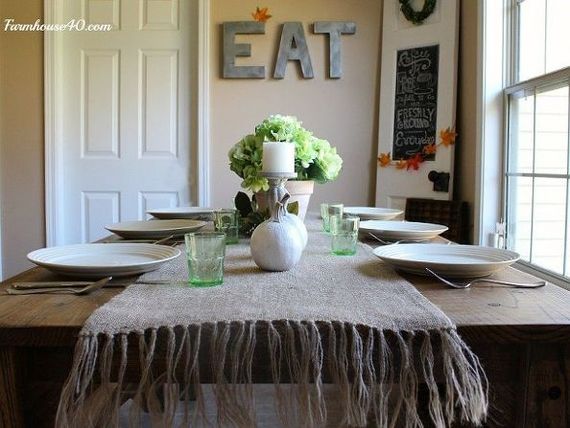 Project via Bonbon @Farmhouse 40
Nothing says cuddled up and cozy for fall like neutral colors and plenty of natural elements. See the full post here.
13. Combine Elements for a Farmhouse-Glam Centerpiece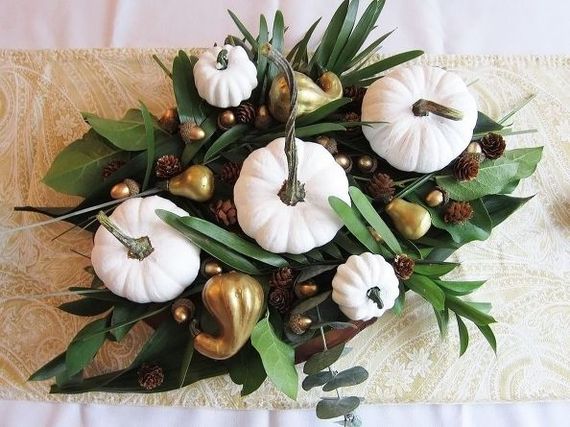 Project via Roxanne @The Honeycomb Home
Farmhouse style is always a favorite, but when it comes to fall, there's no better way to decorate your home. See the full post here.
14. Give Your Plain Pumpkins Copper Highlights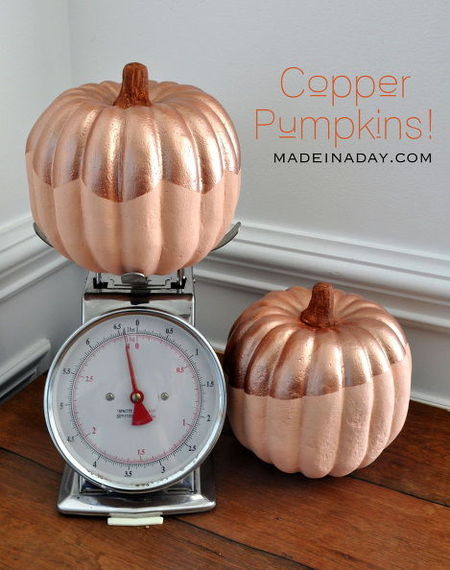 Project via Kim @Made in a Day
Add a bit of shine to your ordinary plump pumpkins by covering the tops of them in copper paint. See the full post here.
15. Make a Delicate Magnolia Wreath for a Classy Touch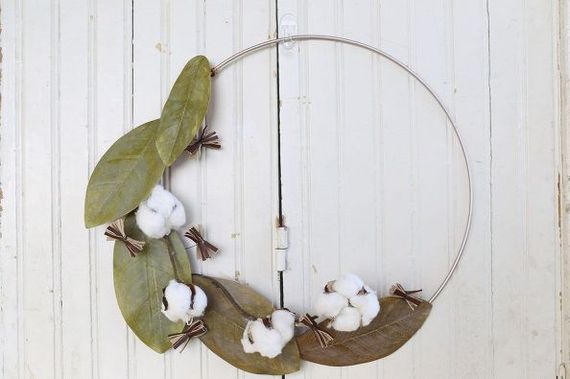 Project via Becky @The Logbook
Magnolia leaves are always a chic bit of decoration, but with the right fall styling, they're even better! See the full post here.
16. Turn Your Home Into a Lakeside Cabin with a Dreamy Sign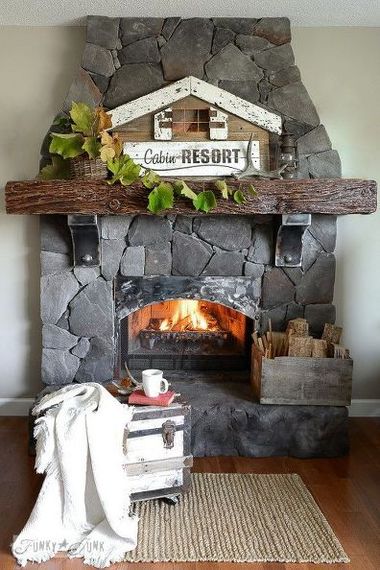 Project via Donna @Funky Junk Interiors
This cute light up sign is a great way to decorate with a cute cabin feel, even if you can quite buy your lakeside place yet. See the full post here.
17. Make Mini Personalized Wreaths for Each Guest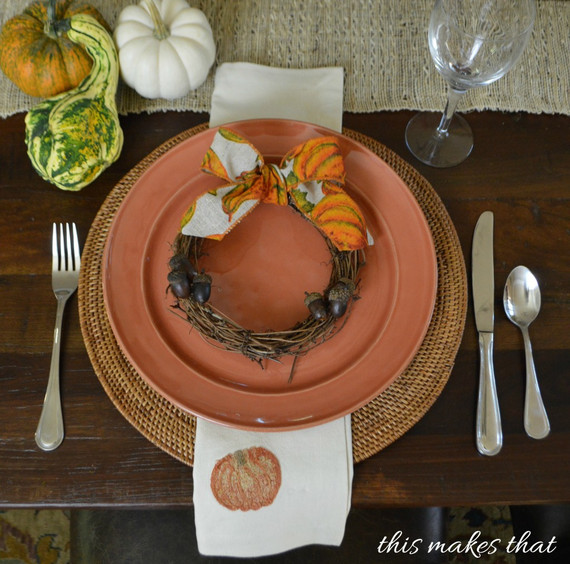 Project via Susan @This Makes That
Napkin rings are one thing, but give your guests a personal mini wreath and your Thanksgiving dinner will be one to remember. See the full post here.
18. Make an Elegant Table Topper with Natural Elements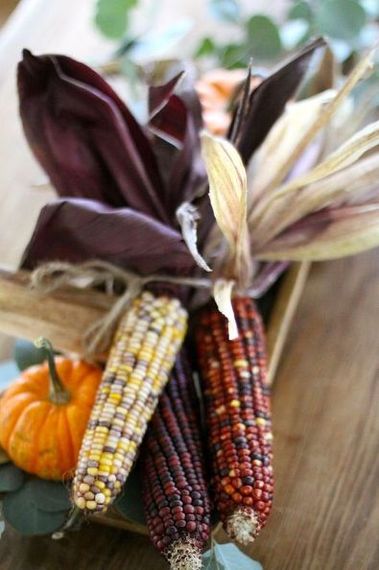 Project via Susan @Love of Home
Turn colorful corn, pumpkins, and branches filled with stiff leaves into an artistic centerpiece for your fall table. See the full post here.
19. String Up a Tiny Chalkboard Banner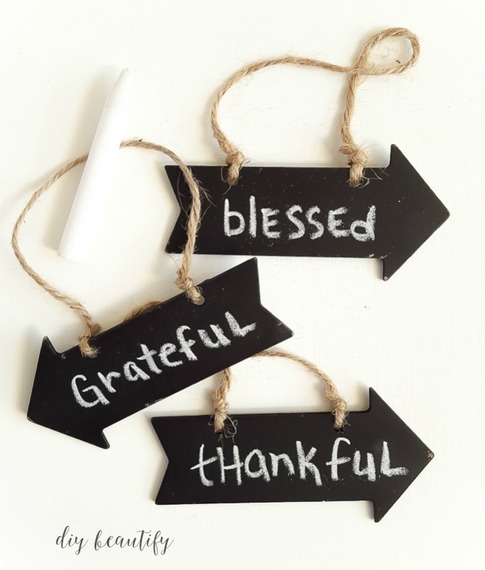 Project via Cindy @DIY Beautify
With a mini chalkboard banner like this, you can change up your message every other autumn day! See the full post here.
20. Hang Some Simple Book Page Bunting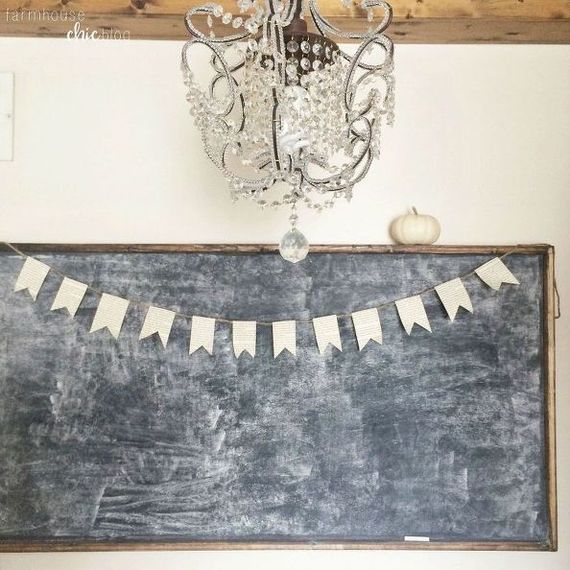 Project via Fotini @Farmhouse Chic Blog
Cut up an old book into decorative bunting, for a simple and sweet fall look. See the full post here.
21. Recycle Tree Stumps as Pumpkin-spired Outdoor Decor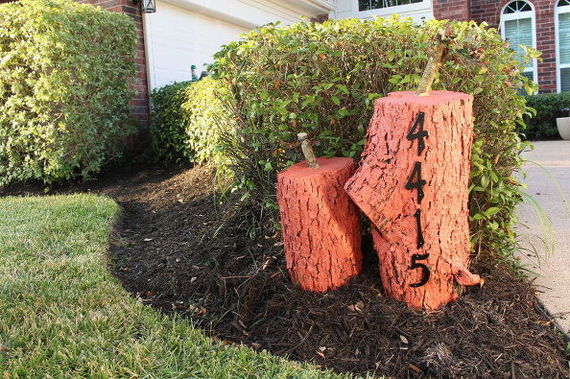 Project via Lura @Domesticability
Everyone loves a clever tree stump upcycle, but for fall, it's time to get cutesy with these pumpkin lookalikes. See the full post here.
22. Add Charming Lanterns Everywhere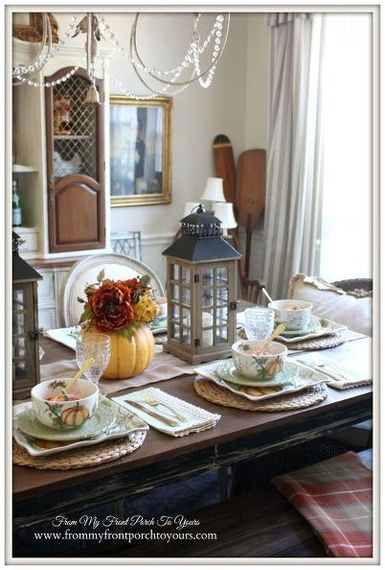 Project via Pamela @From My Front Porch to Yours
One of the best cold weather decor details, lanterns are a great way to add stylish coziness to your home and garden. See the full post here.
23. Try Your Hand at Monogrammed Canvas Art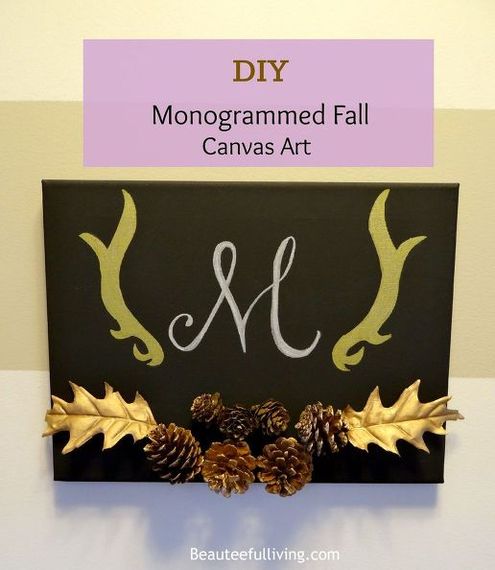 Project via Tee @Beauteeful Living
Make some gorgeous art that will pop off your wall, using contrasting dark hues and bright metallics. See the full post here.
24. Stack Up Wood Scraps Into Adorable Pumpkins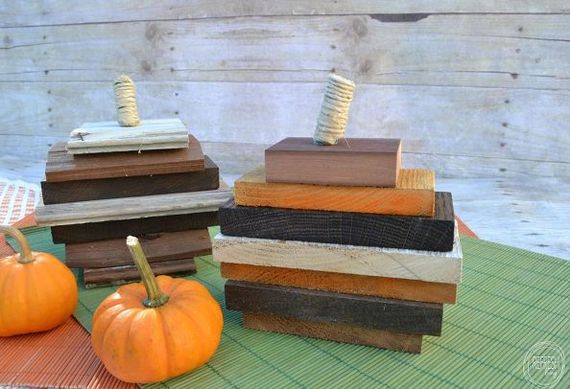 Project via Jenny @Refresh Living
Scrap pumpkins aren't a new idea, but this blogger gave hers a fun, colorful twist that we adore! See the full post here.
25. Decorate Your Serving Bowls as Turkeys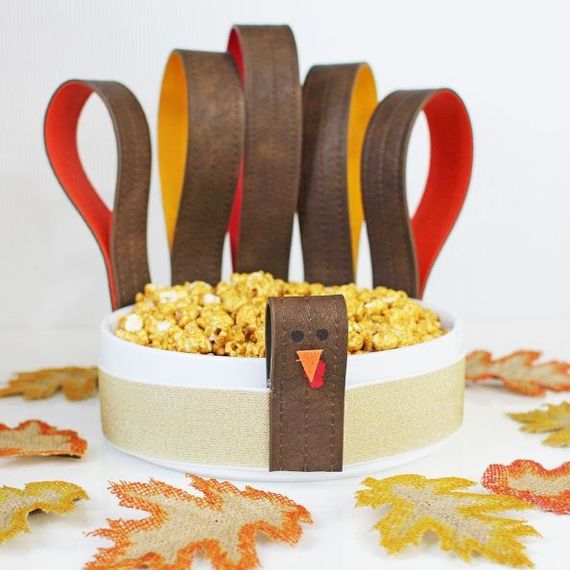 Project via Angela @Blue I Style
Turn all of your serving pieces into adorable table turkeys, using old belts and paint! See the full post here.
26. Place Tiny Pumpkins in Every Open Corner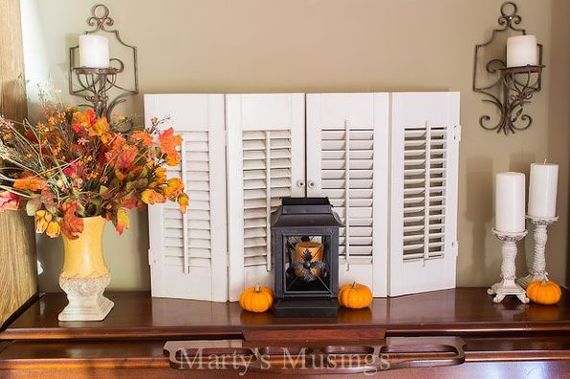 Project via Marty @Marty's Musings
It's pretty much impossible to have too many pumpkins in your fall decor, so instantly dress up any boring corner with bright pumpkins. See the full post here.
27. Collect Pine Cones for a Makeshift Vignette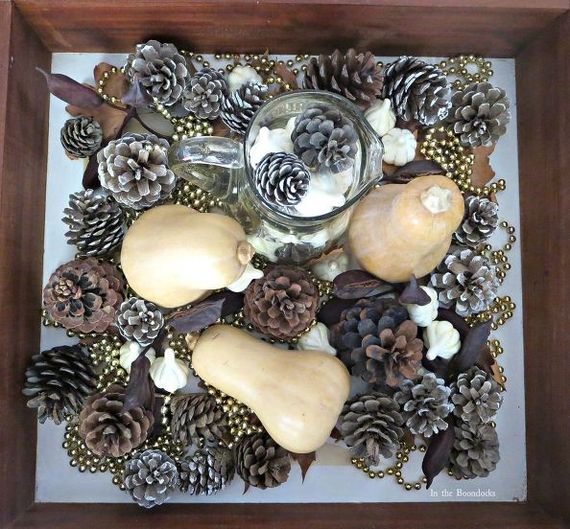 Project via Mary @In the Boondocks
Pine cones are a fabulous and free decor piece to use all autumn long, especially if you're looking for a quick crowd-pleasing vignette. See the full post here.
28. Use Extra Paint Sticks as Bright Painted Pumpkins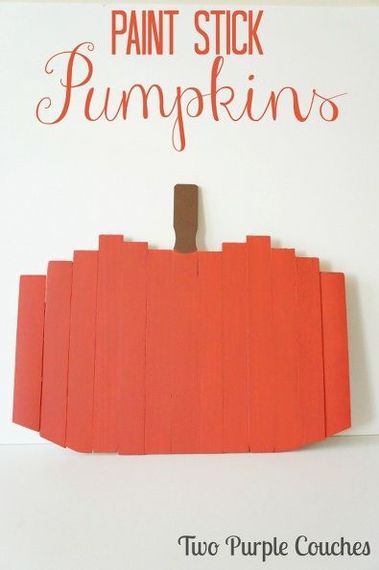 Project via Emily @Two Purple Couches
Turn cheap paint sticks into perfect pumpkins for your porch or mantel. See the full post here.
29. Place Tall Corn Stalks by Your Front Door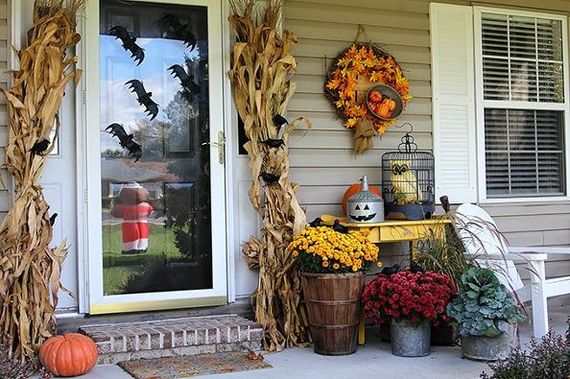 Project via Pam @House of Hawthornes
Surrounding your front door with tall dried corn stalks is a magical way to welcome guests to the fall fantasy land inside. See the full post here.
30. Cover an Old Chandelier in Greenery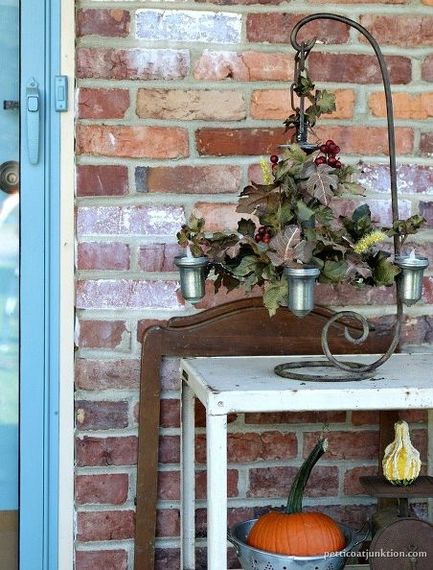 Project via Kathy @Petticoat Junktion
Turn a thrift store chandelier into glamorous outdoor decor with some faux greenery and a feel sprigs of berries. See the full post here.
31. Make a Few Plush Fabric Pumpkins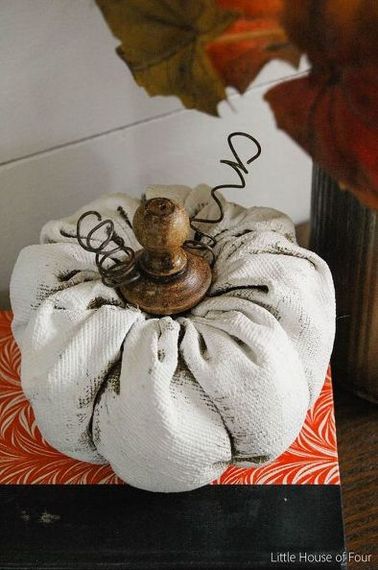 Project via Katie @Little House of Four
Fabric pumpkins are a sweet addition to any fall home, but make yours unique by adding a crackling layer of paint. See the full post here.
32. Create Art with a Large Metallic Canvas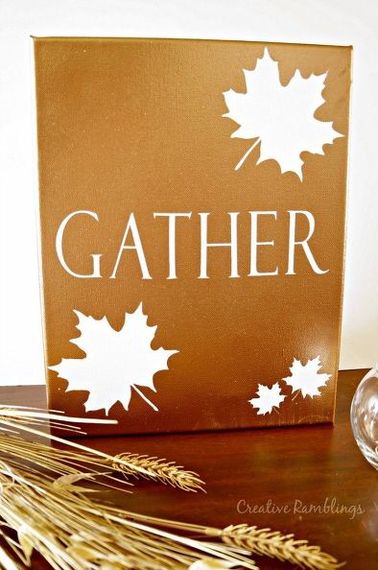 Project via Sarah @Creative Ramblings
All you need is a can of spray paint to turn a canvas into a glittering piece of playful art. See the full post here.
33. Arrange a Welcome Message in Wood Slices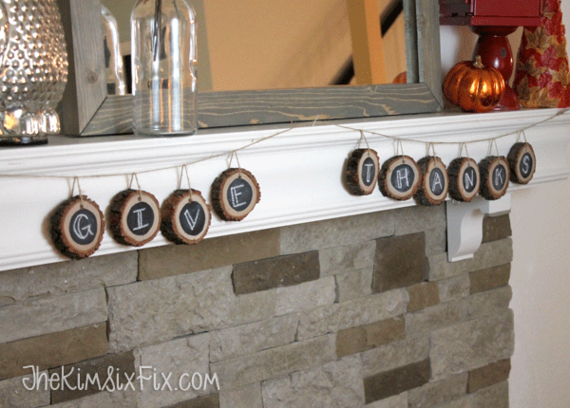 Project via Kim @The Kim Six Fix
String up a warm seasonal message on rustic chalkboard wood slices and hang it along your mantel or staircase banister. See the full post here.
34. Display Beautiful Fall Blooms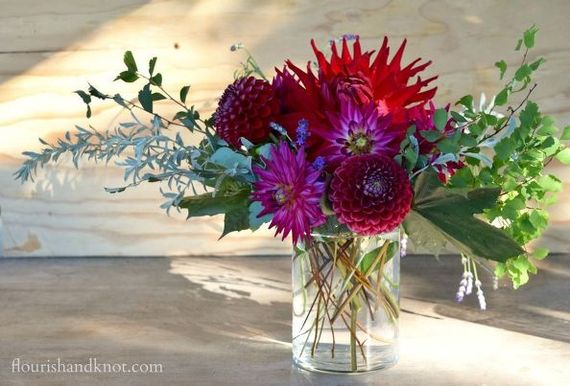 Project via Sarah @Flourish & Knot
Don't let spring have all the fun - bring some bright blooms into autumn, too! We like rich reds and magenta colored flowers to offset the cooler setting. See the full post here.
35. Go Mad with Mums Outdoors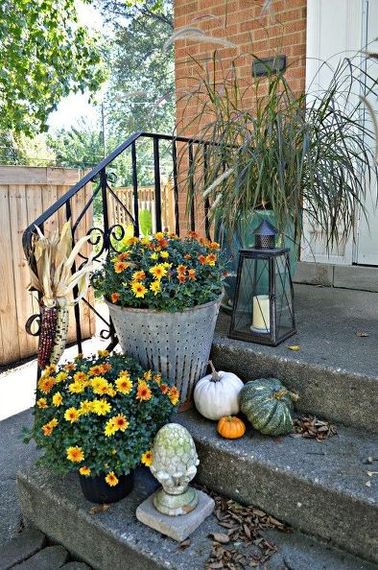 Project via Kristi @Chatfield Court
Displaying everyone's favorite fall flower is the absolute best way to dress your outdoors for fall, so load up! See the full post here.
For more incredible fall ideas from brilliant bloggers, check out this brand new Fall Home page!