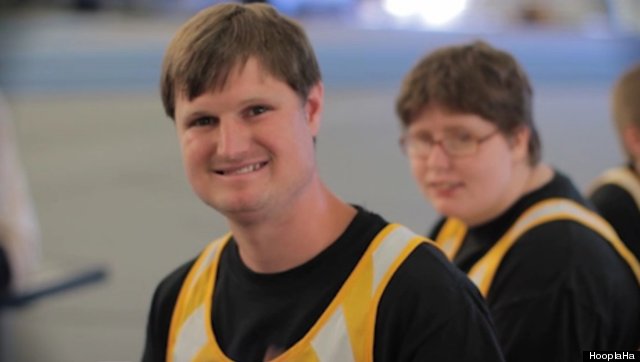 "I like that I get to compete and meet other athletes," says Ian Shepherd, Special Olympics athlete. "When I'm at the Special Olympics I feel like I'm accomplishing things."
A sense of accomplishment is the real victory for Rhode Island Special Olympics athlete, Ian Shepherd. Participating in Special Olympics gives Ian the chance to compete, and to meet and teach other athletes, sharing his positive spirit all the while:
"Even if I come in fifth place, I just smile," he says.
Ian is one of 2,700 athletes in Rhode Island's Special Olympics program. The program is one of the world's most dynamic, providing over 1,400 year-round sports training and athletic competitions for more than 2,700 athletes and hosting over 40 local, regional, and statewide tournaments and competitions each year in 25 official and demonstration sports.
The Special Olympics were founded in 1968, and their mission remains as important today as it was then:

"Through the power of sport, Special Olympics strives to create a better world by fostering the acceptance and inclusion of all people... The mission of Special Olympics is to provide year-round sports training and athletic competition in a variety of Olympic-type sports for children and adults with intellectual disabilities, giving them continuing opportunities to develop physical fitness, demonstrate courage, experience joy and participate in a sharing of gifts, skills and friendship with their families, other Special Olympics athletes and the community."
The Special Olympics are about inclusion, and learning. But sometimes the learning is coming from the athletes, instead of the other way around.
"Ian is a leader... he's like my go-to guy," says one of his coaches, Lisa McKay. "If I need help with a situation, let's say one of my athletes is struggling in a race. I would send Ian right over."

"Ian has made our life very special, because he makes me see what is possible," says Ian's mother, Gail Shepherd.
Doesn't hearing these loving words and testimonials make you wonder... How many people would say that about you?
We can all be inspired by these words, and by Ian. What is possible for you? Go make it happen. Whatever it is that you do in your daily life, be like Ian. Be the go-to guy. And if you come in fifth place? Just smile.
For more information about Special Olympics and how you can get involved, visit their website and their Facebook Page. Submit an inspirational athlete to HooplaHa right here!