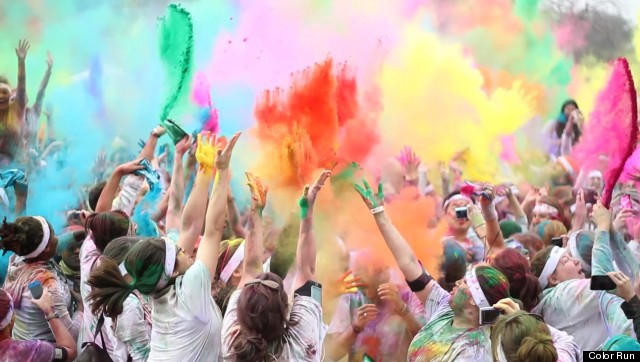 The Color Run, known for being the "Happiest Run on The Planet," came to New York this summer on August 25 and 26. Participants start the 5k fun run super clean wearing all white and by the time they reach the finish line they are coated in rainbow color from head-to-toe! When HooplaHa heard about this awesome event, we knew we wanted to join in the fun and share the racing experience with our viewers. So we decided to strap a helmet camera on our HooplaHa runner to capture three miles of crazy color fun!
Check out the video here.
We asked John Rovegno, our HooplaHa runner and helmet camera operator, what it was like out there:
1. What was it like wearing a helmet cam?!
It was fun wearing the helmet cam. It strapped on easily and was lightweight; I hardly knew it was there. The funniest thing was standing in line to begin the run -- they broke it up into a number of sections because there were so many people. So, we're standing there and I hear these people talking and saying "that's so cool, yeah look at him" -- I start turning around looking for who they're talking about thinking celebrity etc. until daughter says "It's you genius -- you're wearing a camera on your head --remember??"!
2. What was the most extraordinary thing you saw?
The most extraordinary thing I saw was a young woman running in her wedding gown. I think I'm still paying for a dress in a climate-controlled vault somewhere... guess times have changed!
3. How is this run different from other runs that you've participated in?
This run was different than any other run because it was so non-competitive... usually it's all about your time and competing with others and yourself. This was all about having fun, getting some exercise and becoming colorfully tie-dyed.
4. What is it that is thrown on you, is it paint or powder or what?
They throw a corn starch powder that's been enhanced with a food coloring agent. The good news is that the stuff washed out of the clothes in a normal warm water wash. We were told that you can affix the coloring with vinegar but it didn't work that well for us.
Events like The Color Run remind us how important it is to incorporate fun into our daily lives. We love that this race makes running, a sometimes dreaded activity, less about speed and more about enjoying a color-crazy day with your friends and family. This wacky workout may not be for everyone but we can all certainly learn from the bigger lesson here: life is always better when you add a little color to it!
For more information on The Color Run, you can visit their website. Want HooplaHa to make a video of a fun event in your area? Submit your idea here!