Even in art, Asia cannot be lumped together as one region. Just like other continents and regions, there are unique cultures, lifestyles and language that spill over into the art world that influence the artists in each geographic area. For example. we need to distinguish all the different types of Hispanics in the world. There are Mexicans, Argentines, Colombians, Venezuelans etc... and each is very unique when it comes to style and artistic endeavors. The same goes for Asians and Asian artists. Americans and art collectors globally need to be educated on this aspect of art and Asia.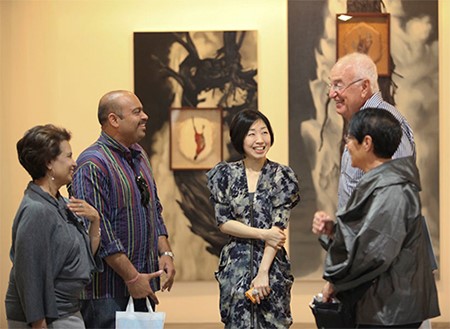 International art collectors, Poddlers left & Rubells right
Art Stage Singapore, a relatively new art fair held in Singapore has made it an undertaking to distinguish the artists from various Asian regions. Next January marks the fourth year of this fair held at the unique Marina Bay Sands. Breaking the mold of traditional art fairs, Art Stage Singapore 2014 will introduce country/ region-specific platforms in collaboration with galleries and curators. The platforms will include Southeast Asia, India, China, Taiwan, Japan, Korea and Australia & New Zealand. Taking the form of curated sales exhibitions, the new component will be divided into regional and country platforms where exciting new works by Asia Pacific's headlining and emerging artists will be featured together on the same stage.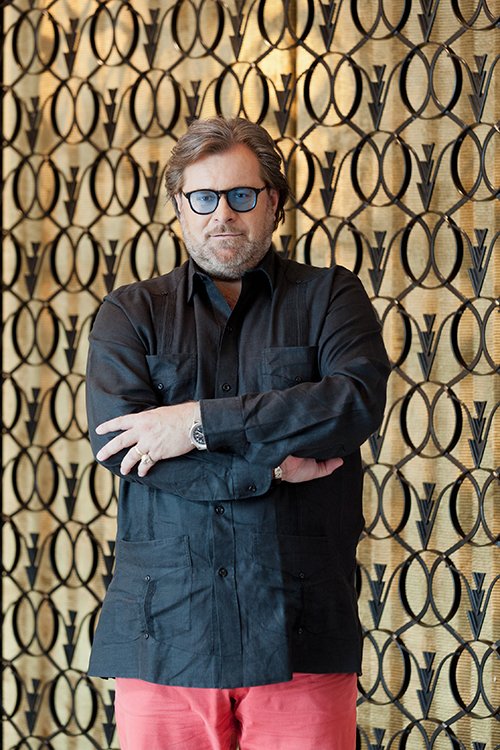 Lorenzo Rufolf, Founder & Director of Art Stage Singapore
Lorenzo Rudolf, Founder & Fair Director, Art Stage Singapore explains the diversity,
When we speak about Asia, we cannot speak about an undifferentiated, single Asian contemporary art scene as the region is highly segmented. From a western perspective, there is sometimes limited understanding of the market differentiations within Asia and little depth of knowledge about the individual art markets. In light of this, we feel that it is important that we present a mirror of the dynamic and diverse art scenes across Asia Pacific through the Platforms. These curated sales exhibitions that we are developing will bring about synergies and will become bridges that connect people and communities. This new addition will give visitors not only a holistic overview of artistic developments, but also a deeper understanding of contemporary art from Asia Pacific. Our roots in Singapore firmly anchors us in Asia, enabling Art Stage Singapore to gather all our resources from across the region to help bring about a shift in mindsets.
The curated sales exhibitions will occupy close to 20 percent, or about 1800 square meters, of the fair exhibition space. Renowned curators from the featured countries/regions will take part in the selection process of exhibits. It will be presented in a museum-like exhibition layout -- a non-segregated and fluid format -- for a dynamic quality of display as well as to allow for the presentation of art in context.
Indeed, Art Stage Singapore is living up to its tagline, "We Are Asia." Ensuring that visitors get to understand Asian art in the proper context through the region/country specific platforms, Art Stage Singapore is a major resource and reference for anyone interested in the contemporary art markets of the region.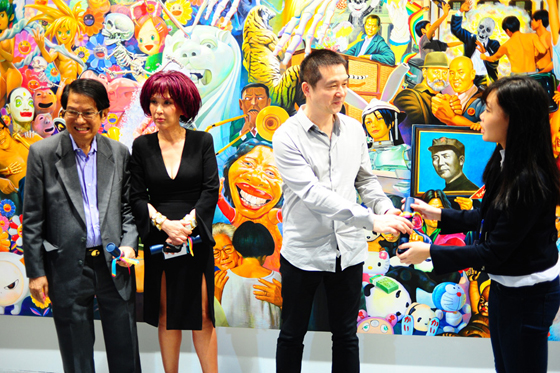 Top International Art Collectors Dr. Oei Hong Djien, Pearl Lam, Qiao Zhibin
Art Stage Singapore will be held January 16-19, 2014 with the vernissage on January 15. They are planning to have over 40,000 visitors, 600 artists, 130 galleries and 10 curated sales exhibitions.
Here is a video overview of Art Stage Singapore 2013: http://vimeo.com/58233758
Art Stage Singapore has also initiated a new webisode series online on their website. Here is the first for the German speaking communities: http://vimeo.com/73614722
The Chinese New Year begins January 31 and 2014 is the year of the horse. So plan a spectacular trip to Singapore and ring in the new year in artsy style! I went last January and found both Art Stage Singapore and the city of Singapore sensational. The trip opened my eyes to a whole new world in the Far East that is booming.
HOPE GAINER, of Hope International is a global marketer and imagemaker. She loves working with artists and enjoys collecting art in countries she travels to. She has produced and curated a wide variety of unique art events during the Miami Beach Art Basel Week each December. In addition to Art Stage Singapore, Hope has experienced the Venice Biennale which also showcases each country in its own unique art pavilions.