Finding one's calling in life is truly a treasure. Monaco-born artist and activist, Vanessa Roux has had a love for animals and nature since childhood. She always had pets and played in her garden. In her teens Vanessa starting drawing the animals in her play world and later photographing what she liked in her universe.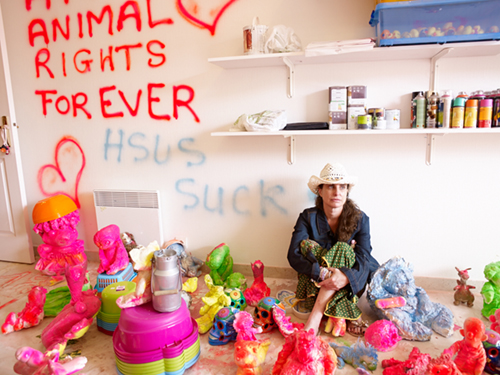 Vanessa Roux in her Monaco Atelier
One day while buying a puppy in South Florida, she found out it was really from a puppy mill. The sick animal won over her heart and changed her life forever. She called her new Chihuahua friend Nacho and nursed him back to health. Today, Vanessa has channeled her energy into educating people about the inhumane treatment of animals and exposing these horrific breeding grounds. Her home is always crawling with adopted creatures of all kinds. Her care and concern extends beyond animal rights to women's rights and human rights. She is equally passionate about protecting our environment.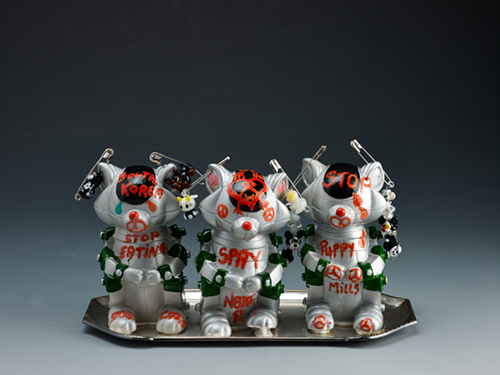 Les Chiens Robots
Today, Vanessa has cultivated all her loves and passions into her very own signature art form. She has created a unique sculpture style and technique that is both whimsical and satirical expressing her convictions. On the surface, the art pieces look colorful and fun. But upon deeper analysis, one can see the hidden meanings. She is adept at recycling items and turning them into art. Vanessa likes to say she 'hijacks' items from one world and places them into her art world.
Currently, Vanessa has categorized her work into six categories. The first is called "P-Lush" and are sculptures made from stuffed animals and other recycled items like boxes with brand names. Her technique is very laborious requiring many layers of shellac onto the plush animals and then adding embellishments of recycled beadwork, safety pins and other found objects. Beads become eyes and pins become piercings and bracelets made from semi-precious stones become adornments. She also tags some artwork by bomb spraying graphic elements. Her favorite P-Lush piece is called The Beauty Lovy La Vie', a pink teddy bear which stays with her in her Monte Carlo atelier.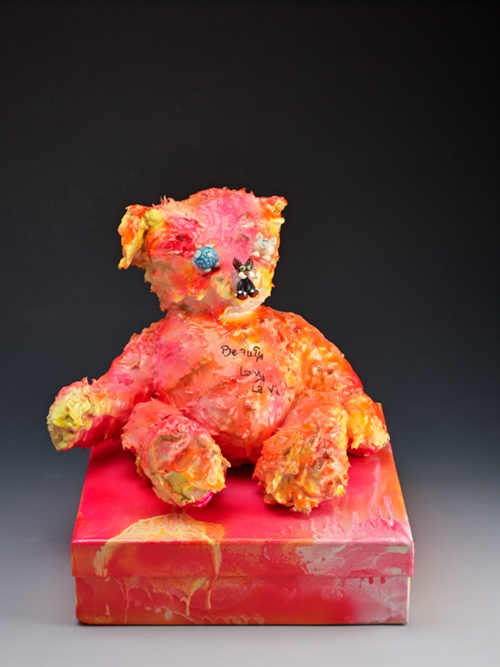 The Beauty Lovy La Vie
Another group Vanessa calls "Dog Toys" since they are actually recycled dog toys turned into her art form. "Kitchen" is her group that she hijacks items from the kitchen like pots, pans, saucers, silverware, salt and pepper shakers etc., and transforms them into art. "People" is her group that includes prominent historical figures like Darwin, Buddha and Obama as well as V.I.P.s and even a self-portrait. Her "Egg Box" collection is full of tongue in cheek with chickies and pigs with polyester foam she discovered while repairing a hole in a wall. Her sixth series is called "Sperm Bank." The actual sculpture sizes are dictated by the recycled materials' sizes she uses. Vanessa started incorporating skulls into her work before they became a fashion statement. Her influence came from the Mexican Day of the Dead celebration.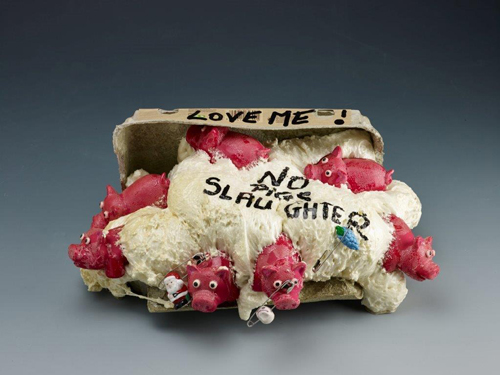 Pigs No Slaughter -- Love Me
Vanessa is an avant-garde artist with a conceptual approach, a figurative touch and a street savvy feel. She tries to convey positive messages through her art and often does so in several different languages. Her native tongue is French so that is often used and sometimes with a play on words. Gus Fink, an American artist Vanessa met virtually, describes her work like this: "The art of Vanessa Roux is everything out of a pop culture dream, where bright meets decay and darkness meets candy. You feel like you've walked out of a twisted land where Oz is king and Alice is queen."
Vanessa Roux's world is diverse and multi-cultural and multi-dimensional. She has been influenced by living in different countries in both America and Europe, as well as her art educational training in Italy, California and Monte Carlo. Her artistic talent carries over into many mediums. She is an educated gemologist and designs jewelry. She is also a poet and will have her first book published this fall called Terre Happy filled with both her poetry and illustrations. Her creativity continues into the worlds of both interior and furniture design as well as exterior landscape design. One of her former homes in Golden Beach, Florida was turned into a Garden of Eden on the outside and a peaceful, white palace on the inside. Flow becomes a constant in her work after designing this home. Here her heart fell for chickens as her neighbor was sacrificing them for a religious cult. Today, she lives with Puffy, a little ornament chicken in Monaco.
Most recently, Vanessa Roux's art has been getting the attention of a variety of companies to add her humorous signature style to gadgets like alarm clocks, lampshades and perfume bottles. What's next is up to her and anyone's endless imagination!
Vanessa is a a member of the Comité National Monégasque de l'AIAP -- UNESCO and will be exhibiting this fall with them in Lichtenstein with her Obama For Ever sculpture which she has symbolized as a green frog with a crown.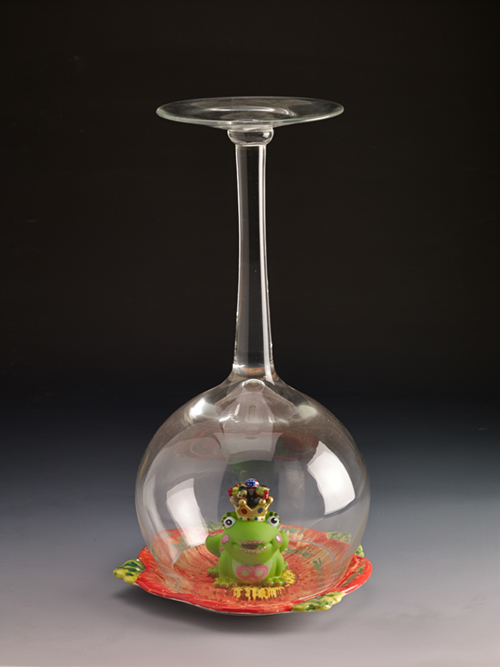 Obama For Ever
True to her beliefs, Vanessa Roux's art sales will benefit a variety of organizations that support animal rights, human rights and environmental causes. What better way than some artistic humor to help save living species and the planet?
For more information on the artist and photos of her work visit: here and here.
HOPE GAINER of Hope International is a global marketer, imagemaker and branding expert based in Miami. She has worked with a wide variety of international artists handling their marketing, licensing and exhibitions worldwide. She has also produced and curated private art events during the past 10 years of Art Basel Week in Miami. Additionally, Gainer works with an array of luxury brands and companies overseeing their marketing, branding and special events globally. See here and here.