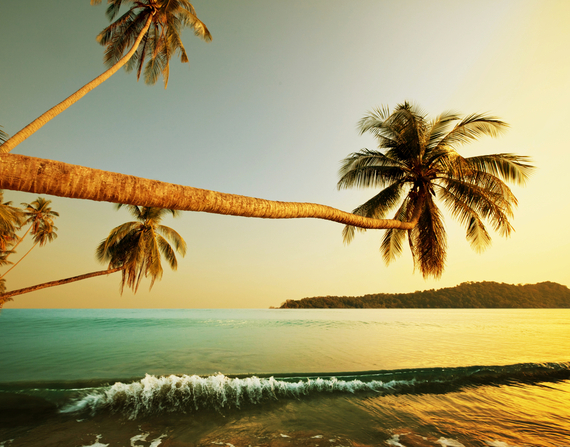 With summer finally on the horizon, many people will no doubt be poring over airline and booking sites for decent deals on the destination of their choice. But whether you prefer Florida's palms and nightlife or the culture of European capitals, you'll probably have a hard time finding good deals during this busy season.
There are a few tips and workarounds, though, that can easily shave hundreds of dollars off your ticket. Hopper's looked into the topic and come up with this quick rundown of three things travelers can do to save on airfare this summer, if you're still in the planning stages. Flexibility is key this time of year, but we have no doubt you'll find a good deal!
1. Look Into Off-ᅡᆳSeason Destinations Like the Caribbean and Florida
Florida's sunny beaches and theme parks may be super-ᅡᆳcrowded in the summer, when hotel and airfare rates consequently soar to match the high demand, but the same can't be said of the offᅡᆳ-season periods of May and late August. Visit then and you'll find not only fewer people but also flight prices from around just $200 (especially if JetBlue is running a sale!).
Even better news: The same principle applies to the Caribbean, so it's easy to find great deals on May or August flights from New York City to Puerto Rico or from Houston to Montego Bay, and from Miami to the Bahamas throughout the whole summer. Just watch out for the hurricane season (it's probably not a bad idea to buy traveler's insurance) and prepare for hot, humid weather.
Sure, flying out on the weekend is the most convenient option for most travelers, but it's far from the most economical. And with airfare rates generally so high during the summer, choosing exactly which day to fly out and return is one of the best ways to save up to $200, depending on your route. Flying out and returning midweek (Tuesday and Wednesday especially) is the cheapest for most destinations, according to Hopper research, although every destination is different. Keep those days in mind when booking your tickets and do your research before you book!
3. Look Into Cheaper International Destinations for 2015
The bad news: Europe is generally high season for summer travel. The good news: There are definitely ways around the high average airfare rates if you don't limit yourself to hugely popular destinations like Paris and London. Comparing the value of the U.S. dollar to foreign currencies before deciding where to go is also a good way to sniff out some amazing destinations. Instead of old Big Ben, how about the volcanic landscapes of Iceland, Moscow's colorful St. Basil's Cathedral, or Prague's ninthᅡᆳ-century castle and trendy cellar bars?
We usually recommend, whenever possible, flying into a cheaper European airport and then traveling to your next destination via cheap train or budget-airline tickets. Not only will you get to experience two or more great countries, but you'll likely save hundreds on airfare in the end.
Liked this article? Check out some others from Hopper:
This article originally appeared on Hopper.com, the travel app that tracks and predicts airfare to get you the cheapest flights.
BEFORE YOU GO
PHOTO GALLERY
The 11 Best Adults-Only All-Inclusives on the Beach