By Alycia Simons, HotelsCombined.com
If you are planning a honeymoon or a momentous birthday getaway, chances are that you'll have considered visiting some of the world's most glamorous islands or coastal locations. For years couples and families have flocked to exotic beach destinations for relaxing yet incredibly expensive getaways.
Now it's official. The Maldives, Seychelles, Aruba, Monaco and Mauritius have just been named as the world's most expensive destinations according to HotelsCombined.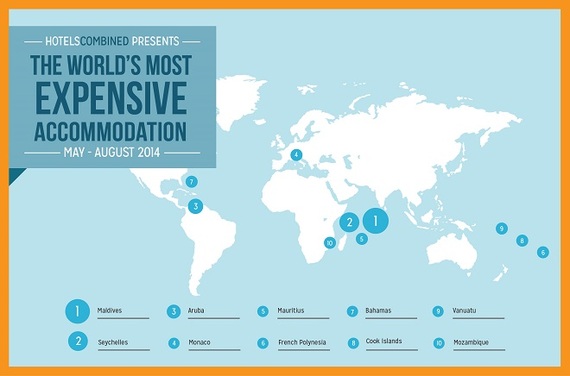 While taking a holiday is rarely a cheap endeavour, the countries listed are once-in-a-lifetime holiday locations. They might be the most expensive, but there is an expectation of indulgence when visiting and travellers are willing to pay more to ensure their holiday is unforgettable.
For some people, like avid traveller, Cindy Tchung, who recently returned from a week long holiday on Dhidhdhoofinolhu Island in the Maldives there was no question of the cost when booking her dream holiday.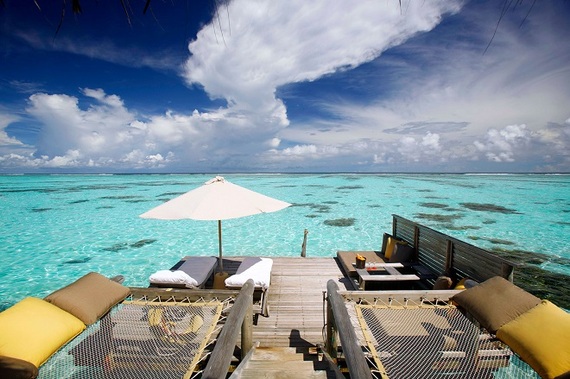 "We visited the Maldives as a second honeymoon. The trip was about two or three times more expensive than other destinations, but it a place that I have always wanted to experience. I was happy to spend more to make sure that the trip met all of our expectations," Ms Tchung said.
"That said, if you are willing to shop around it is very possible to find affordable accommodation that still offers the incredible views that the Maldives is famous for," she continued.
But not everyone is prepared to spend big on accommodation. HotelsCombined also named the destinations with the most affordable accommodation and it seems that those seeking a more affordable getaway, should prepare for adventure.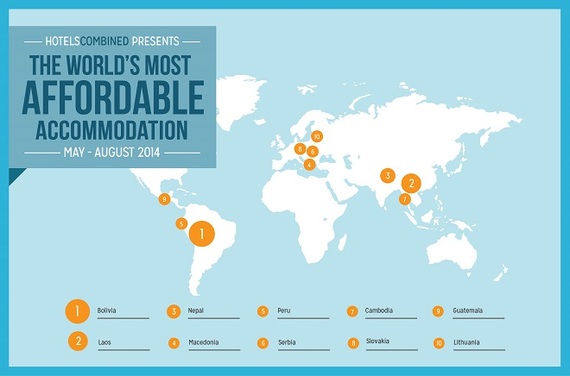 The most affordable destinations in the world are best suited to travellers looking to experience relatively untouched cultures and locations. Bolivia offers the cheapest hotel rates per-night, followed by Laos, Nepal, Macedonia and Peru.
While higher-end accommodation is also available in these countries, it appears that travellers to these areas are generally happy to stay in more basic accommodation

So how about you? On which end of the scale do you fall?