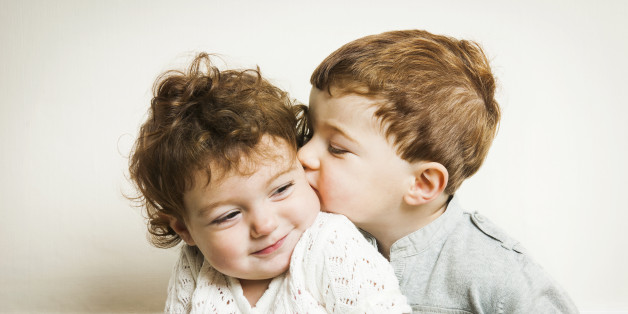 It's an understatement to say that sibling rivalry is a source of anxiety and frustration for parents. That being said, one of the most vulnerable times for parents is when they bring their second baby home from the hospital.
Having a second child can make the older one feel displaced and unloved. This isn't true, of course, but watching a newborn being fed and cared for hour after hour can make a sibling feel less important in his parents' lives. The jealousy that results from this observation can take many forms. An older child can be clingy, aloof or disrespectful. He may wake up at night, not eat normally or have tantrums with little provocation.
There are no magic solutions to eliminate sibling rivalry, but there are ways to "soften the blow" of bringing a new baby into the home.
Before the baby is born
Visit friends who have babies so your older child can see how babies look and act.
Encourage your child to interact with the baby before she's born. Let him feel the baby kick and listen to the baby's heart with his doctor kit.
Look at baby pictures with your older child, and remind him what he was like as a little baby.
Visiting mom and the new baby in the hospital
Have your older child pick out a picture of himself to put inside the baby's bassinette.
Time things so the baby is sleeping or in her bassinette when your older child visits. That way, he won't see you holding the baby when he comes into the room.
Have the baby give your older child a present at the first hospital visit. This doesn't have to be expensive, but a present tells the older child his baby sister loves him.
Suggest an adventure by letting your older child have a special meal or treat in the hospital cafeteria with his dad or grandparents.
Coming home from the hospital
If possible, leave your older child at home with relatives the day you're discharged from the hospital. This will prevent any friction that could result from dawdling or other undesirable behaviors on the drive home.
If possible, feed the baby right before you leave the hospital so she's not hungry the minute you get home.
When you arrive home, have your husband or partner carry the baby so you are ready to greet your older child with open arms.
Adjusting to the new baby at home
Because a newborn disrupts the normal flow and sleep patterns in your home, keep your older child's schedule as normal as possible.
Give your older child a special job when people visit. The one I like best is to have him remind visitors to wash their hands before they see the baby.
Most visitors will want to see the baby right away even though (in the past) they greeted your older child upon entering your home. To keep him from feeling neglected, encourage visitors to spend some time with your older child instead of "oohing and aahing" the baby right away.
Visitors usually bring a gift for the new baby. This can make an older child jealous. Keep a supply of small toys on hand. If visitors don't bring anything for your older child, you can slip them a gift to give him.
It's just as important to praise a child for good behavior as it is to discipline him for unwanted behavior. This means you should praise your child for any behaviors you want to encourage. Even if he's just sitting by the baby quietly, you can say something like, "Mommy likes it when you're gentle with Katie."
If you're like most parents, you will probably "hit bottom" when your newborn is 3 to 4 weeks of age. At that point, you'll be exhausted from a lack of sleep and all the work that's required to keep the family afloat.
For additional tips on making this transition easier, check out the full article on my website: http://howardjbennett.com/medical-articles/helping-children-accept-a-new-baby-in-the-family/