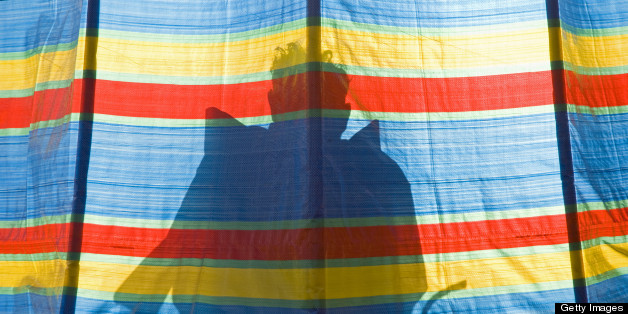 Memorial Day marks the unofficial start of the summer season. With that in mind, Thin Reads has published the world's first guide to the top e-book singles for the summer. Here's what we looked for. The stories had to be published within the last year. They had to be between 20-100 pages long and sell for under $5. And they had to be something light, engaging and easy to finish. Sort of like a cold Amstel beer on Main Beach in the Hamptons. Thin Reads dove into our database of almost 800 e-book singles and came up with this list for the summer of 2013:
The Rolling Stones Discover America, by Michael Lydon (pub date: January 15, 2013; 90 pages). Back in 1969, 27-year-old freelance writer Michael Lydon scored a coveted assignment by The New York Times Magazine: go on the road with the Rolling Stones as they toured America. Lydon had a front-row seat at the cultural revolution shaking the country with the world's greatest rock and roll band. The story got rejected by the Times (too long) but the now-defunct Ramparts magazine picked it up. Forty-three years later it became an e-book single best seller. The 90-page story puts the reader at the front of an epic tour with the dark masters of the rock 'n' roll universe in 1969. This is a meaty but fun read that recalls the craziness of the '60s in all its glory. (Read the Thin Reads interview with Lydon for more on the story.)
How to Get the Crabs, by Snowden Wright. (pub date: March 25, 2013; 25 pages). Boy meets girls at the beach. Boy gets girls at the beach. Boy gets crabs. This first-person memoir may not be deep or long, but it's got the perfect tone (and title) for a quick summer read. And party revelers throughout prime beach towns may certainly relate to the title.
Fox 8, by George Saunders (pub date: April 8, 2013; 21 pages). Author George Saunders is one of the most acclaimed fiction writers alive today. In Fox 8 Saunders takes readers inside the world of foxes and introduces us to a lovable little creature called... what else?... Fox 8. This fox loves humans and sets out on an ill-fated journey to understand our species better. Readers will not only love this simple but clever tale, they will definitely rethink their relationship with foxes and animals of all kinds.
Busted, by Karin Slaughter (pub date: May 28). We haven't read this yet, but Slaughter is an e-book-single best selling machine. This story is a prequel to her full-length book Unseen, which is coming out in July. In Busted, Detective Will Trent of the Georgia Bureau of Investigation goes undercover to portray a dangerous-looking ex-con by the name of Bill Black. His job is to infiltrate the most corrupt town in the most corrupt county in Georgia. If you want a taste of top-notch crime fiction without committing to a full-length novel, Busted may be for you.
John McAfee's Last Stand, by Joshua Davis (pub date: November 15, 2012; 46 pages). This book has it all. Exotic locations. Compelling characters. Murder. Drugs. Sex. And best of all, it's true. The story spotlights tech entrepreneur John McAfee's bizarre life in Belize where he wound up accused of murder and on the lam.
The President of Vice: The Autobiography of Joe Biden, written by The Onion (pub date: January 15, 2013; 100 pages). If you want to laugh this summer, read this.
In the Tall Grass, by Joe Hill and Stephen King (pub date: October 19, 2012; 49 pages). A brother and sister pull off to the side of the road after they hear a young boy crying deep in the tall grass. They investigate. They become lost and confused. And then bad things start to happen. This is a story to read around the campfire. Or maybe not.
False Economies, by Gordon Haber(pub date: April 29, 2013; 90 pages). Do you want a story with strong, colorful characters, a dose of humor and some G-rated sexual situations? False Economies ticks all of those boxes. The novella, about a 24-year-old American ex-pat adrift in London in the early 90s, reads like a cross between The Graduate and Bridget Jones's Diary (if it had been written by a man). It's fun, fast-paced and incisive. Pounce. (Read the Thin Reads interview with Haber.)
2084: An Oral History of the Great Warming, by James Lawrence Powel (pub date: March 21, 2011; 91 pages). Okay, so it was published two years ago, but this story may be the ultimate summer book. 2084 reads like an outline of a summer disaster movie. It's a fictionalized oral history - set between the years of the late 1990's and 2084 - featuring prominent world citizens reflecting on the outrageously catastrophic consequences of global warming on our battered planet. 2084 presents a future in which the polar ice caps melt, the seas rise, and vast populations abandon beachfront cities. This Pandora's box of horrors features horrific droughts, crushing heat waves, massive power outages, and global political instability. This book will make you squirm as you lie on your beach blanket.
All of the above titles are available at Amazon.