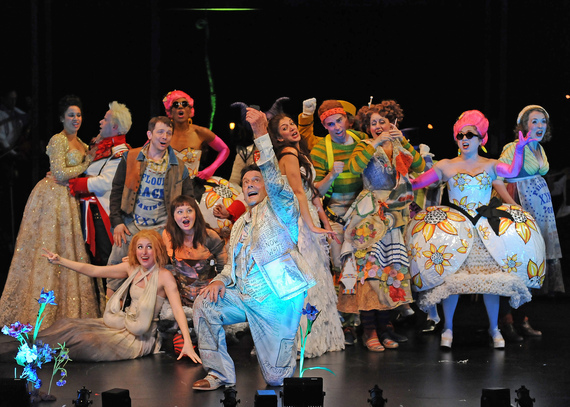 Photo by Kevin Parry
The Oregon Shakespeare Festival's revival of Stephen Sondheim's iconic musical, now playing at the Wallis Annenberg Center in Beverly Hills, is an uneven, if often delightful, rendition of Sondheim's parable of the trials and tribulations of childhood and growing up. Directed by Amanda Dehnert, the production features a kind of crazy quilt of styles -- from British pantomime and vaudeville mugging to hip-hop choreography and story theater narration. Some of it works, and some doesn't.
The main problem is the inconsistency of tone. While Dehnert takes an admirably innovative approach to the classic Sondheim show by injecting a more lighthearted and playful atmosphere, she misses the mark in the deeper, more emotionally affecting aspects of Sondheim's and book writer James Lapine's musing on the mysteries of childhood.
Much to Dehnert's credit, she has assembled a solid cast who do fine work with the difficult Sondheim score and engage the story with energy and enthusiasm. Miriam A. Laube is outstanding as the witch, with a richness of voice and depth of acting that is admirable. Kjerstine Rose Anderson is an exciting and hilarious Little Red Riding Hood, and Jennie Greenberry is a marvelous Cinderella. Miles Fletcher as Jack and Jeff Skowron as the Baker are both skilled and engaging, as is John Vickery as the narrator. Royer Bockus is captivating as Rapunzel. The show moves along briskly, with Martin Majkut conducting a small, talented orchestra. Costumes by Linda Roethke are fanciful and fun.