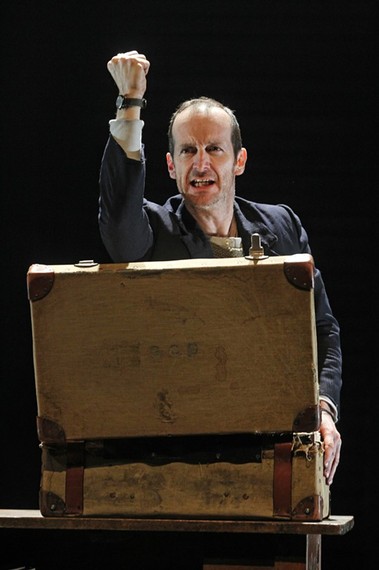 photo by Joan Marcus
Denis O'Hare gives a bravura solo performance in his Obie-award winning adaptation with collaborator and director Lisa Peterson of Homer's Iliad. While the script is overlong and weak in spots, and O'Hare's acting is occasionally overblown, the effect of the production is powerful and thought-provoking.
O'Hare tells Homer's story in the guise of "The Poet" - a kind of Homeric everyman, who was present during the fall of Troy and recalls most details of the battle and the complicated cast of characters, which include not only the Greeks and the Trojans, but also the gods. O'Hare conjures the sounds and smells of battle, as well as the complex relationships between the characters, who include Achilles, Hector, Paris, Helen and King Priam of Troy.
In retelling the story, O'Hare uses not only some of Homer's own poetry, but also adds contemporary references and argot to season the tale for modern audiences. This adds a freshness and accessibility to the classic tale. The production also features the accompaniment of bassist Brian Ellingsen, who uses his instruments to provide haunting melodies as well as unique sound effects.
At well over an hour and a half, O'Hare's monologue sags in parts, due not so much to O'Hare's stage presence, which is dynamic and engaging, but largely to the weakness of the script, which fails to establish the character of The Poet beyond the role of narrator and stand-in for Homer. The Poet is clearly devastated by his wartime experiences and feels the need to share them with an audience, but beyond that we know little about him. In fact, he is at his best when he echoes the poetic rhythms and images of Homer himself.
While O'Hare and Peterson, through the vehicle of Homer's poem, make important points about the pain and inevitability of human warfare, these moments are often a bit on the nose. More powerful are the less obvious evocations of suffering, desire and the relationship between gods and men. Although O'Hare and Peterson brilliantly interpret the work for contemporary audiences, it is still Homer's own voice that resounds most profoundly.