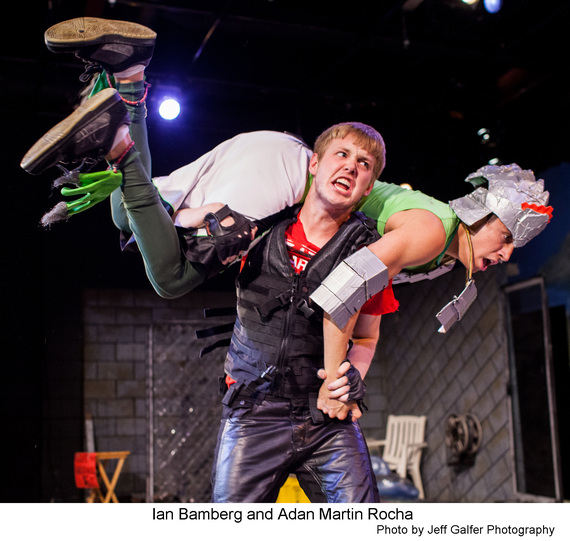 Mickey Birnbaum, one of LA's most gifted playwrights, returns with the stunningly brilliant and hilarious tale of teenage backyard wrestling in the wasteland of San Diego's border suburbs. Birnbaum's gift for dialogue and unsentimental character portrayal is on full display here, as he dissects with great humor and insight the lives of a family of lost souls.
Adolescent Chuck, played by the rising young stage star Ian Bamberg, who recently shone in the highly-acclaimed Fireman at the Echo, has dedicated his life to creating a Hollywood-esque epic in his backyard, focused around mortal combat. Along with his pal Ray, in an outstanding performance by newcomer Adan Rocha, Chuck plans to stage the epic battle with the help of his mother Carrie, in yet another fine appearance by Jacqueline Wright.
All goes well until Chuck's long-lost dad Ted shows up. In an astounding performance by Hugo Armstrong, Ted is multitime loser, drifter and street fighter who has a gifted imagination but not much else. Throw into the mix a troubled teen girl with a yen for combat (a refreshing and lively performance by Esmer Kazvinova ), an exiled Mexican father (Richard Azurdia) and you've got an explosive mix of personalities.
Birnbaum's genius is in the sudden reversals of dialogue and story. Everything is unexpected, the surprises keep coming and the result is a wonderfully dark comedy with lots of explosive intersections of ideas and universal themes. The play is at once a commentary on violence, the disintegration of the family, racism, the emptiness of suburban life and the dead end of the American Dream. With the imaginative and skillful directorial hand of Larry Biederman and a marvelous ensemble cast, Birnbaum's play represents one of the best theater events to grace Los Angeles stages in recent years.