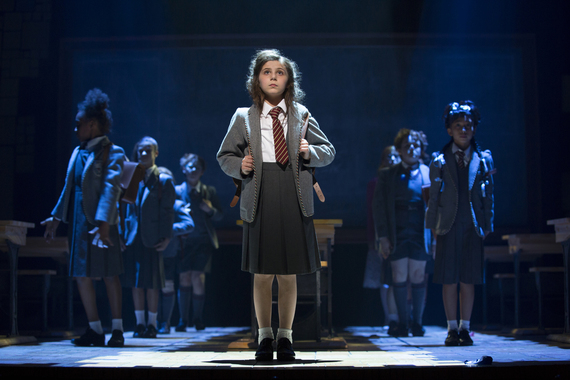 Photo by Joan Marcus
Matilda, the musical adaptation of Roald Dahl's 1988 children's classic, has some delightful moments, including a devilish turn by Bryce Ryness as the villainous Miss Trunchbull, as well as the prodigious display of talents by the youthful performers. However, the wild variations in tone and the often unintelligible dialogue and lyrics make for a bit of a slog.
Readers of the book will be able to keep up with the twists and turns in the story of the gifted Matilda (Mia Sinclair Jenness), who is abused by her outrageously boorish and hateful parents (Cassie Silva and Quinn Matteld). Employing everything from sly tricks to telekinesis, Matilda wreaks revenge on her torturers, most especially her school's brutish headmistress Miss Trunchbull, renowned for competitive hammer-throwing and ruthless discipline.
The intricate texture and characterization of Dahl's book never really translates to this stage production, primarily because it zigs and zags from broad farce to dark irony to emotional poignancy. It is simply hard to get an emotional handle on the piece beyond a rooting interest in Matilda's character and a perverse joy in the downfall of the evil Miss Trunchbull.
Despite the shortcomings of the script - and a mostly mediocre score - the show is a fine showcase for the young performers. Nine-year old Jenness is a shining talent, and carries the heavy load of the show with grace and spunk. Ryness has a marvelous turn as the headmistress in the long tradition of British cross-dressing divas. Choreography by Peter Darling is fun and engaging and Matthew Warchus directs the production with grace and ease.