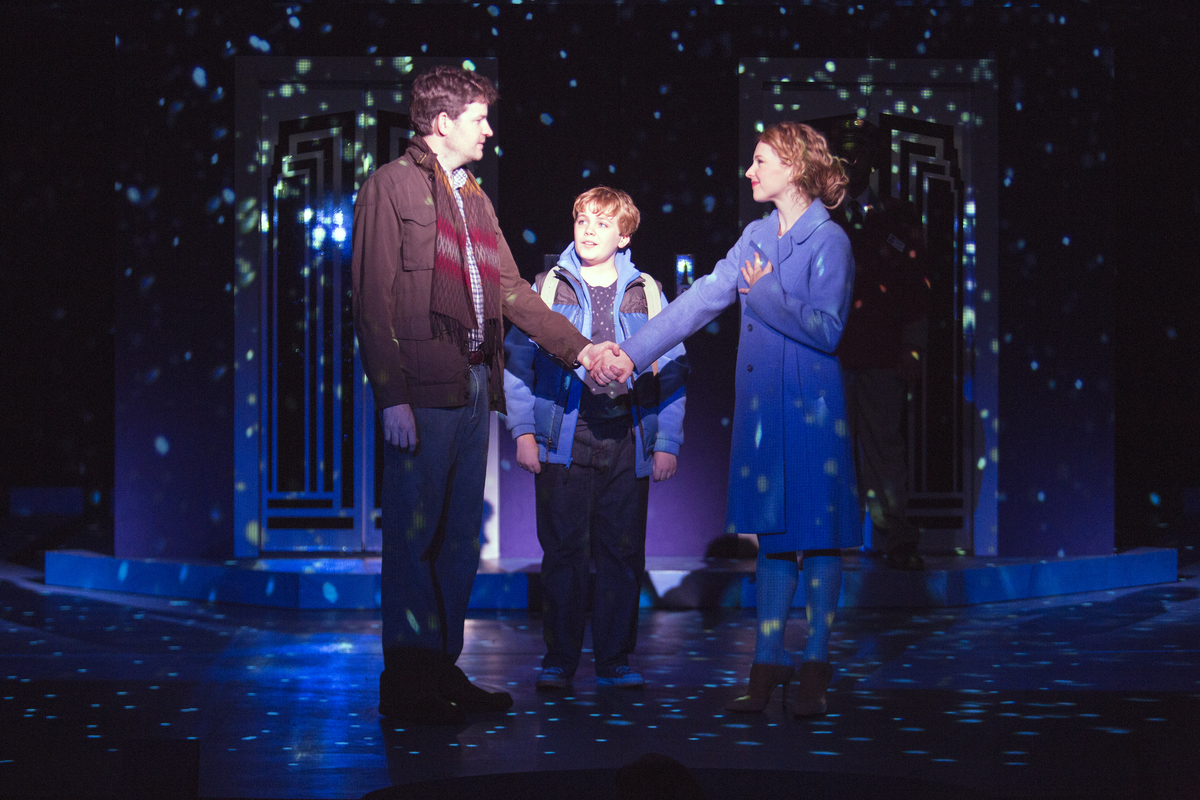 photo by Jim Cox
After a long journey from the screen to the musical stage - which included numerous comings-and-goings of composer/lyricist teams - the Sleepless in Seattle musical has arrived at the Pasadena Playhouse. It is a huge challenge to adapt an iconic film that was so closely identified with its two stars - Tom Hanks and Meg Ryan. But this version has largely succeeded by dint of the talented musical team of composer Ben Toth and lyricist Sam Forman, as well as a gifted trio of lead actors - Tim Martin Gleason, Chandra Lee Schwartz and Joe West.
Jeff Arch, who crafted the original film story and co-wrote the screenplay, wisely strips the story down to its key emotional elements - a lonely widower, his worried ten-year old son and a woman on the opposite coast who believes in magic of love. Toth and Forman capture the wispy, ethereal mood of the material, especially in their ballads about love, destiny and loneliness. While the bigger production set pieces are largely throwaways, there are enough emotionally piercing ballads to hold our hearts.
And the leads really deliver. Chandra Lee Schwartz is a dynamo, belting the songs while maintaining an offhand, comic insouciance. Tim Martin Gleason hits exactly the right notes - both in performance and vocally - as the grieving and confused father who at last finds love with the help of his son. And Joe West, the emerging Broadway star who made a splash last year in A Christmas Story, carries off his pivotal role as the son with grace and elan. The rest of the cast is solid, including Robert Mammana as Schwartz's fiancé, Todd Buonopane as Gleason's sidekick, Sabrina Sloan as Schwartz's buddy.
Several elements of the production don't match the top-notch performances and music. The choreography seems limp and unoriginal, and the big production numbers do little to power the show along. This may be an inherent problem with the concept, since the film itself is really more of a chamber piece, which might have been a more appropriate scope for this show. Nevertheless, kudos to this team for pulling off a solid musical adaptation of an enduring film.