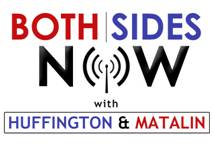 This week as always, Both Sides Now sought to clarify differences or bridge them.
With Federer and King losing their crowns this week, it appeared that Kagan was winning her robes. Arianna and Susan Molinari (sitting in for a traveling Mary Matalin) largely agreed that Kagan was more charming than elitist in her Judiciary Committee testimony...despite being from Manhattan, Princeton and Harvard Law School (the horror, the horror!). And she was certainly not "vapid" when she admitted that Christmas past she was a Jew eating Chinese food. Jon Stewart must have kvelled.
But the women clashed on War, Immigration and Obama. Below, listen to an abridged version of the most recent episode (the full, unedited show is at the foot of this post):
While our personnel in Afghanistan may be Chrystal-clear, our policy is not. Prodded to do the kind of cost-benefit analysis none of the Sunday talk shows asked about, Susan admitted the costs in lives and treasure but believed we have to clearly tell our troops and citizens that we'll stay and prevail. Arianna argued that there are "no benefits" now to this ten-year-old war and that in July 2011 only the President should decide whether we stay or go since "generals always ask for more troops, like in Vietnam and Iraq."
The two women disagreed on who's to blame for no progress on immigration reform. Molinari noted that while Bush began immigration reform, now Obama is ignoring bi-partisanship. But why then did 11 GOP Senators support Bush's immigration plan but not Obama's similar one? The women, however, agreed that it was wrong for Gov. Brewer to conclude that Arizona's new immigrants were all "drug mules." As someone "with an accent", Arianna was especially withering on Brewer's "ludicrous statements, feeding legitimate economic concerns and [looking] for scapegoats."
Russian spies in our midst seemed more "The Russians are Coming" than "Hunt for Red October". OK, but do or should we spy on them? While Susan leaned to yes -- Arianna demurred saying it "was above her pay grade." That's a first!
Who won the exchange when Obama mocked Boehner's antsy metaphor on the economy and the #1 House Republican countered that 44 was "making excuses and whining"? This was in Arianna's pay grade, awarding Gold Medal "1000%" to the President.
-Mark Green

Segment One
Segment Two
Segment Three
Segment Four

Send Comments to BothSidesRadio.com