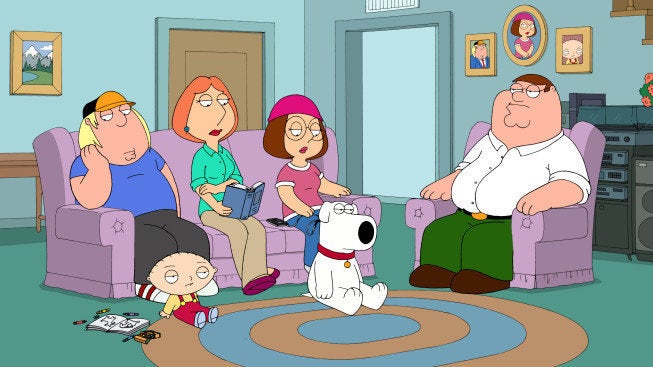 Imagine a dreamworld where a magic potion can get 39 million people to unite in front of their televisions and watch Undercover Boss all at the same time. This potion can also get 27 million people to watch two hours of Airwolf in a row.
What if I told you that magic potion actually exists? It's called a Super Bowl lead-out show, and it's used once a year, every year, and it works on everything except The John Larroquette Show.
The show after the Super Bowl pulls in "1984"-esque, drone-like consumer numbers. Fifty-three million people watched a truly weird episode of Friends after the Super Bowl one year because, mostly, it was after the Super Bowl. It was part of the highest grossing advertising block of TV ever.
This year's golden child is The Voice, NBC's singing and Christina Aguilera cleavage showcase. Season one did well. Season two has already had enough on-air promos that the song playing in the background, "Moves Like Jagger," is currently track one on Hell's Spotify playlist for the month of February.
So even The Voice is not immune. It's a magic potion and it's kind of creepy, but it has produced some of the world's most memorable television episodes. So let's remember them.
Super Bowl XXX -- Friends -- "The One After the Superbowl"
I have no idea why I remember this episode so vividly. I don't really remember watching Friends on purpose at all, which makes it slightly creepy that I have a savant-like, shot-for-shot retelling of this entire episode emblazoned into my brain.
But, really, who can forget an episode where David Schwimmer feebly walks around New York trying to find his long-lost monkey? That is, in real life, the plotline of the most watched episode of Friends ever. David Schwimmer can't find his childhood monkey, finds out it died, then finds out it didn't die. Chandler's girlfriend convinces him to wear women's underwear, then Monica and Rachel fight over the ability to make out with Jean-Claude Van Damme.
This isn't a weird fever dream. This actually happened. It was the plotline to the entire show. Ask the 53 million people who watched it that night.
Is this not weird to anybody else? -- Ben Collins
Super Bowl XXII -- The Wonder Years -- "Pilot"
I spent the day father-son bonding, watching the Skins beat the Broncos and just enjoying spending time with my dad, and then this show The Wonder Years starts. It's about this boy around my age, Kevin Arnold, dealing with middle school, his jerky brother and his crush on the girl next door, Winnie. These were the types of "end of the world" problems I was enduring in my own life at the time... only this show took place during the 60s -- as reinforced by the death of Winnie's brother in Vietnam -- so it took place in the very time when my father was a kid, which really spoke to me. Here was this show that recognized my issues as an adolescent male, and by setting it in the past, it implied that the very man sitting next to me, my dad, had probably been through it all before 20 years prior... although probably lacking the benefit of Daniel Stern's voiceover work. -- Martin Moakler
Check out the intro to The Wonder Years here.
Super Bowl XXVII -- Homicide: Life on the Streets -- "Gone for Goode"
When I think of Super Bowl lead-outs, I think of shows' flashiest episodes: celebrity guest stars, crazy plot twists, and titillating sequences. I think of the ladies of Grey's Anatomy in the shower (not to mention guest star Christina Ricci and a bomb), or the cast of Glee performing a "Thriller" mash-up on the high school football field.
What I don't think of is Homicide.
I can't say I was one of the millions of viewers who tuned in that night in 1993, but I imagine that those who did weren't exactly sure what they were seeing. This Super Bowl lead-out was not flashy; it didn't have celebrity guest stars, there weren't any crazy plot twists, and the most titillating sequence involved Richard Belzer and company cracking Charm City crabs. This was a show where a photocopier doubled as a lie detector and a dry erase board served as a major point of tension. This pilot is a little difficult to follow sober, let alone post-Super Bowl party, with several characters and cases thrown at the viewer in a very short amount of time. It may not have been one of the best Super Bowl lead-outs, but it's certainly one of the best pilots I've ever seen. -- Andrea Marker
Super Bowl XLIII -- The Office -- "Stress Relief"
After the Big Game, I tend to be a little groggy, which is to be expected after an entire Sunday spent watching TV, eating chili and drinking beer. But the night The Office aired following the Super Bowl, I remember jumping right out of my stupor and laughing harder than I had in a long time. The episode's cold open is a non-stop assault of hilarity as the Dunder-Mifflin crew demonstrates everything you shouldn't do if the assistant to the regional manager were to set fire to the office... and, oh, how the cats and overhead projectors do fly! Unfortunately for me, the second wind brought on by my laughter convinced me I should go out and party some more with my buddies once the episode was over. Fortunately for you, we have the clip right here. -- MM
Super Bowl XXXIX -- Family Guy -- "Death Has a Shadow"
I vividly remember watching the very first episode of Family Guy when it aired just after the Super Bowl, though I remember nothing about that Super Bowl. I'd heard good things about the show leading up to it -- this Family Guy thing -- and so I gave it a shot. That's when Stewie entered my life, a genius baby who wants to take over the world, or at least destroy his mother, while telling jokes that Fox was clearly uncool with.
Stewie's a decade old now. We're used to this. But it probably scared the Doritos and queso out of my grandmother when she wound up watching this by mistake. -- James Goux