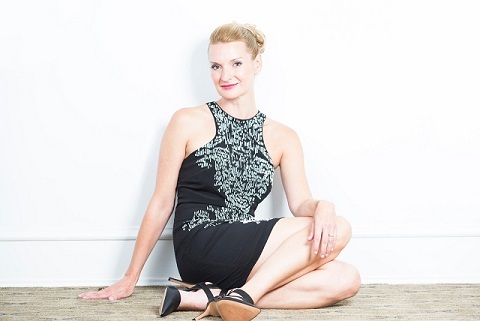 Actress Andrea Powell of Twilight: Breaking Dawn plays Ender's mom in the new film Ender's Game premiering November 1., is also a triathlete, a traveler, a website builder and a humanitarian. She does charity work with DetermiNation which shares cancer awareness and fundraising. Visit Andrea Powell's Website and Twitter: @andipowell .
Photo by King PDT.
In Part I of this interview we discussed Andrea's horrifying yet wonderful audition for Ender's Game and other delicious details about her life including her recent trip to Iceland with her husband of 20 years and her Cherokee Indian family history.
On to Part II of my interview with Andrea Powell!
October is your birthday month! Do you ever read horoscopes? Are Libras the best or what?!
Yes, October 17 is my birthday! And yes, Libras rock. We're supposed to be totally balanced, right? Or is it just that we wish we were totally balanced? I do read horoscopes, but not religiously. I remember realizing at one time that all of the TV Guide horoscopes were completely tracking with my life. I haven't checked them in a while, but I wonder if my life is still being dictated by TV Guide.
Do you have a spouse / partner? What do they think about your career and your crazy hours?
Yes, husband of 20 years and total love of my life, Paul Ferguson. We met a hundred years ago doing theatre in Florida. He's a brilliant director and playwright, and he's my biggest fan, totally onboard with my career and crazy hours. I'm also fortunate that his schedule is flexible enough so that he can usually be with me when I'm working.
Do you still have a dog and a bunny? With all the traveling you do, do you bring your animals on trips with you?
I do have a dog and a bunny. The dog is a 12-year-old golden retriever named Charley, and the bunny is a 5-month old lop-eared harlequin named Dusty. No question that Dusty runs the show. I've always been an animal lover, and although Charley is our first dog (he really adopted us, having literally blown up into our yard during Hurricane Charley several years ago), Dusty is our fourth bunny over many, many years. I love bunnies, and I love their attitude. Wherever they are is the place to be, they like things just so, and when they're feeling good they'll "binky" -- flinging themselves in the air and kicking their legs out. We should all be so happy. Charley has traveled with me many times for work, and Dusty just had his first travel adventure recently. He did very well. For such a little guy, he honestly does not see what the big deal is about a car. Or a giant golden retriever, for that matter. So we have to watch him when he's out in public. He'd definitely go right up to a dog, which would not be good.
What's a secret from your past that you've never shared with anyone?
If I told you, it wouldn't be a secret, now would it? ;-)
What's your favorite designer shoe to wear?
I borrowed a pair of Christian Louboutin's for New York Fashion Week, and I fell in love. It doesn't make sense that a shoe so sexy can also be comfortable. True love.
Were you ever late to an event that they cancelled your appearance?
No, although once very early in my career I was doing a show at a dinner theatre (no understudies), and also accepted my first movie role, and the schedules conflicted. I counted on getting out of the movie shoot in time to make the performance at the dinner theatre, but I ended up being very late -- it was my first movie, and I didn't understand how easily schedules can change. So rather than cancel the show, the producer opted to hold curtain and give the entire audience free drinks while they waited. I finally arrived, ran onstage, and sang upbeat traditional songs with a bunch of angry fellow castmates in front of 250 drunken members of the Association of Peanut Farmers (it was their annual meeting). True story. I was mortified and have never cut it that close again.
Have you ever been starstruck while working on set?
I haven't really been starstruck, although I do remember getting stupid when I met Jeff Goldblum after a Broadway show that he was doing with a friend of ours. He said, "I'm Jeff." I said, "I know." Brilliant. I can't help it, I came up during the time of Earth Girls Are Easy and will always see him walking out of that pod, out of the smoke. Otherwise, I don't tend to get starstruck because when you're on set you're really focused on working, not on how famous the other person is or what they've done. Or that's my approach, anyway. Besides, everybody looks pretty much the same at 5 AM before they've hit the makeup trailer. We're all just people, some just have a different job. I'm more interested in how friendly and good a person someone is, especially if I'm going to be working closely with them.
Did you CHOOSE not to have any human children?
It's interesting to me that I've had so many TV and movie children and felt fondness and protectiveness and love for them, but I can't imagine what it would really be like to do the day-to-day of being a mother. Maybe it wasn't in the cards to have human children, but I haven't felt any less of a person without them. I love my nieces' children, and our best friends have a child who we completely consider part of our family and would protect as our own, so I understand the deep connection, without a doubt. But at this point--and since Paul and I have always felt the same about it--I'm fine having new pretend children every so often, including the three lovely kids I have in "Ender's Game." I had a great time on set with them, and Abigail Breslin and I got to be especially close. She's a pretty amazing kid, and has been raised so well. If I did have a daughter, I'd want her to be like Abi.
Is there anything you CAN'T do?
Plenty! I can't throw a football. I can't for the life of me deliver a dead-center high-five or even low-five. I can't be comfortable for too long without a stable Internet connection. And I can't dive without getting water up my nose. I also can't tell a story without adding too many details, so that I end up making it so factual and precise that the point of the interest is gone about two-thirds of the way in. My husband is the storyteller, I'm the one who acts out the stories that other people write.
Tell us about Team DetermiNation, the American Cancer Society's group of endurance athletes who raise money to fight cancer and raise awareness.
DetermiNation is one of the most exciting and inspiring groups I've ever been involved with. Team members participate in all kinds of endurance events (marathons, half-marathons, triathlons, cycling events) to raise money and awareness to fight cancer. I was originally invited to participate in the Chicago Rock 'n Roll Half Marathon to benefit the ACS, where I ran my first-ever long event...slowly and with a big price of pain to pay for the next week, but I did it. Since then, I'm appeared, spoken, and run on behalf of Team DetermiNation at ACS events in Seattle and Savannah. I lost my father to cancer more than 10 years ago and have had other close connections to cancer within my own family, my husband's family, and among friends. So when I was asked to join Team DetermiNation and do things that felt impossible to help people know that positive outcomes are possible after all, I laced up my shoes and leapt at the chance. Even though I'm a runner and do triathlons, endurance events are still difficult for me. It's much easier, though, when the purpose is so important and good.
Please see Part I of the interview with Andrea Powell!