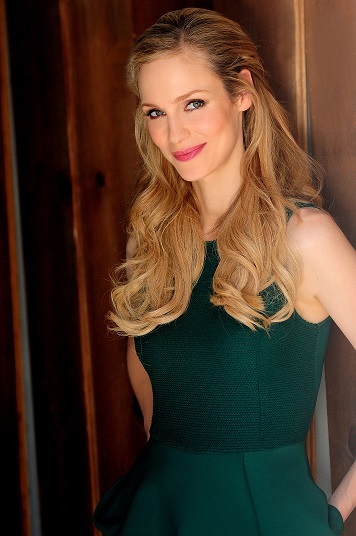 Laura Regan can be seen on the small screen in NBC's Constantine premiering October 24 and the film Atlas Shrugged: Who is John Galt?, in theaters now. Laura's Twitter: @TheLauraRegan . Photo by Russell Baer.
Laura Regan is a face you'll recognize from episodes of Mad Men, Castle, The Closer, Bones and more. The Canadian-born mom has been quite busy this year!
Laura lays it right on the line. Ask her a question, you get an answer.
What was your audition like for your latest movie, Atlas Shrugged: Who is John Galt?
The director and producer were there along with the casting directors. I must have been nervous because upon entering the room I knocked a couple things over -- I think I tripped over a long curtain and sent a light stand flying. The only way to keep going was to make a joke about it, and luckily they laughed it off. Then I was able to focus on the character, who is much more composed and graceful than me! As we got into the material I could tell that they liked my take on Dagny and that empowered me to go further with it. The energy in the room is always so important.
Tell us about your role in the film.
I play Dagny Taggart, Ayn Rand's most famous heroine. She is the C.O.O. of Taggart Transcontinental, the railroad her family built. Dagny is a smart, decisive, strong-willed businesswoman. She knows her own mind and is secure in her moral and ethical beliefs, though they differ from the majority. In this film she meets and falls in love with John Galt, who is also very principled but whose philosophy makes him her enemy. They have to reconcile their differences before they can be together.
You were born in Canada but studied and met your manager in NY. Where do you consider your main residence?
I live in LA now, though I miss New York a lot and I still feel strongly Canadian. Traveling for work is one of the great perks of my job. I've shot all over North America: Miami, Philadelphia, Dallas, Atlanta, Vancouver, Toronto, even Nova Scotia, where I'm from. Living in a city as a working resident, getting to know local people and places -- it's the best way to experience a place, whether it's for two weeks for a TV episode or two months for a film.
You're in several Mad Men episodes. What were your initial thoughts when you found out you booked the job?
I was SO excited. The show was just beginning its second season and it was just becoming a big hit. I loved my character -- she was described to me as Lady MacBeth. Ambitious and striving and Machiavellian. The dialogue was so great.
How annoying is it watching one of your films in a theater where people are talking and checking their cell phones?
I made this remark when They came out because I was actually shocked that the audience was so noisy. But now I realize that interaction is part of going to see a scary movie -- the audience is looking for that shared experience of cowering, laughing, and yes, yelling at the screen when the characters are doing something stupid!
What was your worst audition ever?
I was living in New York and I auditioned for a Woody Allen film. I got a callback to meet the man himself. Before I went, everybody warned me not to try to touch him because, they tell me, he is apparently famously germaphobic. He doesn't shake hands. So I practiced a friendly wave in the mirror. No problem. Everyone was so nervous about this one thing that my agent even called me from LA right before my audition to remind me not to touch Woody. What is the big deal?!
So, at the call back, I'm waiting, nervous, running the scenes in my head, and then they call me in. It's a big room but I immediately spot Woody because he is crossing the room toward me with his right hand extended! My right hand is locked in a preemptive little friendly wave. "Hello, Mr. Allen, I'm Laura." But he keeps coming right at me with his outstretched hand. He stops. He waits. I'm in a total panic. They told me not to but I have no choice. So I go for it, I reach out my hand, just as he starts to retract his! Now mine is there, his isn't, and I'm asking for the handshake. He tentatively puts his back and we shake, limply, probably sweatily, just perfect for freaking out a germaphobe. We read the scenes, but I'm so overwrought I can't remember the words or keep my pages straight.
I didn't get the part.
What strategy did you use to learn your lines for Atlas Shrugged: Who is John Galt?
I repeated them over and over on the way to set every morning, then Kris Polaha and I would run lines a lot, starting in the makeup trailer.
Tell us what projects you are currently working on?
I'm appearing in the new NBC show Constantine. I'm excited about it because not only does it have a fantastic cast (Matt Ryan, Harold Perrineau, Charles Halford) but I hear that it's also generating the most buzz on social media of all the new fall shows.
Anything else you'd like to say?
I'm working on an initiative to encourage people to save water. The drought in the Southwest is severe but it's difficult for people to change their behavior. With a fun and catchy way to remind people, they'll start to implement these simple things they can do every day.
Also, I'm a big fan of Heal the Bay and I'm on the host committee of the WestEdge Design Fair's Opening Night Party to benefit Heal the Bay.