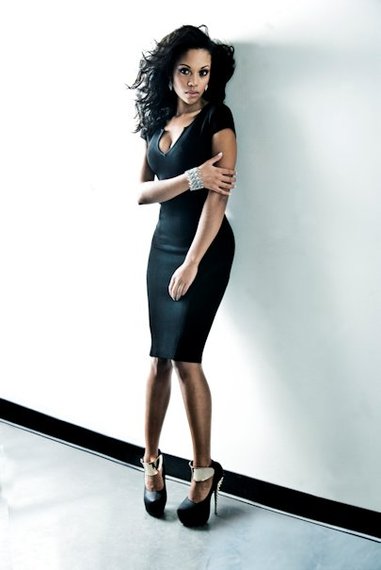 You know Mishael Morgan as Hilary Curtis on CBS's The Young and the Restless. In July, she will be starring in the new CW series Backpackers and in the film Swearnet. Mishael's Twitter: @MishaelMorgan1 . Photo by Wendy Hall.
When you have determination like Mishael Morgan, nothing can stop you. Her near death experience completely altered the way she views things and put a 180 degree spin on her career path. It took a lot of energy and coordination for her family to move from Trinidad to Canada, but they did it!
You play the series regular Hilary Curtis on CBS's The Young and the Restless. How has your character changed/grown over the past year? Did you have discussions about your character with the directors/writers? Are you given freedom to do as you want or are the directors really hands on and keep a tight rope around you?
When I was hired to play Hilary Curtis she was a devious vision with a dark and lonely past. Her father was imprisoned her whole life and her mother had passed away. She blamed Neil Winters for her death and was on a vendetta to make him pay for it. Recently, Hilary has turned a new leaf, using her ambition and drive to turn her life around. I never thought about discussing the direction of my character with the writers; I just trusted them. Currently, I am really happy with how the writers redeemed my character. We as actors work closely with the directors. That being said, we work with multiple directors and each of them have their own unique style. Some are very hands on and enjoy actors' inputs, others tend to keep a "tight rope" (as you put it) on their vision of the scene. But I have been learning so much working with all of them, and I believe it's important for an actor to be adaptable and find a way to work with everyone.
Who was your first non-celebrity and celebrity crush?
Non-celebrity - Shawn
Celebrity - Usher
You're starring in the new CW series Backpackers which is due out in July. What was your audition like? What was the breakdown you were given? What did you wear to the audition?
I have an interesting story about my Backpackers audition. I was working on a mo-cap [motion capture] shoot for a video game when I received the audition. I asked another actress on the shoot to help me rehearse, when she told me that she had an audition for another character in the show. We hit it off, and proclaimed that we would book this job so we can shoot in Europe this summer. Low and behold, we actually both booked Backpackers! The funny thing was, our characters never interacted and we never shot in Europe at the same time, but we are still friends.
The audition process for backpackers was actually quite quick. I got the script the night before and I auditioned for the show in Toronto the next day. A couple weeks later they told me that I booked the role. The only thing I remember from the breakdown was that my character Maya was "a free spirit, a modern-day Hippy". I don't even remember what I wore for the audition.
What hair and skin products do you use and love?
I love Philosophy. The Purity cleanser and the Miracle Worker face cream. I actually just use organic coconut oil as my night cream.
Who'd you get those beautiful lips from?!
LOL, I'm not sure, my mom I guess. It might be a bit of a combination.
You had a near death experience which had you rethink your decision to go to law school. Tell us about the near death experience and why you chose acting instead of something else.
I was 19 when I broke my neck in a car accident in Trinidad. My family and I went down for Christmas and I found myself in a hospital bed for my whole Christmas vacation. I broke my C7 and was waiting for the neurosurgeon to be arranged by my parents. I spent five days flat on my back on a hospital bed and I just started reevaluating my life. I remember thinking that I had no regrets if I lost my mobility, I would be okay knowing that I always did the right things in my life. I always made the right choices in my life, never really did anything wrong; but then I realized that, that was my one regret. I never really took risks, and I always avoided this pull that acting had on me. I started to become very spiritual in that hospital bed and before I went into the surgical room I made a promise to myself, God and the Universe; that if I got the chance to walk again, I would try just try acting. I told myself that I would live everyday like I could die tomorrow. So that was the beginning of my journey. The next step was finding the courage to turn my back on everything I was working towards my entire life - law school.
My surgery was a success and I started looking into acting right away. Luckily, I randomly met my agent at my part time job. And just like that I started auditioning but I still stayed in my political science undergraduate program. The crossroads in my life was when I got into law school. I had a talk with God and I said I would trust him; If I was supposed to go to law school, nothing would get in the way but if I was supposed to take this crazy journey as an artist, something would stop me from attending. Well, I got my answer when two weeks before I was supposed to start law school I booked my second series regular role on "The Best Years". I took that as a sign and I never looked back.
What do you hate the most about photo shoots?
Nothing. I love performing and I just look at a photo shoot as another opportunity to play a new role. I love dressing up and feeling like someone different; I think its like exploring another part of yourself.
Why did your family move to Canada from Trinidad? Do you ever go back to Trinidad? Do you still have family there?
My parents left Trinidad to give us more opportunities. I have been back a few times over the years; I wish I had the time to go more often. My mom had 17 brothers and sisters growing up so I have so many cousins and extended family, it's ridiculous. I love it there because I have so much family, something I'm not used to in Canada.
Do you believe in the afterlife like ghosts, spirits, re-incarnation?
As embarrassing as it is, I believe in all of that. I believe in past lives and spirits and "heaven" so to speak. How it all fits together in my mind is a bit confusing but I believe there is some truth to all of it.
When you were a kid, was it annoying having two sisters, one older and one younger? Were you bossed around by older sister? Did you boss around younger sister? Did you have bunk beds? As an adult, how is your relationship with your sisters?
Annoying?! Yes!!! I wrote a whole speech about it in 6th grade lol. I am still convinced that my younger sister was the most annoying kid in the world lol. I always liked having an older sister, someone I can learn from and who always protected me. I was never really bossed around by my older sister but I have to admit that we were both pretty mean to our youngest sister. I still don't think she fully forgives us for it. We never had bunk beds but I always wanted one. I am nine years older than my youngest sister so now that she is grown up I think we are all a lot closer. I think we are starting to appreciate each other a lot more and we are starting to realize that we are much more alike than we thought.
Do you have an acting coach? What's the most important acting lesson you've learned?
I don't have a personal coach but I have been doing classes with a teacher in Toronto for the past few years. His name John Riven. The best advice he has ever given me was "don't take this too preciously". He was trying to get us to understand that the best actors are the ones who take risks and aren't afraid to fall on their faces. I agree with that statement on so many levels, we tend to take life to preciously but that's not living, that's playing it safe, and I promised that I would never do that again.
How do you prepare for your kissing / bed scenes with Kristoff St. John on The Young and the Restless? Breath mints? Clothes under the sheets?
Breath mints or those Listerine strips, I love those! Under the sheets?... I don't want to give away the mystery lol, but there is usually clothing of some kind under there ;)
Did you see the original Total Recall movie BEFORE you auditioned / got the role for the 2012 version?
I loved the original Total Recall!!! I must have watched it a million time when I was a kid. When I got the audition I was so excited because I even remember the receptionist and how she changed the color of her nails with that pen.