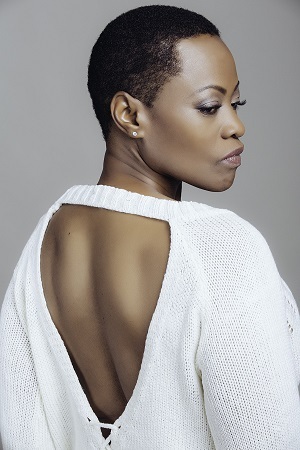 Sabrina Mayfield can currently be seen in the CW's The Vampire Diaries as Diane Freeman, head of campus security. Twitter: @srmayfield1 . Sabrina's Website. Photo by Tolga Kavut.
Sabrina Mayfield was born and raised in Florida to Bahamian parents. As a child, she was in her 4th grade school musical and that was that! Sabrina decided to sing and act forever -- and she's been very successful! And oh, she's addicted to the game Candy Crush.
Sabrina's current gig is The Vampire Diaries where she has a recurring role as campus security.
You have a very sexy and interesting look. Why do you keep your hair short? Where'd you learn how to smirk?
I'll start by saying, you have me blushing! My hair cut was the result of a salon mishap that forced me to cut it. After receiving so many compliments I decided to keep it short. I smirk? Hmm didn't realize I did.
What other passions do you have besides acting and the entertainment business?
I'm a big gamer. I love playing card games. About 10 years ago I took Bridge lessons. My plan was that by the time I was 65 I could clean up on the tables since I would have been playing for a long time. I also like going out to hit a few balls on the golf course. Not very good at it yet. I've been known to pickup my ball and toss it. Challengers beware!!
Why did you choose the Lee Strasberg Theatre Institute for acting instruction over the many other acting techniques and schools?
I choose Strasberg because I read that many of the actors I admired studied there. So, I said to myself this is where I need to go.
What's it like coming into The Vampire Diaries 5th Season where most of the actors have already been working together since Season 1?
I was very nervous because, as you said, they all knew each other very well. But, from the moment I drove on the lot and was greeted by security I was at ease. The Production Assistants, Assistant Director and craft services all were so welcoming and put me at ease right away.
The whole world knows about your secret shoe fetish. What other fetishes do you have that's not public knowledge?
Ha ha ha! That's my only one.
What's your favorite wine and where/when did you first acquire your taste for wine?
I am totally a red girl! Right now I'm into the Argentina Malbecs. During my honeymoon in France we drove around the Burgundy region wine tasting.
You met your husband on a flight to Japan. Why were you going to Japan?
I was working as a Flight Attendant and fell in love during the 13 hour flight.
What's the most difficult role you ever had to play? Did you have a coach?
The role I would say was the most challenging would be when I played Grizebelle in a production of Cats. I had to learn all the songs for the production as well as each dance number. Yes, I worked with my vocal coach. I wanted to make certain I hit every high note in "Memories" and not have my voice crack.
Tell us about your audition for The Vampire Diaries.
My audition for TVD was done by video submission to the local Casting Director. Funny enough my son who is headed to film school this coming fall is the one who taped me.
You're always smiling. Have you ever had a day where you feel like being mean to the world?
Of course! It doesn't last long. I just think about how lucky I am and all the wonderful blessing I've received. So many have a lot less.
What are your favorite foods? Where'd you learn to cook? How about making my three little kids and me a meal?
My all time favorite is a nice spicy Caribbean style curry chicken. My mother and grandmother were the ones that had us in the kitchen growing up. They had this old school thing that girls had to know how to take care of a house. Smh. Sure, I will make you a dish! [Writer's note: I'll be taking you up on this when you're in New York, Sabrina!]
Anything else you'd like to say?
It was such a pleasure answering these question. I am so overwhelmed by the fans of the show and how they like my character.